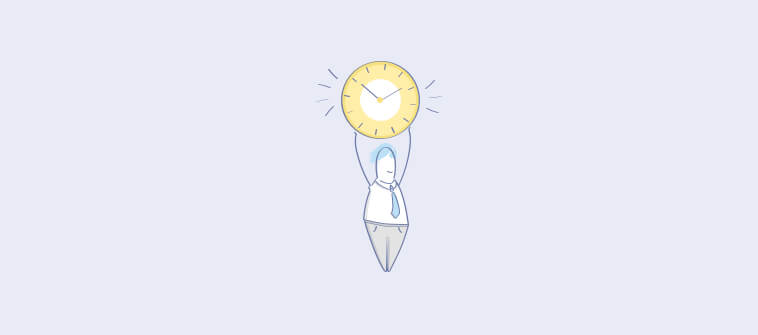 Project time management refers to skills, tools, and techniques, which businesses use to manage time while working on project activities.
'Time' and 'Deliverables' are the two major factors that you need to take care of during the project life cycle. It is so because clients evaluate success or failure by considering the timeframe in which you have rendered project deliverables.
Managing time during the project development process is nothing but the holy grail for businesses. The fact that will make your jaw drop is – 80 percent of organizations struggle throughout the project life cycle because they spend at least half of their time on rework. For such organizations, an iota of time is as important as clutching at a straw for a drowning man.
By now, you've figured out why time management in project management is important, right? Let's discuss other crucial aspects:
7 Main Processes in Project Time Management?
Project time management comprises seven processes in which six belong to the project planning process group, while the remaining one is part of the project monitoring and control process group. Let's dive deep in:
1. Plan schedule management
In this process, you focus on all crucial policies, procedures, and documentation so that your project team can get guidance concerning schedule management easily.
2. Define project activities
Defining project activities is significant, because if your team is aware of what needs to be done during the project life cycle, then timely project deliverables will be very much on the cards.
3. Set project activities in a sequence
There are so many activities you need to perform during the project development process, and it's very crucial to prioritize them for perfect execution. In short, define the order of project activities for your team, to prevent unnecessary chaos.
4. Estimate resources vital for project activities
All indispensable resources must be in your armory to complete a project within its deadlines. Right from the diligent workforce to unrivaled project management software, you need everything to secure project success.
5. Estimate activity duration
Every project activity poses challenges, which you expect your team members to counter using their expertise. But you have to set time duration for each project activity, so that team members give their best and deadlines stay in check.
6. Develop schedule
Having a proper project schedule is significant to match the client's expectations. It means zeroing in on the order of activities, time windows, resources, and set & end dates proactively. Also, keep the risk factor in mind while developing a schedule, as it threatens the project plan's success so often.
7. Control schedule
Once you map out the project schedule, you need to maintain the workflow in such a manner that supports the baseline. Basically, control your project schedule in an appropriate manner.
Now, you are familiar with project time management processes, so it's time to answer the most important question.
Best Time Management Strategies for Project Managers
As we have already stated, time management is one of the major challenges that you confront during the project development cycle. However, this cannot be used as an excuse against delays, as clients have paid you for timely deliverables. So, master the art of managing time and maintain your credibility for the long-term, consequently.
We are going to uncover impeccable time management strategies to make the life of project managers easier, so let's get started:
1. Deploy inimitable project management tool
Using the right project management tools and equipment is the key to making your project time management journey smoother. Unarguably, you encounter expected and unexpected situations during the project life cycle, which make it difficult for you to deliver timely results.
The best way to handle ever-changing project requirements is to deploy an inimitable project management tool. It can take away your pain points regarding project progress and enable you to save a significant amount of time.
You can give a try to ProProfs Project, PM software gaining recognition from every corner of the world. Here are some of its impressive features that can help you in project time management:
Time tracking

Intuitive dashboard

Recurring task management
2. Set clear priorities
Project management is all about setting priorities properly so that workflow doesn't hamper at any cost. Note that things can go out of your control as long as project tasks pile up. Therefore, make your project tasks manageable by dividing them into smaller segments for perfect distribution.
It's prominent to separate urgent and important tasks you've on your to-do list, to get proper clarity on what you need to do first. Here's how you can categorize your project tasks:
Important and urgent –

Complete these tasks first

Important but not urgent –

Schedule these tasks for later

Not important but urgent –

Delegate these tasks aptly

Not important and not urgent –

Work on these tasks, after completing crucial ones
3. Complete project tasks one by one
Project time management is tough, but it's the key to unprecedented business growth. So to keep the time factor in check, companies generally expect multitasking abilities from their project teams. The reason being that they think doing multiple tasks at one time will save them notable hours, which further will be used for productive work. And somewhere this mindset fits the bill, doesn't it?
However, there is a dark side of multitasking: 'Quality gets compromised, which further leads to rework and unnecessary time consumption.'
So, complete project tasks one by one to avoid time-killing rework.
4. Set shorter deadlines
Being a project manager, you should set your teams' minds at ease, at least for a healthy environment. But when you give more than enough time for a particular task, your project executives are likely to enter the rest mode as it's a human tendency. Once they are turned into slowpokes, the odds of delays will increase for sure and get your project off the track.
Therefore, set shorter deadlines so that your project team maintains actual speed while doing their work.
Note: Shorter deadlines doesn't mean setting unrealistic timelines, as that will only create differences and result in employee turnover.
5. Learn to say 'No'
The life of project managers has never been easy, as they experience the pressure of delivering expected results all the time. Things get worse when clients demand changes in project activities, courtesy of their ever-developing business requirements.
Most of the time, project managers accept demanded changes without requesting to revise the preset deadlines. As a consequence, their whole team gets under the pump and struggles to deliver satisfactory results, which, in turn, leads to rework and wastage of time.
For perfect time management in project management, you must be aware of your work limits. And saying 'No' is not as bad as it sounds, but you must explain your situation to clients in an appropriate manner to gain an extension in deadlines.
You and your clients will definitely figure out something if you take care of these two things during the discussion.
Give a valid reason:

Explain what important tasks you've at the current moment and how requested changes can affect the project progress.

Don't lie:

Lying for a time extension is unethical and can affect your relationships with clients badly. Hence, be open about why you need more time to get the job done.
6. Give positive feedback to top-performing employees
Last and most probably, the easiest way to save time during the project life cycle is to give positive feedback to top-performing employees. Obviously, a project team comprises individuals with a different skillsets, and some like to complete their assignments before time. Here, you need to identify those executives and give due appreciation.
Your positive feedback will bring two-fold advantages:
Your top-performing employees' confidence level will increase after being recognized for their good work, so better work will be done in the future.

Other project executives will strive to raise the bar to earn your appreciation, and that points to high productivity.
These two aspects will aid you in delivering project deliverables before the stipulated time and bolster client relationships.
All in all, your few positive words can do wonders for your whole project team and pave the way for seamless time management.
Final thoughts:
Needless to say, time is valuable. But its value in the business world is on a whole different level because it concerns economic benefits. The more time you save, the more productive you become.
We recall one quote by Crystal Paine:
If you want to be more productive, you need to become a master of your minutes.
The strategies we talked about above will enable project managers to save a significant amount of time.
In case you feel we have missed out on some crucial strategies, we would love to hear from you in the comment section.
FAQs
---
Q. Why is time management important in projects?
Time management is important in project management because that's the only way to meet deadlines. Plus, it helps you maintain client relationships for ages along with your business's integrity.
Q. What is a project time plan?
It's self-explanatory. A plan you use to keep time in check while working on project activities is called a project time plan. Significance of this plan cannot be overlooked because if you don't keep a tab on time utilization, there is no way for you to meet promised deadlines.
Do you want a free Project Management Software?
We have the #1 Online Project Management Software for effective project management.