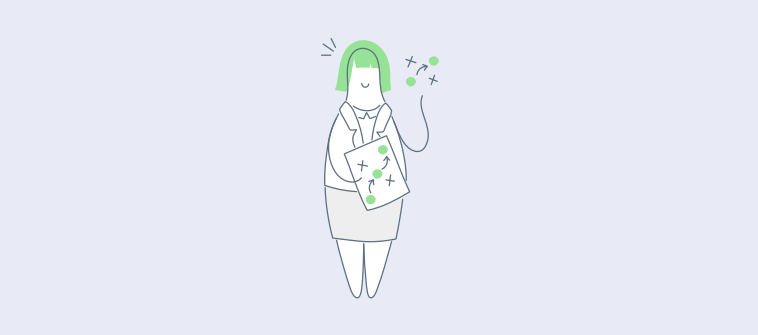 A skilled and diligent project manager is the crucial component to making business projects successful. It could be the primary reason why businesses take the hiring process so seriously and set a high salary bar for job candidates coming for the role of a project manager.
As per the industry reports, companies have to fill 2.2 million new project-oriented roles every year, starting from 2027.
So, yes, making a career in the project management world could help you make your dreams come true.
The demand for project-based work is all set to multiply, hence it is imperative to get the right skills to grow as a project manager. Otherwise, you will struggle and end up losing your job multiple times in your career's time span. I recall one quote that perfectly fits in this context:
Do what you love and success will follow. Passion is the fuel behind a successful career.— Meg Whitman
The project development process is a tough ride, either you will get a pat on your back or get roasted by clients. You will be surprised to know 50% of failed projects were funded over a million US dollars.
Now, you must have some concerns like 'How to become a project manager', so wipe them out by perusing the following details. All the below-given information is compiled with the purpose of answering all your queries about the start and journey as a project manager.
Table of Contents [Hide]
What Certifications Do You Need To Become a Project Manager?
Gaining relevant knowledge and skills is vital to become a project manager (successful one), because you will feel helpless during unfamiliar scenarios. You need to accomplish a few certifications to enhance your resume and show your credibility during the interview process.
.
1. PMP (Project Management Professional)
The Project Management Institute (PMI) offers this certification. It is for experienced project management professionals like managers, consultants, etc. who seek exponential growth in their career. Beginners can't opt for this certification, unfortunately.
It can boost one's career significantly and ensure 23% higher salaries than an uncertified person, according to the PMI.
To clear the exam of PMP, you must consume the information given in the PMBOK Guide (A Guide to the Project Management Body of Knowledge).
2. PRINCE2 (Projects In Controlled Environments)
PRINCE2 is quite different from PMP certification. It is a process and project-based method, while PMP is knowledge-based.
Unlike the PMP certification, beginners are applicable for PRINCE2. It also offers both Foundation and Practitioner options, so you don't have to worry about anything. Though we are beating drums of PRINCE2, however, it doesn't mean you can write off the importance of PMP certification.
Both certifications can play a pivotal role in your profession, depending on the stage of your career.
3. CAPM (Certified Associate In Project Management)
Another certification offered by the PMI is CAPM. It's an entry-level project management qualification, which you can opt for the sake of being applicable for PMP.
You can justify one of the prerequisites of PMP: "35 hours of project management education/training or CAPM® Certification."
It offers foundational knowledge and helps you make an attention-grabbing project management portfolio.
4. Agile Certifications
At present, many industries are following an agile approach to complete business projects on a successful note. Thus, going for agile certifications could be a blessing for you.
The PMI offers a certification program for agile practitioners: PMI-ACP (the PMI Agile Certified Practitioner).
The agile version of PRINCE2 certification is also available at both Foundation and Practitioner levels: PRINCE2 Agile.
So, go for any of these certifications and get off to a dream start in your career.
What Skills Do You Need to Hone to Become a Successful Project Manager?
After choosing and completing the project management certification, you will have comprehensive theoretical knowledge. But you will feel the heat after landing your foot in the practical world. New challenges will be waiting for you and are ready to test your limits as a project manager.
There are some project management skills you need to hone to ensure a smooth career as a project manager:
1. Leadership
Leadership qualities are fundamental to have, as your team will look up to you when they need guidance during project stages (initiation, planning, execution, and closure). You have to raise the spirits of your team at times, while sometimes you have to bring the best out of them by hook or by crook for successful project delivery.
You get different kinds of people in your team, so lead them smartly and patiently.
"The 'P' in PM is as much about 'People' management as it is about 'Project' management."
— Cornelius Fichtner
I would like to give an example of my two juniors to make you understand how to handle team members of a different nature.
Rahul, a fun-loving guy, knows how to keep his colleagues in a happy state. But he doesn't like to be disturbed while working, given that goals are his first priority. So, I always share a few laughs before delegating any other task, and he delivers quality work, consequently.
Sasha, a sweet girl, generally needs supervision during the work. She is an introvert in nature, so I stick to the point while talking. That's how I keep her mind at ease, which leads to timely completion of the assigned task.
See how well I handle people of contrasting nature without playing senior card. You can also follow this or find out your unique way of leading a project team.
2. Communication
For ideal project execution, your interpersonal skills must be up to the mark. The better you communicate, the higher your team will fly during the project development process.
So, hone your communication skills and become a project manager as you wish to. Having good communication skills is not only limited to fantastic speaking skills, as your listening ability plays a pivotal role in the project management journey as well.
To take your communication skills to the next level, a blend of confidence and politeness is the key. Here are a few tips you can keep in mind:
Use simple vocabulary while speaking so that nothing goes over listeners' mind

Maintain eye contact for continuous engagement

Take time to respond
2. Gain Knowledge on Project Management Tools
At present, companies have unprecedented project management software like ProProfs Project in place to make business projects successful. So, if you want to be part of a multinational company, having knowledge with respect to project management tools is vital.
You are obviously not supposed to shell out money just for the sake of gaining hands-on experience. Many top-class project management applications are available for free (no strings attached), which you can use to gain knowledge.
Why are project management tools in high demand?
There are some salient features that make project management tools popular in the business world. Such as:
Time tracking shows how much time your team is dedicating to each assigned task

Accurate invoicing for error-free client billing

Reports for the insights into team performance

Email notifications
3. Risk Mitigation
Every project has some sort of risk, which could result in failure if it doesn't get handled on time and in an apt manner. It could be the reason why businesses try to set off the right foot while getting a project manager on board.
Some risks are common, which you can identify by examining the closure reports of previous projects. Besides this, you can take these measures into account for risk identification:
Do your own research with the help of Google or any other search engine

Follow project management leaders on social media to learn new moves to bring potential risks to light

Conduct team meetings and welcome each member to share ideas on how to identify risks
Some unanticipated risks will also take place during the project development process, so have a contingency plan in place to counter them.
Read Also: The Ultimate Quick Guide To Building a Risk Management Plan
4. Cost Management
Another skill that you need to master is 'Cost Management'. It is so because higher-ups will discuss project budget (profit included) with you first, before making any commitment to clients.
Remember that asking for more money will be considered as a breach of the contract. It can put your credibility into question and invite legal problems for your organization in the worst scenarios. So, yes, you will have to stick to the project budget. Here are a few tips you can take into account.
Evaluate project specifications and available resources to set a realistic budget

Make sure your project team exploits resources righteously

Monitor metrics like 'Cost Variance,' 'Actual Cost,' 'Gross Profit Margin,' etc.
It is imperative to note that poorly funded projects never meet clients' expectations as the quality of deliverables never reaches to desired standards, while overfunded projects can affect the business's bottom line significantly as you will not be able to bring expected profits to the table for your employer.
5. Quality Management
Last but certainly not least, quality management is the skill that can take you to the new heights in your career.
The approach of taking quality factor for granted can hurt any business very badly, because there would be no point in completing projects on time and within the intended budget if the quality of deliverables is below par.
Plus, you will get a pile of change requests if clients are not happy with the delivered project. It would result in unexpected work pressure, extra consumption of resources, and a financial loss.
All in all, quality should be your first priority during your project management journey. Here are some quality management tips you can mug up:
Examine closure reports of last projects to repeat successful strategies to enhance quality

Invest time in the review process of project activities

Solicit inputs from your project team and make necessary changes to your plan
Are You Ready to Excel as a Project Manager?
Congrats! You have reached to the conclusion part of this write-up after being enlightened with regards to how much your career as a project manager is bright, types of certifications required to speed up your growth, and skills necessary to stay credible.
The number of companies in the business world is growing exponentially. With every new entrant, the demand for a nimble project manager increases, so, yes, you've great scope ahead.
Having concerns like 'How to become a project manager' is Okay, but you need to understand that if you have the potential and right skill set, then nothing can come your way. So, have faith in yourself and remember the mentioned information to excel as a project manager!
Stay connected with ProProfs, as more exciting information related to project management is on the way. Thanks for reading!
---
FAQs
Q. What is the purpose of having a project manager?
Every industry needs a competent project manager to keep business projects on the track. A project manager uses his know-how and delegate tasks in such a way that leads to success.
Q. What skills are needed to be a successful project manager?
As we have already stated, these skills you need to master to become a successful project manager:
Leadership

Communication

Gain knowledge on project management tools

Risk mitigation

Cost management

Quality management
Q. What are the duties of a project manager?
There are several duties that project managers have to fulfill, such as:
Creating a project plan for perfect execution

Promoting collaboration for better teamwork

Analyzing available resources for the project

Delegating assignments to complete urgent tasks on time

Creating a realistic project budget
Do you want a free Project Management Software?
We have the #1 Online Project Management Software for effective project management.