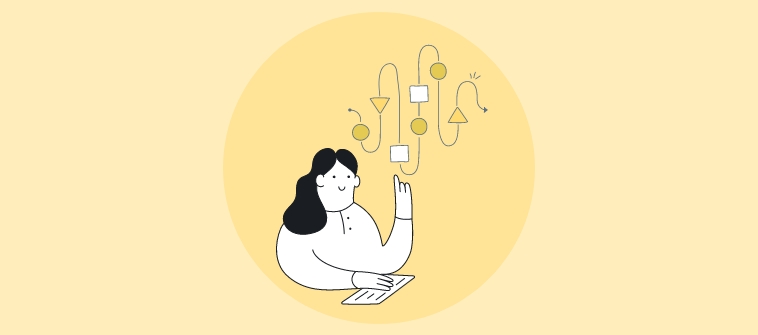 Defining, initiating, implementing, and managing a project is highly dependent on how powerful your project plan is.
Right from defining clear project goals and creating a plan to achieving them within the set deadline, following a solid project planning guide is your answer to 'How to plan a project and deliver projects successfully.'
Following the right project planning steps along with adopting project management software and having a plan B to tackle unanticipated risks is extremely important to avoid project failure. And that's exactly what we cover in this project planning guide. Take a look!
What is Project Planning?
Project planning is a process that involves building a project roadmap and identifying the best possible route for successful implementation. It acts as the guide that clearly defines the project scope, project tasks, resources required, and due dates so that teams can channel their efforts in the right direction from day 1. Project planning even indicates the priority level of tasks along with dependencies to establish the right project workflow.
This calculated plan of action includes:
Identifying project deliverables
Scheduling the workflow
Assigning resources
Setting deadlines
Managing the project budget
The project planning phase ensures that projects are carried out with seamless communication, proper resource utilization, and minimum wastage of time and effort. All these factors help take a project to the finish line successfully.
Why Is Project Planning Important?
According to a survey, there are several factors that can contribute to project failure, including inaccurate time or cost estimates and inadequate vision or goals. With the right project plan, you can rise above such challenges and turn your project into a roaring success.
Here are some significant reasons that will convince you about the importance of project planning:
Effective project planning enables you to:
Establish achievable goals
Define a crystal-clear project workflow
Set clear roles and responsibilities
Define task priorities and dependencies
Monitor project progress accurately
Allow team members to communicate seamlessly
Key Components of a Project Plan
Remember that working with a flawed project plan is worse than working with no plan. To create a successful plan, you must be abreast with its components.
Here are the top 8 components that form the foundation of a robust project plan:
1. Scope Statement
The planning phase of project management defines the scope of the project. It clearly defines the goals, deadlines, tasks, and deliverables of the project. A good and detailed project scope statement removes any confusion and makes it easier for stakeholders and team members to work on the project.
2. Budget
Budget is an important element as no manager wants to explain the need for extra money. Every project plan should estimate the budget depending on the resources, time, and effort that will be required for implementing the project.
3. Schedule
The project schedule decides the estimated time of delivery and helps the team get work done on time. It is also helpful for project managers to monitor and assess any delays in the project.
4. Requirements
All projects have requirements or expectations. In order to deliver what's expected from stakeholders, you need to know the exact project requirements. These requirements should be conveyed to your project team during the project planning phase itself.
5. Resources
For your project to progress as per expectations, you should have adequate resources to keep the engine running. Resources can be manpower, materials, technologies, tools, equipment, etc. While deciding the tasks in the planning phase, allocate the resources wisely for optimum performance.
6. Quality Criteria
Nobody wants to get in a situation where the quality of deliverables is not up to the mark, and the team has to again work from scratch. Projects need to meet certain quality standards. The quality criteria should be identified in the project plan to ensure that it is met.
7. Communication Plan
Communication is key to managing and completing the project collaboratively. Good communication helps deliver projects faster by keeping everyone in the loop, be it project managers, stakeholders, or team members.
8. Risk Management
Risk is an inevitable part of project management. The success depends on how well you plan for risk mitigation. While documenting the project plan, make sure to identify risks, analyze them and prepare risk response plans.
Work around these components during the project planning process and create a pitch-perfect project plan.
8 Steps to Create a Project Management Plan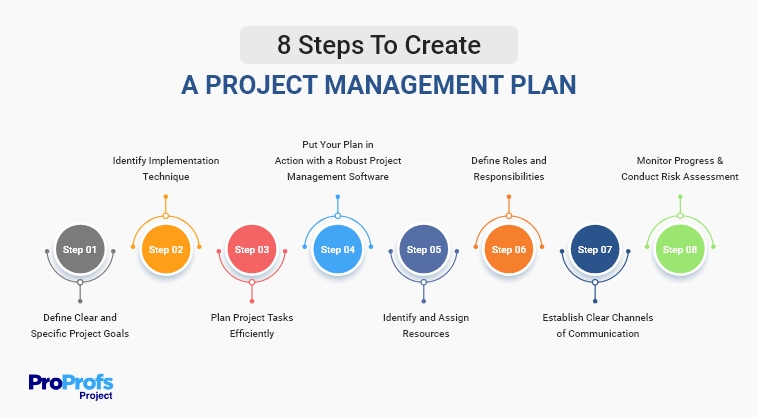 Creating a foolproof project plan requires a step-by-step approach. We have listed some simple steps to help you create a solid project plan.
Let's dive in!
Step 1: Define Clear and Specific Project Goals
Unclear or unrealistic project goals are the key reasons why projects fail. Taking the example of the IBM 7030, it was unrealistic to produce a supercomputer that was 100 times faster than other computers in 1961. So, the first thing you can do to avoid such mistakes is to sit with all project stakeholders and define clear, specific goals.
Setting project goals is the most critical part of planning in project management. It is, therefore, essential to carefully evaluate your stakeholders' expectations before you define project goals.
To get a better understanding of your project, discuss these questions with stakeholders:
What is the goal of your project?
What are the main objectives to be achieved?
What are the deadlines for each objective?
How involved would you like to be in the project?
How to measure the success of your project once completed?
If your project plan answers these questions, you're working in the right direction.
Project Planning Guide Pro Tip:
Review your goals against the SMART criteria during the project planning process. Using the SMART technique, you ensure that the project goals you set are realistic and achievable.
Read More: The Importance of Goal Setting
Step 2: Identify Implementation Technique
Once you have set clear goals, the next step is to plan their implementation. For this, it is essential to know three things:
Project Deliverables
Project Timeline
Project Resources
The pre-defined project deliverables, timeline, and resources will set the tone for devising an apt and advantageous plan for the project.
Before you start creating your project plan, check if you have covered and assessed every aspect. This ensures that nothing slips through the cracks.
Also, extensive research is the key. So, it is important to acknowledge the following aspects before you start creating the plan.
Are your goals and milestones well-defined along with deadlines?
Are you clear with your end user's expectations and needs?
How competitive is the marketplace right now? How's the demand?
What makes your project special on the market?
What risks can you encounter during an ongoing project and post its completion?
Brainstorming and looking for the answers to these questions will help you and your team in different stages of the project.
Project Planning Guide Pro Tip:
To identify a feasible implementation technique, ensure your project deliverables, timeline, and resources are clearly defined at the start of the project. For this, secure a well-defined brief from clients. Once this is done, analyze market competition and chart your strategy in sync with the desired project output.
Step 3: Plan Project Tasks Efficiently
The next step is to define the series of tasks and activities that need to be completed in order to accomplish each deliverable. For each task, go ahead and identify the specific amount of time it will take, the resources it will need, and who will be held in charge for its successful completion.

Further, determine dependencies between tasks. Check if any tasks need to be completed before your team members move on to the next one. Besides, you can even create sections for tasks to organize your work and track progress with maximum ease.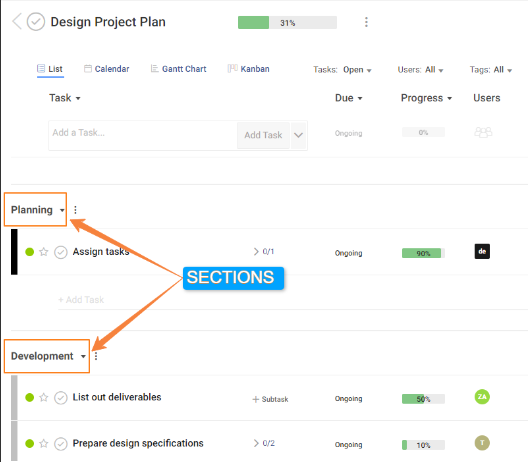 Project Planning Guide Pro Tip:
Set task priorities right at the beginning so that urgent and important tasks are accomplished first.
Step 4: Put Your Plan in Action with Robust Project Management Software
Now that you have planned your project in a detailed manner, it is time for you to put it into action using simple project management software. With the use of an intuitive tool, you can keep your stakeholders in the loop and let them know of the following in real time:
Which team member is working on what task?
Upcoming task deadlines
Task progress
Latest updates of the project via comprehensive reports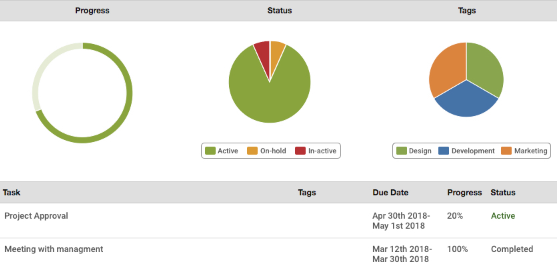 Besides these parameters, team members and stakeholders receive email notifications on all the activities that take place in the project. This also helps managers save time on reporting to their clients regularly.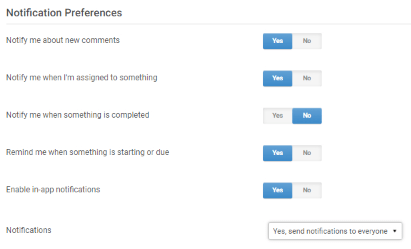 Managing their existing budget and tracking any scope creep also becomes a lot easier with a project management tool in place. So, once you put your project plan on paper, leverage the power of a good tool to bring team members together. This helps them to collaborate on multiple projects using a single platform.
Project Planning Guide Pro Tip:
Adopt a simple project management software such as ProProfs Project that is both easy to onboard and navigate. Such a tool will enable you to create crystal clear workflows and follow a defined path of project execution
Step 5: Identify and Assign Resources
After defining specific tasks, it is important to conduct resource planning in project management and identify what resources you would need to complete the project successfully. Before you start allocating resources across various project tasks, it is important to know the basic resources needed. A few of them are:
Project Planning Guide Pro Tip:
Always remember to focus on tasks that need more time to complete or are more complex than others, and allocate resources accordingly. Also, ensure that no resource is either overworked or underutilized.
Step 6: Define Roles and Responsibilities
Define the roles and responsibilities of each team member within the organization. Having crystal clear duties helps team members stay accountable and fulfill their responsibilities efficiently.
Now, let's take a look at key team players and their role in executing a successful project:
Project manager – The project manager roles and responsibilities includes creating, executing, and managing the project plan. As a project manager, one sets the flow of the projects, clearly defining the roles and responsibilities of each team member.
Stakeholders – These are the people for whom the project is being implemented. Take proper brief on what their expectations are from the project. Also, ensure their adequate involvement in the project to ensure that the right path is followed from the start.
Business experts – These are consultants who share their insights on the quality of the end product. Make sure the project plan defines their role properly and establishes how much of their contribution is necessary.
Project team – Your team will be responsible for a lot of activities that include planning, execution, and monitoring of the final outcome. Let each member know the roles and tasks that they will be responsible for. Also, encourage them to discuss various risks and issues that may hamper the project's progress.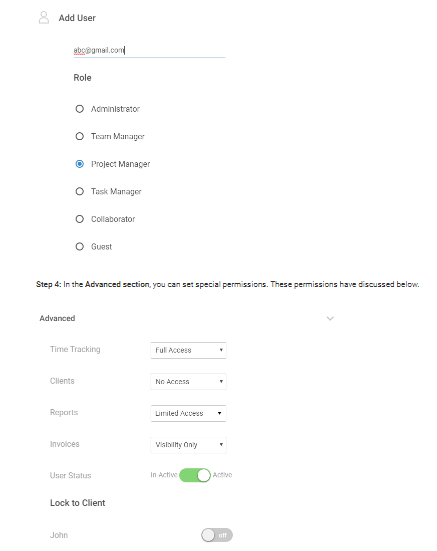 Project Planning Guide Pro Tip:
Set fixed intervals when a project stakeholder can pitch in and give feedback. Too less or too much involvement of a stakeholder is a recipe for project disaster.

Read More: Best Practices to Manage Cross Functional Teams
Step 7: Establish Clear Channels of Communication
Hold a kick-off meeting before any project plan goes on the floor for execution. Here, you gather all stakeholders and team members to discuss how the project may proceed in its upcoming stages. This meeting is essential for building trust and rapport between team members.The topics you should discuss during the kickoff meeting include:
Stakeholder's vision and strategy for the project
Expectations, roles, and responsibilities played by different team members
Budget estimation
Reporting cycle for keeping stakeholders updated on the project's progress
Project invoicing
And, most importantly, discuss the means to communicate the changes occurring in the project in real-time.
Project Planning Guide Pro Tip:
To communicate in real-time, it is advisable to install simple project management software. The tool will enable your team members (in-house or remote) and stakeholders to get regular updates on the project's progress. Using the right tool, you can:
1. Share documents with respective team members in different file formats
2. Discuss the shortcomings of a project and keep everyone updated on how to tackle them while adhering to deadlines
3. Remind team members about their upcoming deadlines and any new tasks assigned
4. Track the project's progress and also the productivity of your team members
Read More: 15+ Team Communication Tools for Fast-Growing Organizations
Step 8: Monitor Progress & Conduct Risk Assessment
Risks may or may not occur, but you need to be prepared for managing risks. As a best practice, you should do risk assessment to know what can go wrong at each stage and have a plan in place to mitigate the risk. Based on the tasks you have assigned to the team members, ask for their insights regarding the risks you should consider.
Some common areas of risk include:
Unavailability of resources (financial, physical, and personnel)
Frequent project delays
Changes in project scope
Failure of technology or communication
Project Planning Guide Pro Tip:
Analyze the potential risks that your project may encounter throughout its life cycle. Have a risk mitigation plan in place for each of these risks. This will help you and your team to spring into action as soon as you detect the risk.
Follow these steps to create an effective project plan for your projects. In case you still encounter some project management challenges, a strategy in place will help you get back on track in no time.

Read More: How Can Workflow Automation Maximize Project Outcomes?
How does Project Planning Software Can Help Plan Projects?
Supporting your project plan with a project planning software helps streamline processes and establish a defined flow of work. It is not surprising that 61% of companies using project planning tools completed projects within the pre-set timeline.
Let's understand this better with a scenario. You create a project plan. Based on this, you allocate tasks and responsibilities to all team members. You also define a deadline for project completion. Next, the team members start working on their allocated tasks and deliver things as expected.
Sounds easy breezy, right?
We wish project execution was this simple. While executing projects, challenges such as scope creep, inaccurate resource allocation, and poor communication are bound to arise. These challenges can be the perfect ingredients for failure and delays in case of multiple projects being executed by teams and departments.
Now, this is exactly where a project management plan comes in. When coupled with an ideal project management software, a project plan ensures that you have the best possible medium to successfully complete your project.
Tools for project management planning let you create tasks, allocate resources, prioritize tasks, and define deadlines within minutes. Also, it offers impressive collaboration features such as instant messages, task comments, and file sharing that help coordinate team efforts and deliver projects faster.
Besides, it helps streamline processes and monitor project progress on the go. Thus, project management software is all you need to handle multiple projects simultaneously.
Build Powerful Project Plans for Successful Project Delivery
"Expect the best, plan for the worst, and prepare to be surprised."
-Denis Waitley
Project execution comes with its fair share of challenges. For this, planning in project management is your best bet to ensure smooth project delivery. It ensures that you tread on the right path from the start and deliver results that are consistent with the expected project output. Not just this, it also equips you with alternatives to follow in case you encounter unexpected circumstances that may lead to potential delays and mismanagement.
This step-by-step project planning guide integrates all these aspects, from defining clear and specific project goals to setting a project baseline and monitoring work progress. So, get down to create a foolproof project plan using the above-discussed tips and hit the ground running!
Do you want a free Project Management Software?
We have the #1 Online Project Management Software for effective project management.