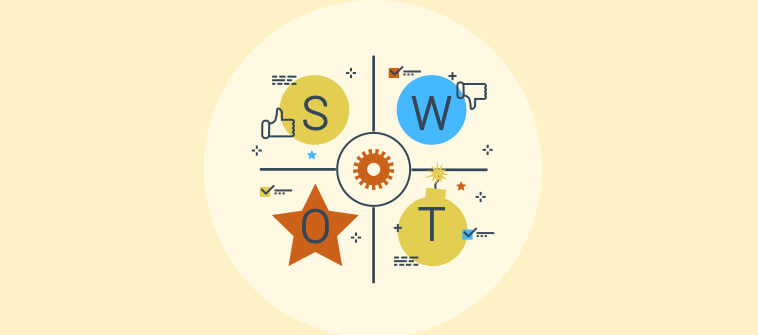 'Did you know only 2.5% of companies manage to complete 100 percent of their projects?'
Yes, for business owners, it's a bitter pill to swallow. The reason behind such a poor project success rate could be anything like a lack of resources, unidentified risks, tight budget, unrealistic delivery dates, and so on.
To avoid the consequences of project failure, many companies make a notable investment to get a diligent project manager on board, increase the availability of project members, and incorporate PM software.
Taking such measures is a really good move to bridge success gaps, and it would be great if you set this — 'Play to Your Strengths and Never Let Your Projects Get Exposed to Your Weaknesses' — as a ground-rule.
When you keep your strengths and weaknesses in mind, you not only come up with a reliable project plan but also excel during the project execution phase. At this point, you should put your faith in the SWOT Analysis, a simple yet effective process that helps you learn about the plus and negative sides of your business so that powerful strategies can be developed for better growth.
Key benefits of SWOT analysis:
Simple and practical to do

Improves decision making

Helps to collect valuable data

Boosts collaboration across different departments
Let's understand the basics of this method a bit more so that there will be no doubts while implementing it for project management.
What Is SWOT Analysis?
SWOT is the acronym of Strengths, Weaknesses, Opportunities, and Threats. SWOT analysis is done to check how well your business is performing against growth trajectories and success benchmarks.
Though all the four elements are pretty much self-explanatory, yet some companies compartmentalize them into two distinct categories: 'Internal' and 'External.'
Let's check both the categories and understand which element belongs to which category:
Internal Factors of a Project SWOT analysis
Strengths:
Qualities that help you accomplish your business objectives and gain a competitive advantage are your strengths. For example, your experience, financial strength, committed employees, and modern tech.
Here are a few questions you could ask yourself to identify your company's strengths:
What sets us apart from others?

Why do your clients want to do business with you in the long run?

How much your products and services are developed?
Weaknesses
:
Factors that decrease your business productivity and weaken up your market position are the weakness of your organization. For example, a narrow production range, a shortage of skilled employees, incapability of handling strict deadlines, and high dependency on remote workers.
Here are a few questions you could ask yourself to identify your company's weaknesses:
What business processes do you need to improve?

Why are you losing your experienced employees so quickly?

Should you outsource some specific processes to free up some resources and improve quality standards?
External Factors of a Project SWOT analysis
Opportunities:
In the business lifecycle, a few opportunities come out of nowhere, and some you create by doing good work. For example, when you exceed clients' expectations, they are likely to spread the positive word. It would lead to more opportunities and also build a strong brand image.
As far as unexpected opportunities are concerned, they could come in this way:
Government policies favoring your firm

New projects from new clients
Here are a few questions you could ask yourself while focusing on new opportunities:
Are there any upcoming events that you can leverage?

What more could you do to generate new revenue-generating opportunities?
Threats:
Uncontrollable factors that jeopardize your business growth and take you on the verge of broken client relationships are threats to your organization. For example, new competitors, financial crises, and negative reviews.
Here are a few questions you would like to ask yourself while thinking about potential threats:
Are there any laws or regulations that could create problems for your organization?

Is there any market risk that could put your business in trouble?
Note: You may not identify all the factors on your own. So, it would be great if you conduct a survey within your organization by using tools like Qualaroo to gain deeper insights.
We've discussed how the SWOT analysis sheds light on four different areas, and now it's time to jump into specifics and understand how SWOT analysis in project management helps to make the difference. Let's roll:
SWOT Analysis: A Key to Make Project Management Easier
By performing a SWOT analysis, you get clarity on what's in your favor and what's not. It, as a consequence, helps you take the best course of action while working on your projects.
Let's get a better understanding of this SWOT analysis project management example:
Suppose you have robust infrastructure and state-of-the-art technology, but your inexperienced project members generally leave loose ends during the task execution phase. Now, what will happen? You will receive change requests more than expected from the client's side and most probably with no extension in the final project delivery date.
Here, if you use a project SWOT analysis. You will find out:
Strengths:
Robust infrastructure and State-of-the-art technology
Weakness: Inexperienced project members
Threat: So many change requests without new deadlines
Opportunity: Nothing as of now
At this juncture, it's significant for you to work on your weakness to eliminate the threat. You may want to consider using a well-developed employee training software to help your project team members in cultivating new skills. This will turn the situation on its head!
Additional resources: use this template to create a SWOT and Tows analysis easily
Once you give your team proper training, there's a strong possibility that they execute tasks more precisely. It leads to quality deliverables, which, in turn, results in strengthened client relationships. It also indicates that you may also enjoy positive WOMM (word-of-mouth marketing), which further paves the way for an easier customer acquisition process.
Let's perform project SWOT analysis one more time and find what we have now.
Strengths:
Robust infrastructure, State-of-the-art technology, Trained project team, Positive brand image, and strong client relationships.
Weakness: Nothing
Threat: Nothing
Opportunity: A chance to get new clients by cashing on WOMM
See, that's how SWOT analysis makes project management easier.
Now, the question that could come to one's mind is, 'Does sticking to the SWOT analysis eliminate the need of having a reliable project management tool?' Let's get a satisfactory answer:
Should I Use a Project Management Application?
By all means, SWOT analysis makes things clearer and enables you to develop effective strategies. It, however, only helps to get the half job done, and for the rest, you need something that helps to execute your strategies in an ideal way. That thing is a feature-packed project management application.
Let's take an example of ProProfs Project to understand why you should believe in a project management application 🙂
This tool leaves a good first impression as it comes with no-frills and has a user-friendly interface. It facilitates team collaboration, project tracking, time management, client billing, and report generation by offering powerful features. Such as Gantt charts, automated invoicing, task comments, calendar view, and email notifications. It even comes with mobile apps, which lets its users enjoy the ease of access.
Besides ProProfs Project, there are many reliable project management applications available in the market, but the luxury of having so many options may put you in a spot of bother because every tool comes with some sort of X-factor.
It would be great if you check this Buyers Guide before starting your search 🙂
Check out: 20 Best Project Management Software & Tools for 2020
Ready to Bridge Project Success Gaps With SWOT Analysis?
The main purpose of SWOT analysis is to help you see a bigger and clearer picture so that you can take the best course of action to achieve project goals.
Combining insights obtained from the SWOT analysis with a powerful project management application could be a lethal fusion because you would enjoy effective planning and execution. It could get you closer to a high project success rate and help you stand out from the competition.
We hope you've got valuable insights while reading this blog. In case you have any questions, shoot them in the comment box.
Thanks for reading!
FAQ
---
Q: What part of the swot analysis is outside of the project managers' control?
Threats are one part of the SWOT analysis that is outside of the project managers' control. That's because they are unpredictable incidents like changes in deadlines, resource shortage due to unplanned situations, and more. While a project management tool can help to identify the resource crisis, it can still be a problem and resource management still takes time.
Q: Under what condition will the project manager use a swot analysis?
SWOT analysis can take place in two situations. First, when a project is about to start. Here the project manager would like to analyze the basis of the project plan. Second, when a project is running into a crisis. That means SWOT analysis can also take place at the later stage of the project. This is where the project manager would like to understand why there are difficulties with task scheduling, existing budget, or deliverables.
Q: What technique can a project manager use to perform a swot analysis?
To begin the SWOT analysis, a project manager first needs to decide on a key project they'd like to analyze. Once that is done, they can create a grid format. Here they can draw a large square and then divide it into four smaller squares. Each box can be labeled as strengths, weaknesses, opportunities, and threats. The manager then needs to add pointers under each sub-header and finally draw conclusions to decide how they can proceed further under that specific project.
Q: How useful is SWOT analysis in project identification?
SWOT analysis is quite a useful tool for project managers today as they can identify the strengths and weaknesses of their existing projects effectively. This strategic planning tool helps you improve the project planning process and prepare for upcoming threats ahead of time.
Do you want a free Project Management Software?
We have the #1 Online Project Management Software for effective project management.