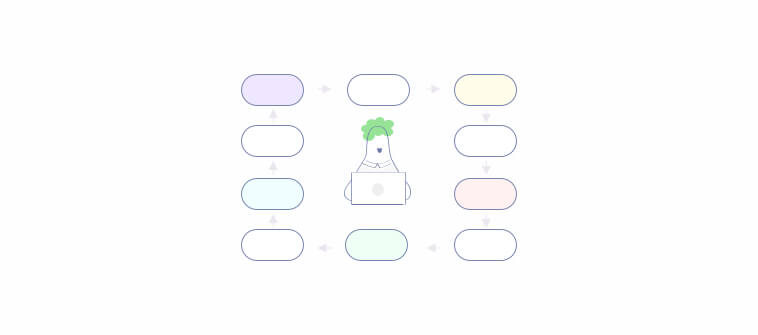 To keep your business competitive in the long run, you must be good at handling projects. It will not only improve your business's stability but also uplift the odds of getting new projects, which points to a better growth rate.
To handle projects appropriately, you must have sufficient experience under your belt. This is where you feel the need for a skillful project manager.
You might be thinking, do start-ups or small businesses need a nimble project manager, considering a low availability of projects?
Well, the jaw-dropping fact is that 46% of organizations have admitted that they failed because they didn't realize the need or importance of project management.
Now, you shouldn't be having any problem why having a deft and diligent project manager is significant for businesses.
You may consider me a naive writer if I try to answer a self-explanatory question, 'Who is Project Manager?'… Jeez! I cannot resist myself to tell you the origin story.
Microsoft was about to launch an ambitious project in the late 1980s, but the major problem was 'A lack of coordination.'
Obviously, you have to bring teams across different departments under one roof when it comes to making a dream project successful. However, this is a difficult task to do, isn't it?
So, Microsoft came up with a plan to get rid of this hassle — One person got appointed as a dedicated leader, who had all the rights to make decisions with respect to project activities. This move was a hit in the bull's eye, as work dynamics improved significantly and everybody experienced the taste of success. That's how the project manager emerged.
I think I deserve a thumbs up, as I told you a fascinating story. Not convinced yet? Well, I am going to lift the curtain over project manager roles and responsibilities to help you understand the concept better. So, let's roll:
Table of Contents [Hide]
1. Project activity and resource planning
Doing proper planning is one of the vital project manager duties. With no plan in place, your business will be like a ship without a rudder, which could result in sheer wastage of time and effort. Also, don't forget to take financial losses into consideration.
So, before performing project activities, checkout resources you have at your disposal to learn about your chances of succeeding. If everything turns out well, zero in on time estimates. It is instrumental because you will thrive as a successful project manager if you complete projects within a set timeframe and budget.
Before starting project planning, ask these questions to yourself for complete clarity:
Which tasks should be completed first to secure project success?
How many project executives do you need for flawless workflow?
How much time will it take to deliver the promised project deliverables?
Oh, I almost forgot to mention the contingency plan, which you need if anything goes haywire during the project life cycle.
2. Keep everything in an organized manner
Once you have laid down a plan, keeping everything in an organized manner is central because you'll face the unnecessary hassle during the project development process if you fail to secure the desired workflow. As we know, delays cause financial losses and make a negative impact on a business's integrity. That's why keeping everything smooth gets regarded as a significant role of a project manager.
For organized work, deploy reliable project management software like ProProfs Project. Features you must look to, before bringing a PM tool into operations are:

Simple yet powerful dashboard to make project tracking painless

Task templates

Time tracking
3. Lead from the front
Being a project manager is not easy, as you have to be an idol for your team and deal with higher-ups at the same time. Plus, big projects always comprise hidden challenges, which you must handle properly to live up to the client's expectations.
During hard times, anyone in your project team could lose confidence or zeal. This is where you are required to set an example to infuse the belief.
It is vital to conduct timely team meetings and discuss work-related challenges, regardless of how much project developments are smooth. This enables you to prevent the transformation of a small issue into a big one.
All in all, leading right from the word go is one of the project management roles you need to don.
4. Keep a close eye on what matters most
During the project development cycle, you have to stay on your toes because a small mistake can hamper the overall progress. Evidently, this is the last thing you want to happen, as it will upset both higher-ups and clients.
Having polished monitoring skills, in a nutshell, is one of the significant responsibilities of project managers. Your cautious nature not only helps you avert the wastage of resources but also boosts the chances of timely project delivery.
Just remember these 3 factors to enjoy a smooth project management journey:
Evaluate: Identify the root causes of problems
Correct: Take necessary steps to wipeout identified issues
5. Communicate effectively
Talking effectively with team members, clients, and other stakeholders is one of the crucial roles and responsibilities of a project manager. It is significant to have a word with concerned people with regards to project developments, as that's the key to progressing smoothly.
In brief, every project manager must possess good communication skills. Of course, I am talking about both speaking and listening skills, as one is ineffective without another.
Speak in such a way that others love to listen to you. Listen in such a way that others love to speak to you.

— Zig Ziglar
You should sound confident enough while sharing vision and project objectives. In addition, don't neglect the importance of conducting periodic team meetings, as that's the simplest way to pass on and gain crucial information. For maximum team communication, deploy project management software, stated by the latest industry reports.
6. Time management
Controlling time utilization during the project development cycle is an inevitable part of project managers' responsibilities.
Time management is also part of the project management triangle, and this should be enough to understand why completing project activities on/before deadlines is vital.
Clients even judge the success or failure of their project on how quickly it has been completed. So, if you are a project manager and willing to live up to all expectations, manage time without getting under the skin of your team.
7. Develop an appropriate project budget
Completing projects within the set budget comes under the project management activities list, because companies that outsource non-core business projects expect desired deliverables without shelling out too much money. Therefore, things like pricing, delivery time, etc. get decided upfront.
Being a project manager, you must set a realistic project budget to keep things smooth for the future. Note that whenever clients are asked for additional money, they get irked and feel betrayed. Besides breaking associations, it also results in negative WOM. All of this can halt your business growth.
So, scrutinize the project thoroughly to avoid all sorts of budget-related hassle.
8. Strive for customer delight
In the end, all that matters is customer satisfaction. In case your clients aren't happy with project deliverables, all your hardwork will mean nothing. Plus, your dream of expanding the customer base will remain as it is.
That's why going the extra mile for customer delight is considered as one of the major project managers' roles and responsibilities.
Characteristics of a good project manager are: 'Minimizing uncertainty,' 'Sticking to the project plan,' 'Staying courteous to team members, even in hard times,' and 'Involving clients in the different stages of the project to keep them up-to-date about the progress.'
It is instrumental to note that clients can demand changes in-between the project development process. Thus, take such requests on your chin and develop necessary tactics to bring desired results to the table.
9. Identify project risks to rectify
Risks have always been part of projects, and this disheartening fact can shatter the confidence of any project manager. With every project risk, your chances of failure snowball. That's why risk management is deemed as one of the crucial project manager roles and responsibilities.
It is imperative to understand that the number of risks amplifies with the project size, so never drop your guard until you close and deliver the project successfully to clients.
Check out previously completed projects to learn about common risks and then resolve them in your current ones from the root. What's more, you can invite your project executives to get insights into potential risks. Afterward, take the necessary steps to lower down the risk factor and complete your project management journey on a successful note.
10. Develop reports to manage them in the long run
Last but not least, developing reports after every project completion is central, as you can use them as a reference for future projects or clear misunderstandings of clients.
Experienced project managers always do proper documentation so that they can take a leaf out of their own book while working on new projects. This not only enables them to keep their project management journey smoother but also aids in setting new benchmarks with respect to quality and promptness.
Comprehensive reports include everything, right from the phases where you did struggle to stages where you sailed through smoothly. Owing to such well-developed reports, you stay confident even in tough times.
Conclusion
Completing projects on time and in the promised budget is the key to stay thriving in the current competitive environment. You secure project success when every concerned individual understands job roles & responsibilities and works accordingly.
We have talked about project managers' roles and responsibilities, because teams take a cue from their leader. With the help of this write-up, we have just highlighted the moral obligations project managers need to take care of.
I am concluding this blog with a promise that I will come up with more exciting information, which will help you in project management amazingly.
Thanks for considering this piece of content worth reading!
FAQ
---
Q. What exactly does a project manager do?
From handling a team of project executives to being accountable regarding project progress, project managers do everything. Basically, they strive to maintain efficiency and productivity.
Q. What are the roles and responsibilities of project team members?
The major roles and responsibilities of project team members are:
Completing assigned project tasks on time

Utilizing their know-how in the pursuit of project success

Working in accordance with client demands

Helping in the documentation process
Q. What is the difference between roles and duties?
The difference is:
Roles

are positions that you assign to individuals for proper completion of work.

Duties

are specific responsibilities that you expect your team members to take during the work.
Do you want a free Project Management Software?
We have the #1 Online Project Management Software for effective project management.