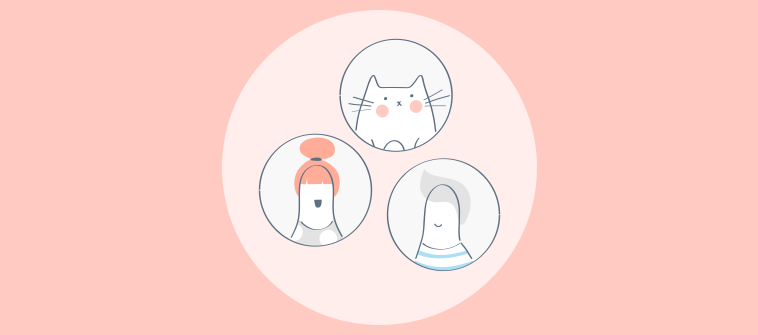 A virtual team is a win-win scenario for both the employer and the team member. As an employer, it is your best shot at hiring talent from across the globe. As a team member, you get to impart your skills to the best of companies without moving countries and cities.
A remote team is flexible and infused with only the best talent. However, managing a team that is geographically dispersed is far from easy. It comes with its unique challenges, such as poor team communication, delegation issues, slow response time, and lack of focus. But, when you're working remotely with virtual teams, all these combined are just a drop in the bucket.
But fret not. We have your back!
Modern challenges call for modern solutions. The solution lies in addressing each challenge proactively and beating the odds for creating a shared team identity.
In this blog, we cover the most common virtual team challenges and explore effective ways to overcome them.
Challenges of Virtual Teams and How to Deal With Them
When working with remote teams, challenges are bound to arise. What counts is how soon you can identify the root cause of a challenge and what steps you take to overcome them.
We have listed the most common challenges virtual teams face and discussed their possible solutions to help you face similar challenges head-on.
1. Poor Communication
Do your team members often complain of inadequate instructions or untimely responses from co-workers? These are a few of the most common virtual team challenges and sure-shot signs of poor communication channels within the team.
When team members are geographically dispersed, there is flexibility, but communication challenges are bound to arise.
The solution?
When working virtually, establishing a robust communication channel is crucial. It is practical to set certain hours in the day as mandatory work hours. This mandatory login time can be as less as two hours a day. However, this period will act as the most productive time of the day as all team members will be logged in for work, irrespective of the time zones.
As a result, there can be seamless task delegation, instant communication for important tasks, team meetings, reviews etc. This will set the entire process in place.
2. Lack of Focus
You might have often spotted a virtual team member conveniently sitting on the bed in pajamas with their laptop balanced on their laps. Well, this is the scene of most virtual workspaces.
But are we contesting sitting for work in a pair of pajamas? Definitely not. That's what we love about going virtual, right?
What becomes the center of virtual team productivity is a lack of focus.
When working alone from your home setup, one is bound to get distracted and lose focus between performing important tasks at work.
The solution?
While working in a pair of pajamas is what we live for, it helps to be a little groomed while working. Grooming for the day, maintaining correct posture and a positive mindset can set the right tone for the day. Instead of working with your laptop on your lap, get a bed table and keep your laptop on top.
This will help improve focus and save you from backache from arching on your bed for long hours. Also, having a dedicated workspace helps you get into work mode instantly, eliminating distractions. For a great work-life balance, create a fixed work schedule to manage your tasks better.
You can even set productivity alarms on your phone, gently reminding you to stay productive while at work.
3. Tracking Accountability
Tracing employee accountability in remote teams is difficult. Suppose a task or project fails to get completed on time or as per the quality standards. In that case, it is possible that you, as a project manager, may be unable to spot the root cause of such an undesirable situation. This may further lead to the spiraling effect of more unaccomplished tasks and projects.
The solution?
Delegate tasks and responsibilities effectively. Provide the right instructions and ensure that each team member is aware of their specific roles and responsibilities.
Create a well-laid plan that team members can return to in case of any uncertainty of their assigned tasks and projects. This helps in charting a clear-cut path of project execution and helps spot the source of project disruption if any.
You may even go ahead and adopt a time tracking tool such as ProProfs Project and Desktime. These help track time accurately, enabling increased accountability in the workplace.
4. Task and Resource Management
If you have sorted task management, you have effectively handled one of the most crucial roles as a project manager leading a virtual team. You may notice that although team members are achieving set goals, they are haphazardly completing tasks.
This leads to tasks being completed in no particular order, resulting in delayed projects. You may also face inaccurate resource allocation, further delaying task completion and affecting the quality of output. All this combined is a recipe for definite project failure.
The solution?
Organize and manage tasks at every stage of the project. Always allocate resources to each task and subtask after a thorough analysis of the capability of every resource. Well-optimized resources are more likely to outperform the expectations and deliver tasks well within the set deadline.
If you're looking to ease your workload, adopting task and resource management tools such as ProProfs Project and Toggl may help. These offer excellent features such as task visibility, real-time task notifications, automatic resource allocation, and resource scheduling.
5. Team Relationship
Building a strong virtual team relationship is the toughest to crack of all challenges. Lack of personal connection may result in miscommunication between team members. It may also result in lowering employee morale, affecting employee productivity. Also, when team members do not trust and relate to each other, they may face hesitation while connecting regarding project tasks and activities.
The solution?
Encourage team members to interact regularly with each other. You can conduct online team-building activities that aid communication and collaboration among team members with fun and engaging activities. Forming friendly connections and building a good work relationship with remote team members reflects in the output of team efforts, resulting in consistent and successful project execution.
6. Adopt a Powerful Team Collaboration Tool
As somebody leading team members scattered across the globe, you might find yourself struggling with overlapping project activities or unaccomplished tasks frequently. Recurring collaboration challenges may further contribute to an unattainable project vision.
As remote team members, finding the right team collaboration tool is key. A poor collaboration tool may cause the following situations:
Difficult tool onboarding
Complex tool navigation
Frequent bugs
Redundant processes
Inconsistent tool benefits
The solution?
Leverage the power of a solid virtual team management tools. It helps you align project activities and assign resources easily. You can create tasks, allocate resources, set priorities, and define deadlines within minutes.
An ideal tool is everything you need to manage and monitor tasks and team members without nagging. The tool's intuitive dashboard is your one-stop-shop to extract all project information and identify deviating paths, if any.
Whether managing tasks or monitoring resources, an intuitive management tool offers features that help remote team members stay on the same page with project updates. Moreover, its file sharing, task comments, and instant messaging capabilities make it a must-have for managing virtual teams effortlessly.
Read More: Top 11 Challenges of Remote Working You Can Possibly Encounter
The Role of Business Leaders in Supporting Virtual Teams
While leading a remote team is advantageous at many levels, it inadvertently also brings in a host of management challenges. As a result, virtual leadership can often be demanding. For teams to excel and deliver set business goals, you must foster a productive virtual workplace.
We have listed a few skills that you must abide by for enabling a thriving remote culture.
Set clear project expectations – To enable smooth flowing projects, define overall project objectives right from the start.
Make communication more effective – Encourage open communication within the team. Also, a two-way feedback process helps build a strong team spirit.
Motivate and inspire – Working in a virtual office setup can often get monotonous and lose track of the desired business goals. Thus, stay connected with your team members and motivate them to outperform at work.
Promote accountability – Define clear roles and responsibilities of all team members. In case of an accountability issue, have a one-on-one conversation with the person and highlight your expectations in terms of work requirements from them. Try to acknowledge their views regarding their performance and workplace decisions. This equips you to understand your employees better and help them take corrective actions, thus running projects hassle-free.
Build trust within the team – Foster a culture of trust and respect within the team. This enables a positive work environment sans any behavioral or communication issues among team members.
Establish an open-door policy – Be available for all your team members. Inculcate a culture of transparency and empathy across the organization, leading to faster business goals accomplishments.
Read More: 12 Crucial Tools for Remote Teams During the COVID-19 Epidemic
Best Virtual Team Building Activities for Remote Teams
It's not surprising that remote work has grown in popularity by 91% over the last ten years.
The number is only expected to rise, especially post the COVID-19 pandemic. Thus, it is imperative that you, as a project manager, take steps to eliminate geographical barriers within the team and enable smooth flowing projects.
We have hand-picked the best team-building activities for remote teams for your convenience. Read on to explore which ones would be the best activities that your remote team members will love.
1. Virtual Escape Room
Helps with: Analytical skill, Quick thinking ability
What you'll need: A virtual escape room software
Directions:
In this activity, team members solve online riddles and puzzles simultaneously and try to solve them as soon as possible. The final purpose is to decode the puzzle and "escape the room" before you get caught. This activity tests and boosts your quick thinking ability along with your analytical skills.
2. Scavenger Hunt
Helps with: Problem-solving skills
What you'll need: Nothing!
Directions:
The activity is simple and fun. All you have to do is meet each other on a video call. Once everyone is together, make one team member read out the list of items that everyone must collect from their houses. The first person who collects everything on the list wins the game!
3. Happy Hours
Helps with: Teamwork
What you'll need: Delicious snacks and beverages!
Directions:
This activity has to be the easiest one of the lot. In fact, it is the most delicious activity of all! All you are required to do is dig into your favorite snacks and beverages on camera! Gather with your snacks during virtual happy hours at least once a month and chit-chat with your team members.
Getting to know your co-workers boosts team bonding and builds trust within the team, leading to better communication and performance at work.
4. Bucket List
Helps with: Verbal communication, Empathy
What you'll need: Nothing!
Directions:
In this activity, you simply spell out your Bucket List items. Whether it's hopping onto a solo trip or having a personal library room at home, a bucket list is a reflection of your personality. This activity gives a better perspective of you as a person, thus forming team relationships and building bonds with people of similar interests.
5. Never Have I Ever
Helps with: Communication skills
What you'll need: A pen and paper
Directions:
In this activity, each team member adds a phrase to "Never have I ever" and other team members affirm if they have done it or not. The person who has the least number of activity nods wins the game. This is an amusing activity, assuring smiles and laughter!
6. Bingo
Helps with: Quick-thinking ability
What you'll need: Pen and paper.
Directions:
For Bingo, you list out a lot of random phrases like 'I need a coffee right now' or 'Wish I was in Bali for a holiday.' These phrases are randomly written across each team member's Bingo chart. Once the Bingo chart is ready, one person starts calling out these phrases in no particular order.
As the phrases are announced, other team members check them off their cards. The person whose all squares get checked off the fastest wins the game!
7. Pin the Map
Helps with: Empathy
What you'll need: Pen and a world map
Directions:
This activity helps bring a cultural aspect to the virtual workplace. In this activity, team members reveal the place that they belong from. Other team members simply mark this place on their maps. Also, you can ask everyone to share some unique information about the place that they belong to.
It can be about the food, the music, or the people of that place. Thus, each team member gets an insight into the culture of their teammates' native place, building a personal connection with the other person.
8. Quirky Photo Challenge
Helps with: Communication skills
What you'll need: Quirky photos of each team member!
Directions:
This activity is fun and interactive. Each team member shows at least two quirky photos of themselves on the video call. Yes, be ready to laugh out loud! The activity is an excellent way to interact and spend quality time together, no matter the distance.
9. What Would You Do?
Helps with: Logical reasoning
What you'll need: Nothing!
Directions:
The activity is simple. You have to present your team members with situations that require them to take a firm decision while opting for the best solution to a problem. This helps cultivate logical reasoning that helps team members handle challenging situations at work.
10. Who's The Expert?
Helps with: Learnability, Collaboration
What you'll need: Depends on the activity of each team member.
Directions:
In this activity, each team member exhibits their unique skills at something: cooking, playing the guitar, or creating a piece of exemplary art from scratch! The other team members imitate the same or at least try their best to learn the new activity. This helps the team to bond and interactively learn from each other.
Read More: 10 Efficient Ways to Manage Work with Remote Teams
Tools That Can Help in Virtual Team Collaboration
For global virtual teams, real time collaboration is paramount. Whether you're working on one project or handling multiple projects simultaneously, the use of a collaborative tool is undeniable to enable seamless project completion.
Here, we have collated our top 3 picks for the best collaborative tools for teams working virtually. These are power-packed with features that ease virtual communication, scaling your business to new heights.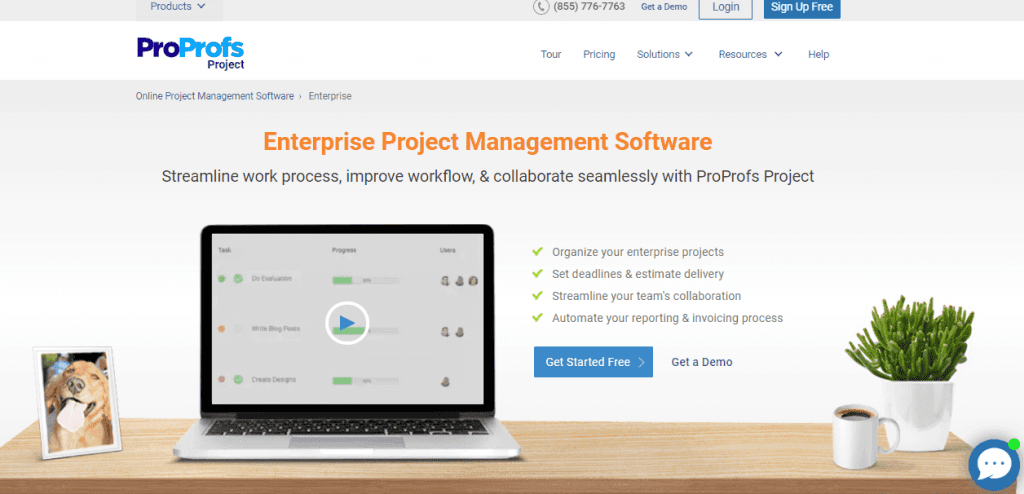 ProProfs Project is a feature-rich tool that helps bring virtual teams together. It allows you to collaborate with remote team members on a single dashboard. You can send instant messages and discuss roadblocks anytime and anywhere. Connecting over task comments eliminates digging through messy email threads. Its @mention functionality keeps team members in the loop and on the same page with task updates.
Also, its interactive project views such as Gantt charts and Kanban boards provide much-needed real-time access and insight into the overall project progress.
Features:
Shared calendar
Drag and drop functionality
Alerts and notifications
Customizable dashboards
Gantt charts, Kanban boards, Calendar List view
Pricing:
Essentials- $2/user/month
Premium- $4/user/month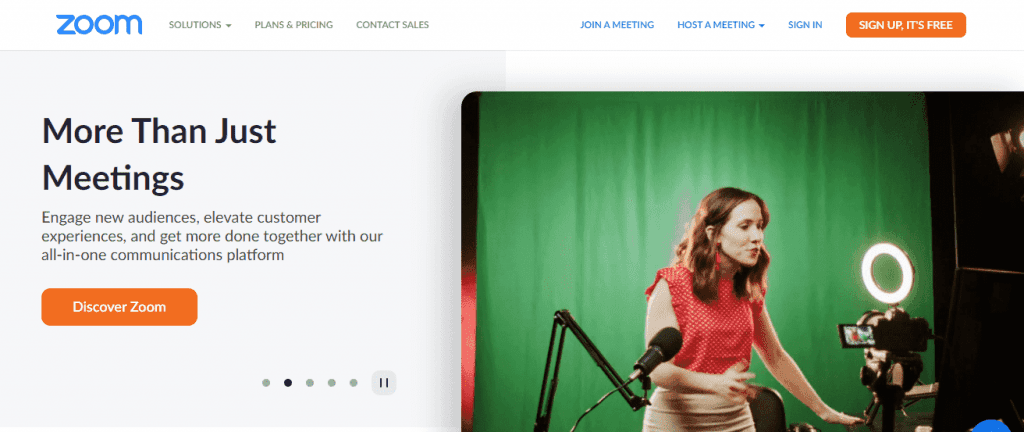 Zoom, an all-in-one virtual team meeting platform, equips you with all the solid features that help connect teams across the globe. The tool is excellent for connecting over an audio or video call within seconds.
Its screen sharing feature allows you to bring team members together to collaborate hassle-free on multiple projects and tasks. Moreover, you can chat with team members and switch to a video call effortlessly with a tap.
Features:
Private and group chat
Unlimited group meetings
Unlimited cloud storage
HD audio and video calls
Transcript recording
Pricing:
Basic– $0
Pro– $14.99/month/license
Business– $19.99/month/license
Enterprise- $19.99/month/license (Contact sales)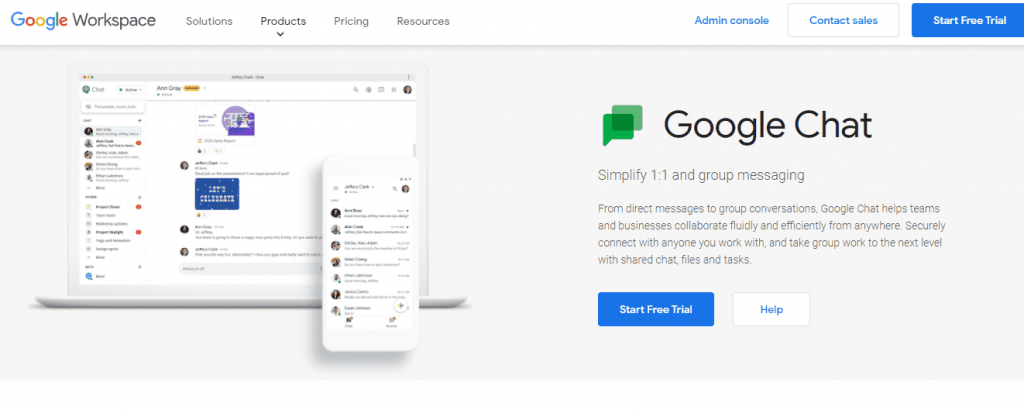 Google Chat offers awesome features that enable one-on-one and group messaging for team members located in different places and time zones. It is a smarter way to connect over instant messages or even voice calls using your VoIP number for enhanced collaboration. Being an easy-to-use tool, it helps bring teams together, despite the geographical distance. Its mobile-friendly interface offers on-the-go collaboration on files and projects.
Features:
Direct and group messaging
Web and mobile-friendly features
Threaded conversations
One-click meetings
File sharing
Pricing:
Business Starter- $1.71/user/month
Business Standard- $9.18/user/month
Business Plus- $17.22/user/month
Enterprise- Available on request
FAQs:
Q. What are the challenges of virtual communication?
The most common challenges of virtual team communication are:
Poor communication
Delayed responses
Differences in work ethic
Lack of personal connect
Workforce diversity
Q. What are the five biggest challenges to conduct virtual events?
Here are the five biggest challenges to conducting virtual events at the workplace:
Keeping guests engaged
Poor time management
Lack of technical proficiency
Privacy and security issues
No two-way communication
Do you want a free Project Management Software?
We have the #1 Online Project Management Software for effective project management.