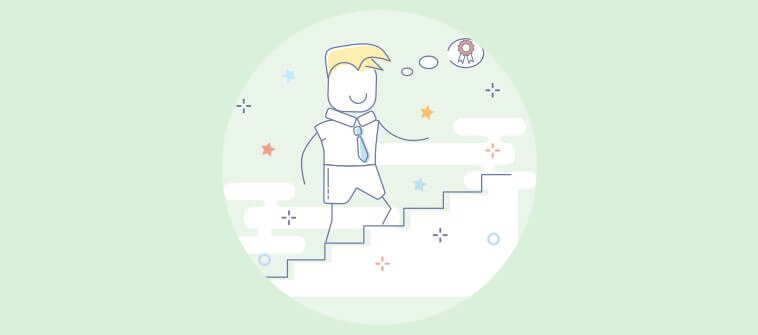 Employees have always been the most crucial asset of any organization because they help to improve business growth by combining their skills and experience.
In every department, you have some employees who often leave you impressed, while others give a satisfactory performance to justify their place.
But, is that enough?
Nope!
You have to bring the best out of each employee if there's a wish to have a strong position in the market.
If we specifically talk about project teams, it's crucial to ensure that they always bring their A-game while working on the assignments. Why are we stressing specifically on project teams? The reason being is you have to take care of several preset factors like deadlines, quality standards, and budget. You cannot meet them at once unless your team is giving their best.
Remember that your project members may not find a better version of themselves if they are already content with their performance. Therefore, it gets very important for you to start taking proactive measures, instead of waiting for the annual performance evaluation meeting.
This blog will make you familiar with 10 effective tips for improving work performance. Let's dig in!
1. Promote Accountability
One of the best ways to improve performance at work is to encourage your team to take ownership of assigned tasks.
When your team members start holding themselves accountable, they execute tasks carefully. It reduces the number of change requests and drives your business towards project success.
How can I make my team more accountable?
The key is to set SMART goals. You can do this by simply keeping these points in mind:
Understand project requirements properly

Break large tasks into small ones using

Work Breakdown Structure

(WBS)

Delegate tasks with realistic timelines
Read Also: How to Set Your Project Goals
Apart from this, try to instill confidence in your team members. Here are some suggestions:
Explain to project members why you've entrusted them with tasks in the kickoff meeting

Let them lead crucial project-related decisions during the execution phase, while you assist them

Hold a meeting and let top-performing employees share how they have done quality work within the intended time. It will motivate other project members to raise the performance bar.
2. Manage Multiple Tasks
Generally, concerns like 'how to improve work performance' surface when your project team struggles to manage multiple tasks. As we know, task mismanagement often results in delays and affects client relationships negatively.
So what's the solution to task mismanagement?
Multitasking??
It may or may not. Multitasking brings benefits and has the potential to address problems related to task mismanagement, but it has some disadvantages that would only produce frustration. You could say it's a double-edged sword.
3 Major Benefits of Multitasking:
Helps to complete small tasks quickly
Builds a habit of adaptability
Increases resilience against distractions
3 Major Drawbacks of Multitasking:
Encourages for procrastination
Decreases the work quality
Creates the chances of time sinks
Well, you could allow your experienced and top-performing project members to try their hand at multitasking if you really want to put your money on it.
Otherwise, you can make your team familiar with the ABCDE method. It will help them to prioritize and handle tasks properly.
How does this method work?
List tasks with letters from A to E (A represents the highest priority and E signifies the least one)

Add a number if two or more tasks fall into the same letter category

Continue with the process until all tasks are lettered and numbered
With the help of this method, your team can organize primary & secondary tasks accurately, which, in turn, helps with execution and work performance.
Read Also: Manage Multiple Tasks with a Feature-Rich ProProfs Project
3. Encourage Your Team to Acknowledge Their Weak Spots
Knowing each team member's strengths and weaknesses is crucial for task delegation.
Premeditated task delegation could help you improve your team's work performance. When tasks are assigned based on the strengths and weaknesses of the team members, project objectives are accomplished within the intended time.
Here, you should encourage project members to perform a self-assessment because no one can judge anyone's strengths and weaknesses better than the self.
Once your team members identify and share their qualities and weak spots, you can switch assignments when the situation calls for it. It'll set your team's mind at ease, and that would certainly result in improved performance.
Don't stop here!
Use well-developed employee training software to cultivate the right skills and help the team members work on their weaknesses. Goes without saying, when all team members are at the same level of expertise, there will be consistency and quality during the project development process.
4. Let Project Executives Take Time Off When They Really Need It
'Take Time Off When You Really Need It' is what you should occasionally say to your team, because working continuously on projects could be very exhausting. It's no brainer that when you get tired physically and mentally, your efficiency drops significantly. It leads to poor project performance and decreases job satisfaction.
As per the 2017 report by Glassdoor, American workers used only 54% of their paid leaves. 10% of the workers didn't take a single vacation leave. The prime reason behind such awful numbers is 'The fear of falling behind.'
Only 23% of employees managed to dedicate their holiday time to themselves, while others were busy dealing with small work requests.
These numbers give a clear indication that sanctioning vacation leaves is the key to prevent high employee turnover and poor project performance. And it's not tough to understand that short trips help employees counter mental blocks and restore their energy levels, which further paves the way for enhanced work performance.
Obviously, you don't want high absenteeism in the workplace. So, take another route and develop a happy environment. Consider the following:
Let your team enjoy half-day Fridays

Take your project members out for team lunch

Conduct team-building activities like 'Catch Phrase,' 'Jigsaw Puzzle Race,' etc. during the off-peak hours
5. Use a Project Management Tool

The key to improving performance at work is to make sure no loose ends are left during the project development cycle.
But the question is, 'How would you monitor the performance of all your projects at one time?'
A feature-rich project management application is an ideal answer to this question!
Well-developed PM applications not only ensure a delightful user experience but also help to improve the overall work experience.
How?
Let's understand this by taking an example of ProProfs Project, a reliable project management application that lets you do project planning properly and handle your team accordingly.
It helps you to monitor the project progress at multiple stages. It allows you to share project reports with clients and also records time spent on each task. Overall, it promises transparency and empowers you to have complete control over your projects.
Remember that the right workload management tool can do wonders, so keep every small factor in mind before making the deployment call. You can consider this Buyers Guide to make the right decision.
6. Give Feedback Periodically
One of the simplest and most effective ways to improve job performance is to give timely feedback to your team. When your project members know that their performance is being evaluated, they will strive for quality while working on any assignment.
We all need people who will give us feedback. That's how we improve.

— Bill Gates
By giving constructive feedback, you not only prevent mistakes proactively but also enjoy remarkable benefits, such as: Better business productivity, High employee loyalty, A long streak of successful projects, and so on.
As per the reports, 43% of highly-engaged employees get feedback from higher-ups at least once a week.
Note that there's always room for improvement, no matter how good your team is performing. With your positive feedback, your team will look forward to optimizing the way of their working. While negative feedback will help your team understand where they really need to improve on.
Read Also: Improve Work Environment Using Employee Feedback
7. Discuss the 80/20 Rule
Discussing the 80/20 rule, also known as the Pareto principle, with your team could be a game-changer. It asserts that you can achieve 80% of project results if you focus on 20% of the work that matters most to clients.
You can even say that this rule encourages you to see the bigger picture and therein avoid project derailments.
This project management methodology helps you improve work performance in two crucial areas.
A .Time management
Keeping the 'Time' factor in check is significant because clients will be happy if you deliver quality deliverables within the expected timeframe.
Sometimes, time management becomes a challenge when you receive change requests with no new deadlines.
Here, using the Pareto principle could be a smart move because it helps to reduce the chances of receiving change requests. How? Well, when your team executes the most crucial tasks properly, it is possible that clients don't demand major changes later on.
Here are a few tips you can consider to avoid change requests:
Discuss project requirements with clients and set the most crucial tasks as milestones for your team

Conduct weekly or biweekly team meetings to get detailed updates on the progress of milestones. In case you feel there's an area for improvement, talk about it right away

Always explain the client's point of view to your team so that they can work on each task with a high degree of precision
B. Quality control
In terms of Quality management, the Pareto principle says 20% of the defects lead to 80% of the problems. For example, 80% of customer complaints take place due to 20% of product- and service-related errors.
It indicates that if you identify and address major mistakes that happened during the project development process, other related problems may vanish automatically.
Here are some key tips:
Examine closure reports to identify common and major problems

Use

well-developed knowledge base software

to build a central repository of solutions, and this will empower your team to handle intricate issues aptly and quickly

Summon your top-performing project members and ask them to share their ideas on how to identify and resolve issues in the first place
8. Set Milestones
Setting milestones has always been a great way to keep your project team focused and ensure consistent work performance. When you define critical goals along with realistic timelines, your team takes more responsibility and plans things every day. Consequently, it makes team management easier and helps to meet the promised project delivery date.
How can I set milestones for my team?
It could be simple if you follow these steps:
Just go through project requirements with a fine-toothed comb and figure out the most important goals to mark them as milestones

Focus on your timing, as placing milestones closely could affect their importance

Keep the frequency in mind, especially if you are working on a complicated project comprising a myriad of crucial tasks. There will be no sense of achievement in your team if you label each major task as a milestone
It would be great if you go one step further and incorporate a task management application for milestone tracking. By doing this, you gain two major benefits:
Prevent time sinks proactively

Keep your project baseline intact
9. Improve Internal Communications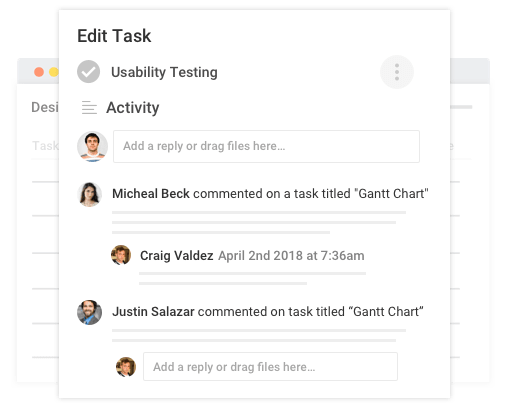 Improving internal communications is a mantra for successful project management. When teams across different departments pass crucial information on time and work collaboratively, there will be a significant improvement in the project performance.
And it's not tough to improve internal communications if you strive to develop a healthy work environment, where no one hesitates to discuss things. As a result, you would witness high-quality deliverables and increased productivity.
You can even leave no stone unturned by bringing a feature-rich project management application into operations.
Let's take an example of ProProfs Project that offers amazing features like task comments, file sharing, and email notifications to facilitate team communications.
10. Have a Schedule for Team Meetings
Team meetings are indubitably a significant part of the project development process, but summoning project members at any time could affect the workflow negatively. Barring this, there is a likelihood that you miss a few things to discuss during such unplanned team meetups. It results in time sinks and hampers productivity.
To improve work performance, develop a schedule for team meetings. Make sure you attend each meetup with a clear agenda, as that's how you can convey valuable information and ensure smooth project progress.
However, if you are a remote-first company, you can still use this technique to improve the workflow. Schedule teleconference meetings with your team members to discuss the project's details while sitting at home. If done correctly, teleconferencing can give the best results.
Here are a few effective tips you can take into account:
Set an end time, so meetings don't get stretched unnecessarily

Jot down all small factors and discuss them at once as that's how you can reduce the number of team meetings

Think about potential questions and work on their solutions so that you can end meetups on a positive note

Share MoM (minutes of meeting) via email after the conclusion of every meeting

Do a quick analysis of the project's performance if you have to hold an immediate team meeting
Read Also: Why Is It Important to Have a Project Management Communication Plan in Place?
Ready to Enjoy Improved Work Performance?
Delighting clients won't be tough if you improve work performance continuously. Besides happy clients, you also enjoy some major advantages, such as a more engaged workforce, lower employee turnover rate, timely completions, and more.
With the help of this blog, we have revealed the top 10 ways to improve performance at work. But if you want to achieve better results quickly, bring a well-developed project management application into your operations ASAP.
Try ProProfs Project Free <Take a Tour>
It could do wonders by reducing the pain points related to task management, communication, and client billing.
If you want to learn more about the benefits of having a PM tool, give us a call at (855) 776-7763 and get the best assistance.
---
FAQs
Q. What are the top 3 ways to improve performance at work?
The top 3 ways to improve performance at work are:
Use a feature-rich project management application

Discuss job roles & responsibilities for proper task delegation

Communicate with concerned team members to complete each assignment aptly
Q. How do you identify areas of improvement in the workplace?
The best ways to identify areas of improvement are:
Scrutinize project requirements to develop an error-free plan

Conduct meetings and invite team members to share their opinion on how to streamline operations

Create surveys by using a reliable online survey tool like

Qualaroo

to get insights into the improvement areas
Q. What are the areas of improvement for employees?
The major areas where employees must improve are:
Time management

Interpersonal skills

Cooperation

Decision making

Taking feedback positively
Do you want a free Project Management Software?
We have the #1 Online Project Management Software for effective project management.