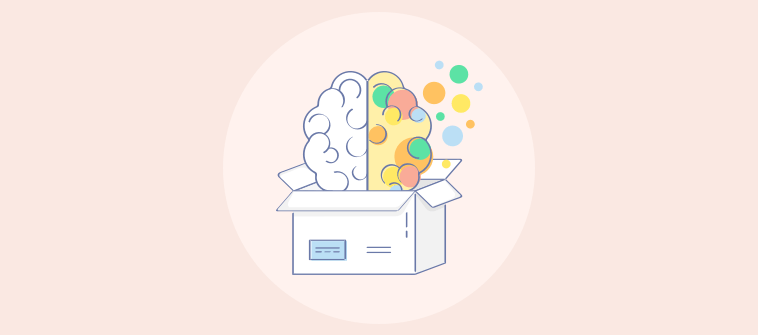 "But we've done it this way for years."
You've heard this often enough.
Once businesses have implemented their systems, the idea of having a process improvement plan goes right out of the window. It is a powerful tool, no doubt, but grossly underused.
Reasons for this under-utilization is multi-layered:
Businesses do not have the time to review processes

Designated team members do not have clearly defined roles to take necessary action
Or worse still, most businesses do not even know how to review processes or implement changes.
Understandably, spotting the symptoms of painfully outdated business processes is by no means an easy feat. But failing to adapt to growth by not subscribing to improvement planning may lead the business to strangle itself.
But there's a way out.
Follow this step-by-step guide on designing and implementing a process improvement plan that will ultimately determine your business's future health. In case you're searching for a quick guide that helps you create your process improvement plan, then this blog is for you.
In this piece, we aim to cover:
What is the Process Improvement Plan?

Why Do You Need a Process Improvement Plan?

Process Improvement Methodology

Steps in Process Improvement

Examples of Process Improvement Plan
What is the Process Improvement Plan?
A Process Improvement Plan consists of a series of processes designed to initiate improvement. In most instances, you will notice process improvement plans created as flowcharts that include the inputs, outputs, and interfaces of what the improved process is intended to resemble. Additionally, the improvement plan will involve a set of metrics to benchmark targets and approaches for improvement and any relevant tools and resources, policies, and procedures required to deploy the plan.
In other words, a business process improvement plan involves a proactive approach to identifying and assessing weak processes within the series of established core processes within the organization. It is accompanied by a documented strategy to overcome these bottlenecks for improvement. Removing these redundant processes ensures that the business operates more efficiently and enhances the customer interface and orientation within the enterprise.
Check out the Best 17 Workflow Management Softwares To Improve the Process
Why Do You Need a Process Improvement Plan?
Did you know that almost 90% of IT decision-makers believe that legacy systems and existing business processes hold them back?
Heavy reliance on 'what has always worked' will ultimately ring the death knell for the business because they are averse to change. Therefore, what you need to do to ensure business continuity is to move with the times, which translates into implementing process improvement.
Still not convinced if this is the right move for your organization? Let's take a look at some of the process improvement plan's key benefits to understand why you need it.
Boosts Productivity
Why be stuck with workflows and manual systems that are so incredibly time-consuming? Investing in process automation can allow your resources to work on the core aspects of the roles. By minimizing the number of repetitive manual tasks through automation, employees can be more focused on generating more significant revenue for the business.
Related Read: How to Use Technology to Increase Your Productivity
Promotes Organizational Agility
Are you an organization that still makes manual data entries or spends a considerable amount of time filling our invoices? To migrate your organization into the 21st century, you need to adapt to flexible business processes and keep up with continuous process improvements. Implementing an online project management software can let you achieve greater heights of success and is essential to remain competitive amongst your industry peers.
Minimizing Risks
Is the percentage of human errors steadily rising in your organization? Any role that involves your employees manually transferring information or data across systems lays the platform bare for a ton of mistakes that can take you hours to fix. Integration of process improvement measures can reduce such risks significantly.
Greater Customer Satisfaction
Are you spending some quality time with your customers? Perhaps not because your business is burdened with outdated core processes. A study by Microsoft found that customers will not think twice before taking their business to a competitor rather than be serviced by an organization with redundant processes and technologies.
Happier Workforce
How can you motivate your employees when you have their days filled with the struggle of repetitive tasks? Business process improvement or BPI helps cut down on such routine jobs that are possibly eating into their brainpower. With satisfied and happy employees in your workforce eventually enhances performance and helps in business growth.
Process Improvement Methodology
When Henry Ford redesigned Ford's assembly line, it brought down the time to manufacture a single unit from 12 hours to 2 hours 30 minutes. This is an excellent example of a process improvement methodology where a business process challenge gets addressed.
That said, it's not a 'one size fits all' formula. What may have suited Henry Ford's business requirements may not successfully meet your organizational needs. You can only redesign the process once you have a greater understanding of the various available improvement techniques.
Let's explore.
1. Lean Tools
Lean tools comprise three specialized techniques that are best suited to remove 8 types of process waste – defects, overproduction, waiting, non-utilized talent, transportation, inventory, motion, and extra-processing. The 3 Lean tools that you may apply to improve your business processes are:
5S Methodology

is the perfect Lean tool used by the majority of industries of all sizes that helps identify improvement projects in your company to eliminate waste.
Useful For:
Organization and cleanliness improve well-being

Promoting team and organizational efficiency and productivity

Extra space is created, leading to new possibilities

Reducing costs
Documentation:
Workspace photographs pre and post 5S methodology implementation

Checklists and documents on team activity

Check the status through evaluation forms

Comply with a list of guidelines to ensure the office environment remains organized
How To Use: The key principles of the 5S methodology involves: Sorting, Straightening or Setting in Order, Shining, Standardizing, and Sustaining. For example, using a label or a sign to categorize office files.
Value Stream Mapping

is the second of the lean tools, mostly used by manufacturing companies. The technique uses a graphical workflow to document, analyze and improve the flow of information or materials required in taking a product from its creation to delivering it to the end customer.
Useful For:
Finds waste within and between

business processes

Identifies core areas that need priority improvements

In-depth analysis and generating insights into process flows and decision-making

Benchmarking and goal setting for improvement tasks
Documentation:
Design a mapping process flow of how customers are being served currently

Future-state map that represents how the process will function once improvements have been implemented
How To Use: Value stream mapping provides a holistic overview of how the process flow will fit in through the operational ecosystem. For example, this is a tool that can tremendously help to simplify the delivery of a software product or feature request, enabling the leadership team to see a representation of the actual value being added in the process.
Kaizen

, mostly used by Management Departments, Waste Disposal Analyzers, Quality Control Divisions is the last of the lean tools. All employees come together and are actively engaged in the process of continuous improvement in this part action plan and part philosophy technique.
Useful For:
Continuously improving

processes such as quality of products and services, as well as customer satisfaction

Enhancing team performance and productivity by focussing on job satisfaction

Organizes events focused on improving specific areas within the company

Promoting better safety protocols and swift delivery processes
Documentation:
Explains the prevailing condition of the workplace

Conducts surveys to gauge employee mood and attitude in terms of job satisfaction

The strategy includes planning to boost team productivity
How To Use: Generally implemented through a PDCA (Plan, Do, Check, and Act) approach, Kaizen captures the current best practices for a process and aims to find improvements for those processes. For example, identifying the best ways to improve your cycle time, minimizing customer response time, and reducing unnecessary waste.
2. Six Sigma Tools
First introduced by Motorola to minimize defects and cycle time, Six Sigma tools is primarily a smart business process management methodology. The data gathered from the various organizational processes is assimilated, evaluated, and then interpreted to identify ways to efficiently improve core business processes that directly impact customer satisfaction.
There are two main Six Sigma tools that together form a part of the process improvement methodology are:
DMAIC is a direct descendent of the Plan-Do-Check-Act Cycle that constructs an approach to measure and analyze the process in order to define modalities and sources of a defect that may be used for seeking improvement.
Useful For:
Enhancing processes or products

Identifying solutions for bottlenecks within processes

Minimizing add-on expenditures and time
Documentation:
Project charter

Process mapping

with inputs and outputs

Data on project performance

Documentation of the new solution
How To Use: The DMAIC methodology can be applied to most industry types especially by project teams through a phase-wise implementation of define, measure, analyze, improve and control. For example, a manufacturing shop floor requires improvement in production. This can be done using DMAIC methodology as existing processes are rich in operational data, making Six Sigma analysis possible.
DMADV or Design for Six Sigma (DFSS) can be conducted if your existing processes do not meet the required quality standards even after improvement. The cause and effect analysis or the fishbone diagram techniques are employed to visually represent the causes of defects of the process. Ultimately, the objective is to come up with a process improvement plan that is better than the previous one.
Useful For:
Developing a new process or a product

Minimizing the bottlenecks in a product line

Boosting customer satisfaction

Increasing profit generation
Documentation:
Information on historical process and product data

Customer feedback and reviews
How To Use: The key phases of DMADV involve defining, measuring, analyzing, designing, and verifying – which can be applied in all types of industries, especially in manufacturing. For example, a large financial services company decided to revamp its current performance management system in order to facilitate the development of its employees and better respond to the changing business environment. This can be easily executed using the Design for Six Sigma methodology.
3. BPMN Process Maps
Also known as Business Process Model and Notation is increasingly being used by Business Analysts across industries to map out their approach to any specific process. It is graphically represented in a flow chart format that visually depicts the sequence of business activities and end-to-end information flows required in the completion of a business process.
Useful For:
Dissecting

ongoing processes

to initiate analysis and evaluation

Finding loopholes and bottlenecks within processes

Redesigning the process

completely

Facilitating knowledge transfer to stakeholders on how the business is run
Documentation:
Information on the inputs, outputs, etc. of the business process
How To Use: Business process mapping takes into account roles, responsibilities, and standards. With the visual representation format, users find it much easier to comprehend the process without having to read a long, narrative description. For example, when businesses onboard new employees, having a set of documented processes that they can follow greatly minimizes time spent on training and also puts less pressure on existing company staff. It also ensures that the output remains continuous and consistent.
The implementation of these process improvement methodologies may be supported by an online project management tool that helps businesses effortlessly plan, track and deliver projects on time.
Let's take a look at how the project management process works with ProProfs Projects.
Learn: How to Create a Project Workflow
What you see here is a typical project workflow on the ProProfs Projects dashboard. The workflow defines all the stages of a task that falls within the purview of a project. It outlines the task timeline, from its inception to delivery. You know exactly what to do, and when to do it. Plus, you can customize your project workflows to meet the needs of a broad spectrum of clients.
Other than task allocation, ProProfs Projects can help team members handle these key project management components:
Simplified team collaboration

Enhanced task scheduling

Effective communication

Seamless task delegation

Error-free budget management

Easy document sharing

Convenient access to Gantt charts
With access to all your projects from a unified dashboard, the business is able to prioritize jobs and make workflow and process improvements whenever necessary.
Steps in Process Improvement
It's true that at the heart of any business is a set of well-defined processes. It can be a combination of formal and informal business processes that are designed to ensure that anyone falling within their purview has a clear understanding of their roles within them.
It is also true that the same processes cannot function in perpetuity. As the organization grows, it will be necessary to analyze the process, update them so that the business runs efficiently. This is where the process improvement plan comes into play.
Take a look at these six Process Improvement Plan steps that can take your business to the next level:
Step #1 – Mapping the Process
Your analysis of the efficiency of your business processes will be a job half done if you are not actually well-versed in what these processes are.
Typically, a visual breakdown of how the human interactions and the repeatable tasks work in cohesion can help you gain a bird's eye view of the business. In a nutshell, this constitutes the business mapping process which is the first step of your Process Improvement Plan.
In theory, you can design your business process mapping through pen and paper. Having said that, it will only work for organizations that are micro-sized. For anything bigger, it is best to rely on technology-based tools.
So, what are your options?
Possibly a Graphing software can do the trick since it lets you digitally draw process flowcharts. Alternatively, you may also choose to go with Workflow Applications that are definitely more robust and powerful. Not only can design your flowchart but also monitor and track your processes in real-time.
Banking on Workflow Applications can be potentially beneficial for your business in a number of ways. Here is a snapshot.
Complete Process Tracking:

Other than designing the process flow and monitoring it in real-time, keep a check on all

team members

, their tasks, deadlines, projects submissions, and more when you use Workflow Applications.

Accountability & Productivity:

When every team member is aware of their tasks being monitored by the software, the accountability towards their projects automatically increases. This, in turn, also results in greater employee productivity.

Automation:

Workflow applications generally come embedded with a variety of task automation tools. This helps to cut down on monotonous, manual processes enabling employees to concentrate on core work functions that are geared towards driving company revenue.
For example, take a look at how ProProfs Project's Kanban board helps you to visualize your project mapping journey.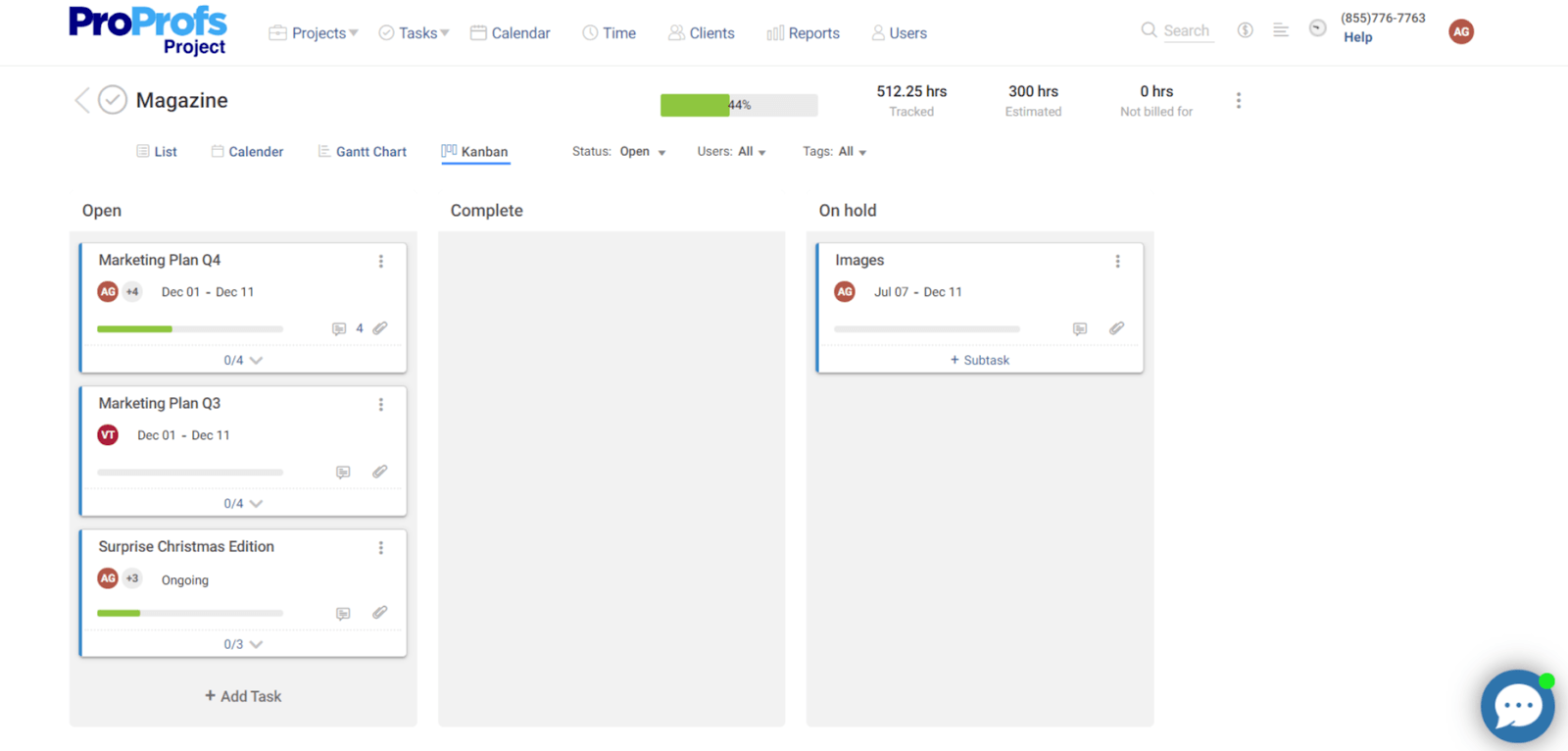 Read More: How to Use Kanban Board
Not only do you have a clear understanding of how information and knowledge flow within your team and your organization until it becomes a final deliverable but can also monitor, track and manage task completion in an efficient and timely fashion. Moreover, you can exactly prioritize jobs, pinpoint areas that may seem weak, ineffective, and inefficient, and improve overall team productivity.
Related Read: 15 Kanban Tools for Productive Teams
Step #2 – Analyzing The Process
You now have the process mapped out with a flowchart in place. The second step of the Process Improvement Plan is to break down the process into its constituent parts using this flow chart. This phase of analyzing the process helps the team to detect the issues and bottlenecks that are strangling the entire system.
Start by asking these simple questions.
Can you identify specific steps in the process that is clogging up the system?

What is the primary reason behind delays and missed deadline instances?

Is the entire process taking a lot longer than expected?

Can you detect examples of diminishing quality and increasing costs?

Are you able to identify critical points where there is a rise in above-average resource wastage?

What stage of this process fails to contribute to the outcome overall?
Other than asking questions, you may apply various types of business process improvement tools, for example, the 5 Whys, which also helps in detecting inefficiencies and problems in the system.
What you need is a strong and robust analytics tool to assess and evaluate your process improvements. For instance, the report module by ProProfs Project helps businesses to keep track of a project, a task, time spent, your schedule and so much more.
Learn More: How to Access ProProfs Project Reports
The reports can be customized to suit your business needs and can be literally generated in a matter of minutes, easily shareable with your team, partners, and any other stakeholders in the business.
Alternatively, you can also invest in Root Cause Analysis or Cause and Effect Analysis techniques to trace the problem to its origins. Once you have accomplished that objective, deriving a solution becomes that much easier.
Step #3 – Redesign The Process
The bottlenecks and hitches in your business processes have not been identified. Assigned team members can now start relooking at the process flow and figure out strategy adjustments to bring in the element of implementing process improvement.
Processes may need tweaking to minimize all friction points within the process. It goes without saying that the improvement planning will completely depend on your current business situation. This is a customized experience that will include the best practices of the Process Improvement Plan.
Here are some of the best practices that you can follow at this stage.
Select the Appropriate Comparison Metrics:

No doubt, you would want to compare your old existing business processes with newly integrated ones to ascertain their level of efficiency. The comparison metrics allow you to empirically know what's working, and what's not.

Work with The Field-Level Employees:

It is quite possible that your field-level employees may have some valuable inputs that can be integrated into the improvement plan.

Outline Logical Tenures:

While you may think that measures in the long-term may be more effective, they can end up being exactly the opposite.

Define the Exact Scope of Changes:

You may be exposing yourself to greater risk if you are not aware of the exact impact of the changes that will come into play as you

implement a process improvement

plan.

Perform Risk Analysis:

Even though predicting the outcome with 100% accuracy is impossible, performing a risk analysis gives you a realistic idea of what to expect and where things can go wrong at the implementation stage.
Step #4 – Acquire Appropriate Resources
Despite having your mapping process, analysis, and redesign phases clearly defined on the drawing board, your idea of process improvement can never be realized unless you acquire the right resources to carry out the implementation tasks. Typically, you should be looking to onboard:
Technical support

Increased budget

Executive buy-in
Once you have your desired resources on board, you will need to create a dedicated team to ensure that the process improvement plan progresses without any glitches. This can be achieved by using the ProProfs Project user management module.
Check Out: How to Add Users to ProProfs Project
Simply add any number of teams to see the improvement plan through and organize them in a manner that facilitates better communication and collaboration. Additionally, if you need to create special teams to execute specialized tasks, it can be easily done to create teams based on user specializations.
Adding users to existing teams is a bonus. Plus, you can tag users to ensure that they check the important messages in real-time.
With your human resources sorted out, your team members will need access to a variety of tools that will be critical in helping them to successfully move the process improvement plan from the drawing board into reality.
Step #5 – Implementation & Communication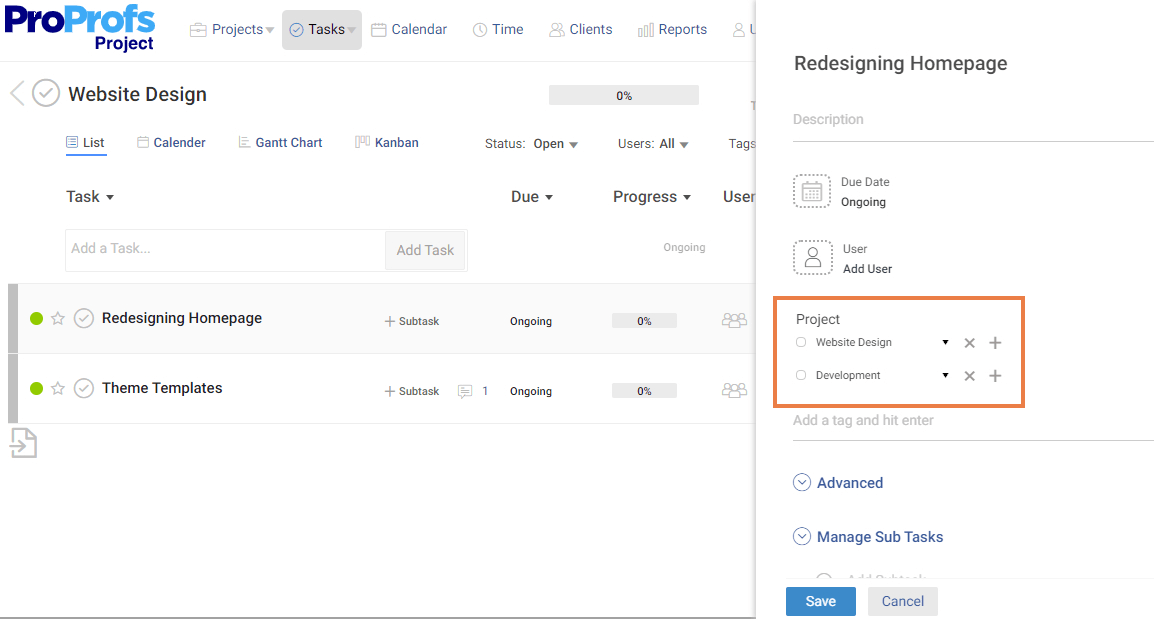 This phase is all about action time for your team. That said, this stage is probably the most critical in the overall improvement plan. Errors can be costly at this stage. How you allocate your tasks within the project will be the determining factor of your process improvement plan's overall success.
Check out the seamless process of task allocation using the ProProfs Project.
Undoubtedly, within the improvement plan, you will have a number of tasks and sub-tasks. Enhance the workflow by assigning primary and secondary projects to appropriate team members. Initiate seamless file sharing and conversations by using ProProfs Project that helps you to prioritize your tasks and helps to deliver them as per allocated deadlines.
The quality and level of success will totally depend on how masterfully the new and improved process flows are integrated into a real-life scenario.
To ensure successful implementation, remember to follow these steps:
Test all the process flows thoroughly on a small scale and benchmark it to its original counterpart.

Define all the steps in detail.

Acquire resources and train them.

Inform all stakeholders of what changes are being implemented
This helps mitigate any additional risks at the execution stage and address any glitches before business-wide rollout.
Step #6 – Review the Process
The very nature of improvement planning is that it is an ongoing process. The idea is to continuously improve once all relevant stakeholders within the system have had the opportunity to explore the new processes. Retrospection is important to give way to course corrections.
Asking the right questions can simplify the well you monitor the changes. For example,
To what extent have these improved processes made the systems more effective and efficient?

Has there been any negative impact of the implemented changes on the overall outcome?

Can the processes be tweaked further that will make daily operations more productive?
Generally, these questions can help the executors of the improvement plan to identify and resolve any lingering issues that may have cropped up as a result of this process update.
Examples of Process Improvement Plan
It all sounds great in theory, but only the trailblazing, real-world scenarios can bring these process improvement plans to life.
Let's look at some process improvement plan examples of what you can expect to experience if you apply them in a business setting or use it in your day-to-day practices.
1. Ideation and Think Tanks
A number of businesses today are investing in a separate – Ideation and Think Tank wing. The objective is to engage the interest of key personnel such as the leadership and strategic members from every department to come together to work toward a common goal. These sessions can also be a platform to discuss current company processes and if there is a need for improvement and change.
Having an agenda helps as it can help streamline the discussion on ideas for workplace improvements. With a shared vision, both individuals and teams may be assigned the task of coming up with possible improvement solutions to tackle the ensuing process challenge.
2. Surveys and Polls
Your employees should be your go-to people if you wish to find out more on where to introduce process changes because they are the ones who deal with business processes day in, day out. Other stakeholders that can contribute to your process improvement plan are vendors and customers.
The best way is to start with a series of polls and surveys. You can identify the pain points which can be a starting point of redesigning the improved processes. Being in a leadership position limits your vision to macro-level bearings. Therefore, smaller, yet significant process-related issues that are possibly impacting your business can go unnoticed unless you draw credible insights from your human assets.
3. Monthly Training
Ongoing process flows are a smart way to ensure consistency in service delivery across the business. This is particularly relevant in cross-training employees who may have to work in multiple positions thus largely minimizing reliance on key personnel.
This fits in perfectly in scenarios where employees have been trained to work in a variety of positions and the process remains unchanged.
The introduction of process automation can also contribute to process improvement greatly by helping to eliminate bottlenecks that develop as a natural outcome in people-centric organizations.
Build Your Own Process Improvement Plan Today!
Be it a manufacturing enterprising creating a better blueprint for their supply chain or simply a content manager trying to redesign a social media workflow – business process improvement is everywhere!
The implementation of a process improvement plan within the organizational structure is more than just buying tools and software, or even hiring talent. It is striking the right balance between the digital and the human touch allowing the business to function as a cohesive and collaborative unit. Ultimately, the idea is to achieve healthy growth in a controlled and sustainable way.
So, if you are looking forward to sharpening your business processes, we hope that this step-by-step guide was of considerable help. If you have any questions, feel free to check out our FAQ section below.
FAQs
---
Q. 1. What are the most critical parts of process improvement?
Ans: To put it simply, process improvement comprises four key pillars – Auditing, Reviewing, Identifying, and Verifying. However, these key elements can be further sub-categorized into critical parts of process improvement that includes,
Competently mapping the process

Investigating the problems through effective analysis

Eliminate bottlenecks through process redesign

Implement processes by acquiring appropriate resources

Duly communicate process changes to relevant stakeholders in the system

Closely monitor and review the process periodically
Q. 2. How do you measure process improvement?
Ans: There are various methodologies that can be applied to measure process improvement. The simplest solution for an enterprise is to develop a scorecard that is geared towards assessing the performance of the newly implemented processes at a departmental or company level.
The three core areas to cover in your scorecard is:
Measuring Compliance to check if the relevant teams or members are duly complying with the steps of your core processes. This can be easily done using a sample of instances that can generate the data and subsequent insights for you to arrive at an informed conclusion.

Measuring Frequency to get gauge performance if the processes are being complied with as per pre-defined schedules.

Measuring Outcome to examine if complying with the process improvement plan has generated the desired outcome.
The results of the scorecard can be supported by a 'Cost to Benefit' analysis as it helps the business to identify if undertaking the process improvement plan was worth the cost, time, and effort.
Q. 3. What are the two most used process improvement methods?
Ans: Six Sigma and Lean Manufacturing tools are two of the most commonly used process improvement methods. Other methodologies that may also be used for process improvement include:
Model-Based Integrated Process Improvement Methodology (MIPI)
Super Methodology
Benchmarking Methodology
PDCA (Plan-Do-Check-Act) Methodology
Kaizen Methodology
Total Quality Management (TQM)
Do you want a free Project Management Software?
We have the #1 Online Project Management Software for effective project management.