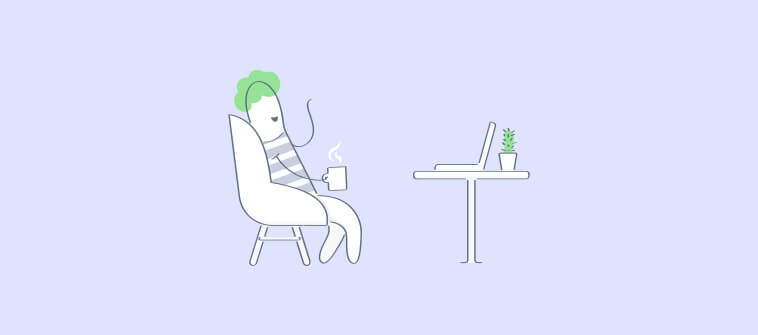 What was once a dream for many working people is now a reality, albeit not in the best of circumstances. In my history of working with people, I have personally encountered not an insignificant number of people who preferred to work from home, rather than go to an office building. Think about it: you save money on commuting, and you save time (since time is money, that's twice the savings… I think). As our world becomes more digitized and very dependent on chatbots, it has become easier to implement a "work from home" policy for most companies, and there are several applications/tools out there that make working from home not only convenient but also enjoyable.
The importance of flexible working and remote jobs have become more prominent over the course of this pandemic. Employers have also had to adjust their policies and accommodate for a remote work environment. This transition has been made easier for several companies thanks to the availability of tools and resources in the market.
Today we are going to look at 11 popular tools that remote working teams could use. The categories of tools I felt worth mentioning are as follows:
The article does not include every single tool in the market, but a simple analysis of the best tools in each category. Note that some of these applications will cost money, so it is totally up to the user and their needs to select a tool based on their specific preferences.
Messaging Tools
First, we will take a look at a couple of popular messaging tools that could make the life of remote teams easier. These tools are convenient for messaging small corrections, tips, links, and other relevant information. The great feature of messaging tools is that one need not even have to pick up the phone to message someone. They can simply do it from the comfort of their laptop or PC.
1. Google Hangouts (Chat)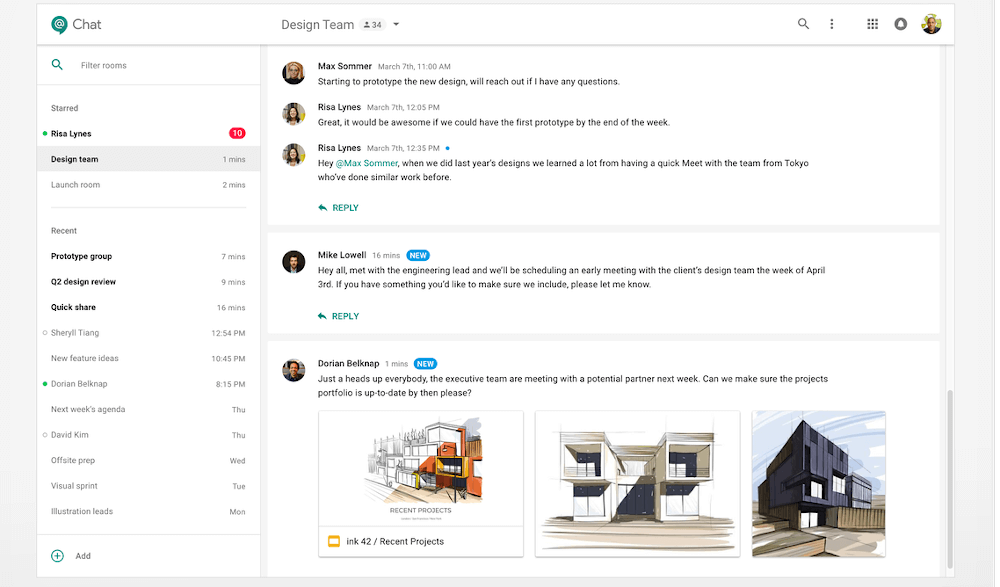 This is probably one of the best tools for remote teams. Two major advantages of Google Hangouts is that it is free, and anyone with a Gmail account has full access to it. Provided that all your remote teams are under a common Gmail web address, Hangouts will give you instant access to all employees via chat. Group chat rooms (with a custom title) can also be created for teams working virtually.
The only downside of using Hangouts is that you would only be able to converse if the other person has accepted your invitation to chat. This could be problematic, especially when you have urgent things to discuss, and the other person is offline and has no communication history with you. I recommend all remote workers establish connections with each other via Hangouts as soon as their account is created.
2. Slack
Slack is one of the most popular messaging platforms for remote team workers. It includes all the benefits of Google Hangouts. It paves the way for internal communications, thereby increasing productivity.
There are three versions of Slack: Free, Standard, and Plus. Standard and Premium cost $2.67 and $5 per employee each month. The prices, compared to last year, have gone down.
Small and mid-size businesses use Slack Standard, while multinationals go for the Plus version. Standard allows you to collaborate with employees outside of your organization. On the other hand, the Plus version offers the same and also provides 24/7 customer service with a 4-hour response time.
3. Brosix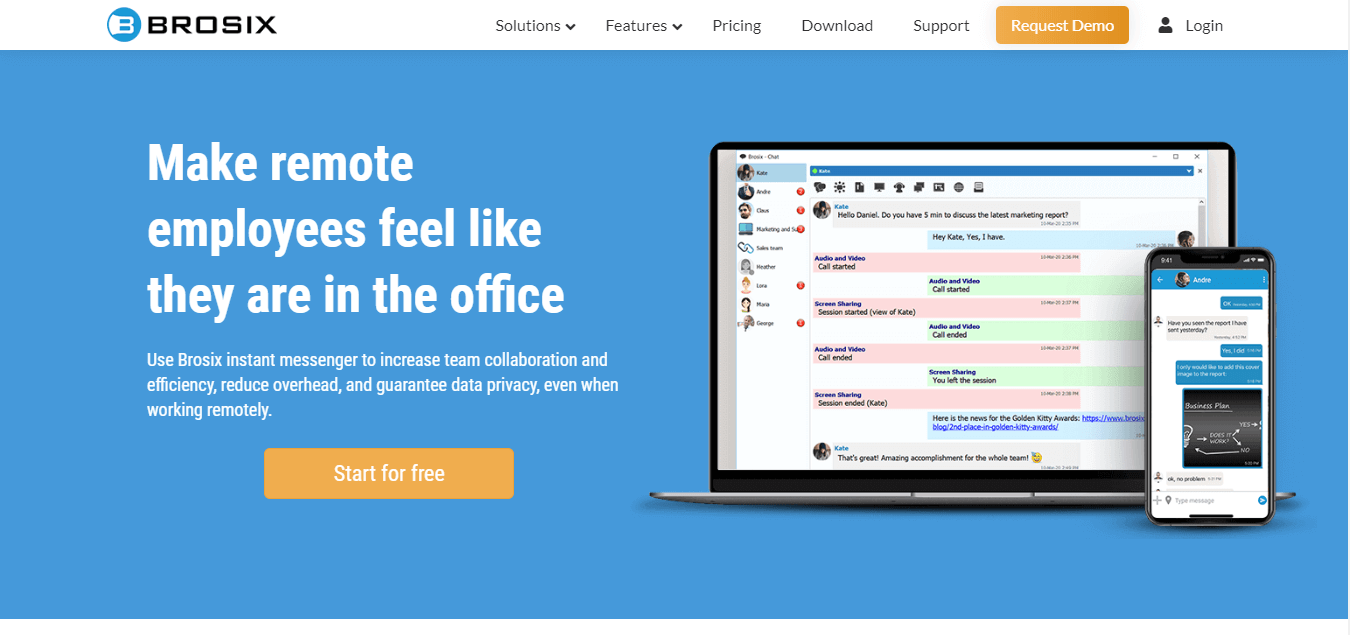 Brosix is a powerful and easy-to-use messaging platform. It gives its clients a fully administrable private team network, which provides a secure collaboration space with its end-to-end encryption. Brosix comes with a package of unique features and tools, right from a range of chat options, to screen-sharing and unlimited file transfers. The Brosix application can be used on both desktop and mobile. This makes it an excellent solution for enterprises looking to improve their productivity and communication security.
There are two plans customers can choose from – Business and Premium. These cost $5 per user per month with monthly, and $4 per user/month with annual payments (Business Plan), and $8 per user/month with monthly payments, and $6 per user/month with annual payments (for the Premium). Clients have all their needed information on the administrator's Brosix Control Panel.
Conferencing Tools
Chat rooms are great, but sometimes it's important to communicate several things to a larger group of people…with facial expressions. To get major ideas across many people is a major inconvenience in a chat room, especially when people have many questions. That's where video-conferencing applications come in.
1. Zoom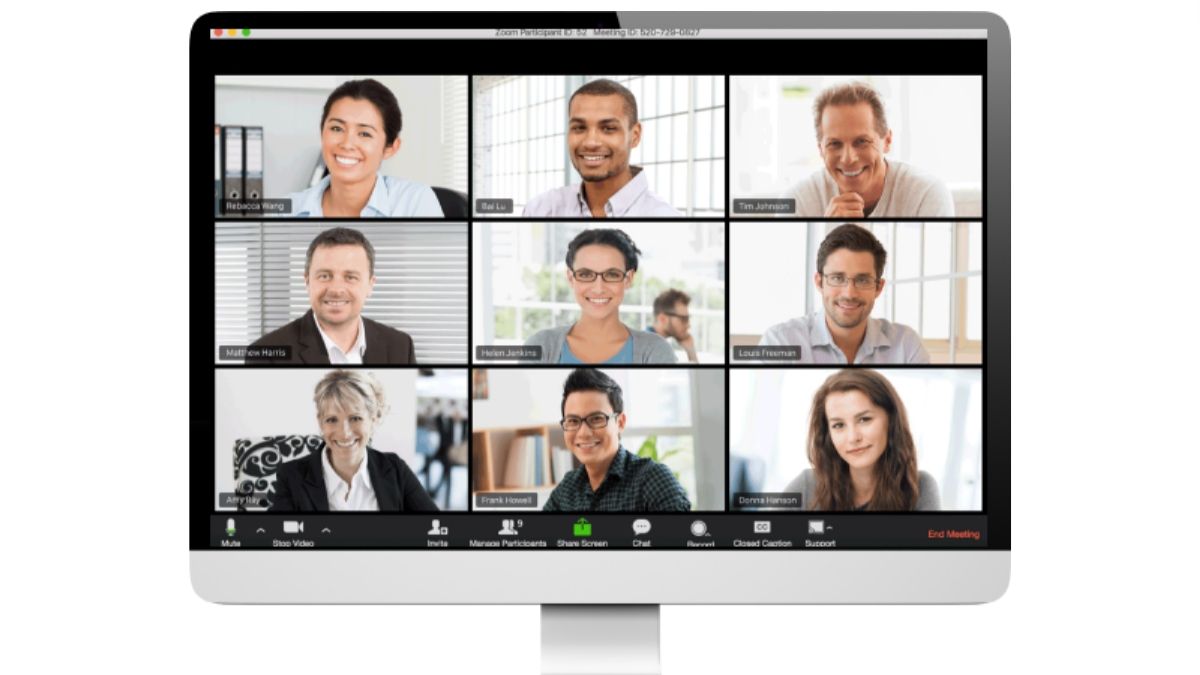 Surely, you have seen screenshots of Zoom on social media platforms during this pandemic. People use it for group discussions, meetings, online parties, etc. The paid version costs only $14 a month, which has to be paid by the host of video calls.
Zoom works on a host-guests basis. The host creates the event with a description, including the contents of the meeting, timing, and agenda. This description will include the created password and an automatically generated ID. Guests can then either use the link to join the meeting or manually enter the ID & password on the ZOOM app.
Zoom also has a chat log for asking questions and providing comments, screen share feature, and other tools such as poll-taking and the host's ability to mute any or all guests.
But the major drawback is video conference calls in the free version get disconnected automatically after 40 minutes. You can join the conversation again using the same link, but have to deal with inconvenience after every 40 minutes.
2. Google Hangouts (Video)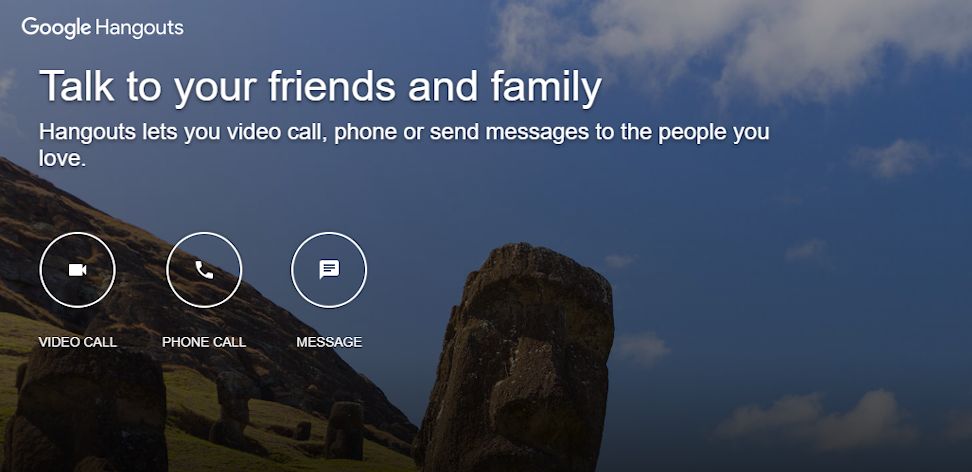 Free is good, and as discussed earlier, Google Hangouts is free. Having used Hangouts myself, I can say that it is one of the best free tools for video conferencing. Its major advantage is accessibility.
The meeting invite is simply sent over email. Upon accepting, it will show up on your Google calendar. This will include a description of the meeting, attendee list, and a link to the Hangouts video call. It supports screen sharing, fairly accurate closed captioning, and chat features. You can see how accessible this is to a business already using G Suite.
Project Management Tools
The challenge posed to employees working remotely is that they cannot come together physically and collaborate on the planning projects and the tasks involved therein. This is where project management tools are most helpful.

Project management tools are used by teams to organize their projects and the minutiae involved therein systematically. Such tools should include features such as planning/scheduling, collaboration, documentation, and evaluation.
1. ProProfs Project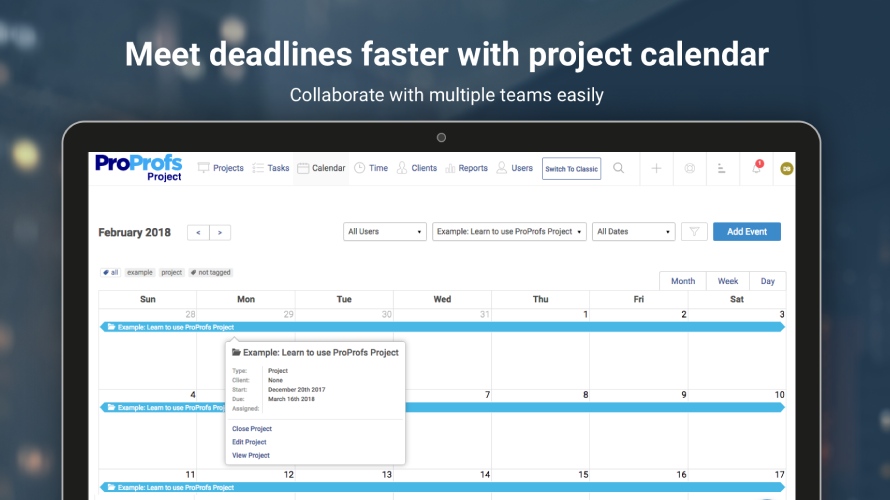 ProProfs Project is an all-in-one project management and team collaboration application that can help remote workers to have complete control over their tasks, deadlines, projects, etc. Remote teams can easily complete their work using this tool, as it doesn't demand any sort of technical knowledge.
It offers powerful features like 'Gantt charts,' 'Time tracking,' 'File sharing,' 'Automated invoicing,' etc. You can enjoy basic features in its 'Free plan.' For premium ones, choose any of its paid models 'Essentials' and 'Premium' that cost $2 and $4 user/month (billed annually).
2. nTask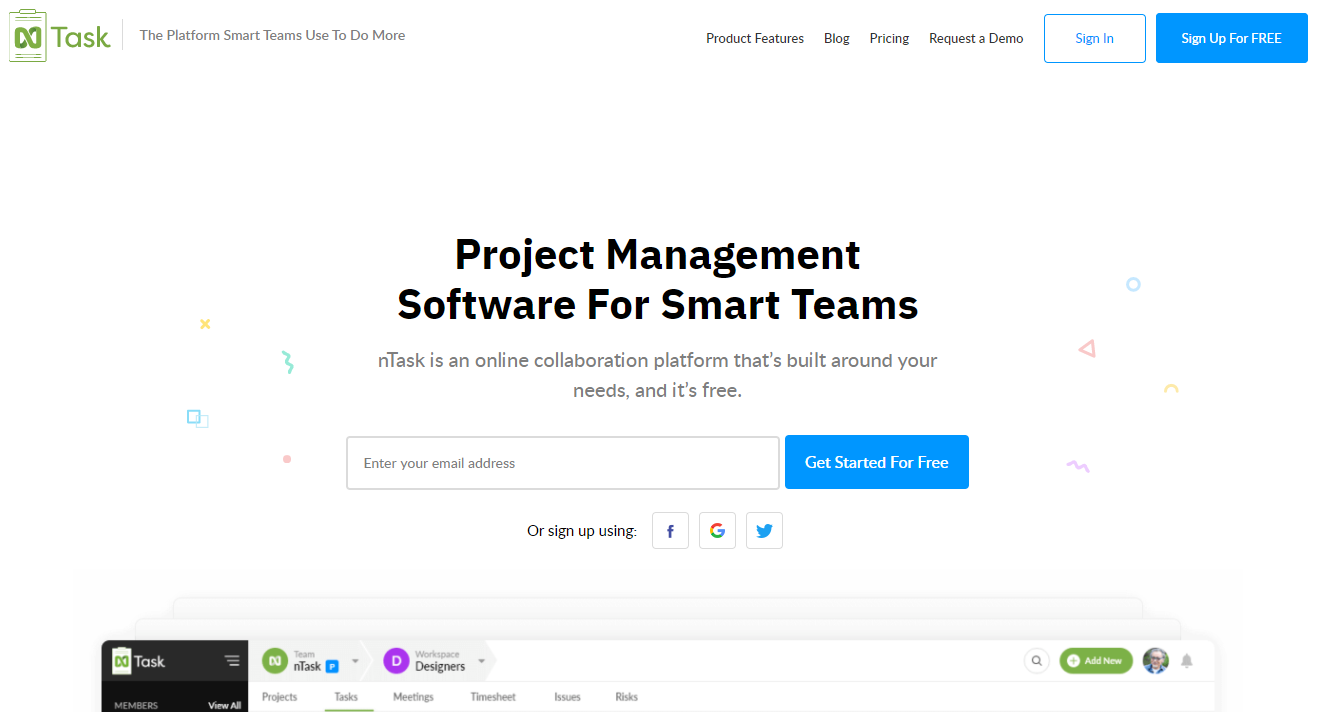 nTask is project management software that lets you have complete control over your projects. You can create to-do lists, set task dependencies, and add start & end dates. It even allows you to collaborate in real-time by offering file attachment options.
It not only helps you plan your projects but also give clarity regarding the progress of each project via Gantt charts. You can access basic features for free or unlock the premium ones by choosing paid plans starting from $2.99/user/month.
3. Monday.com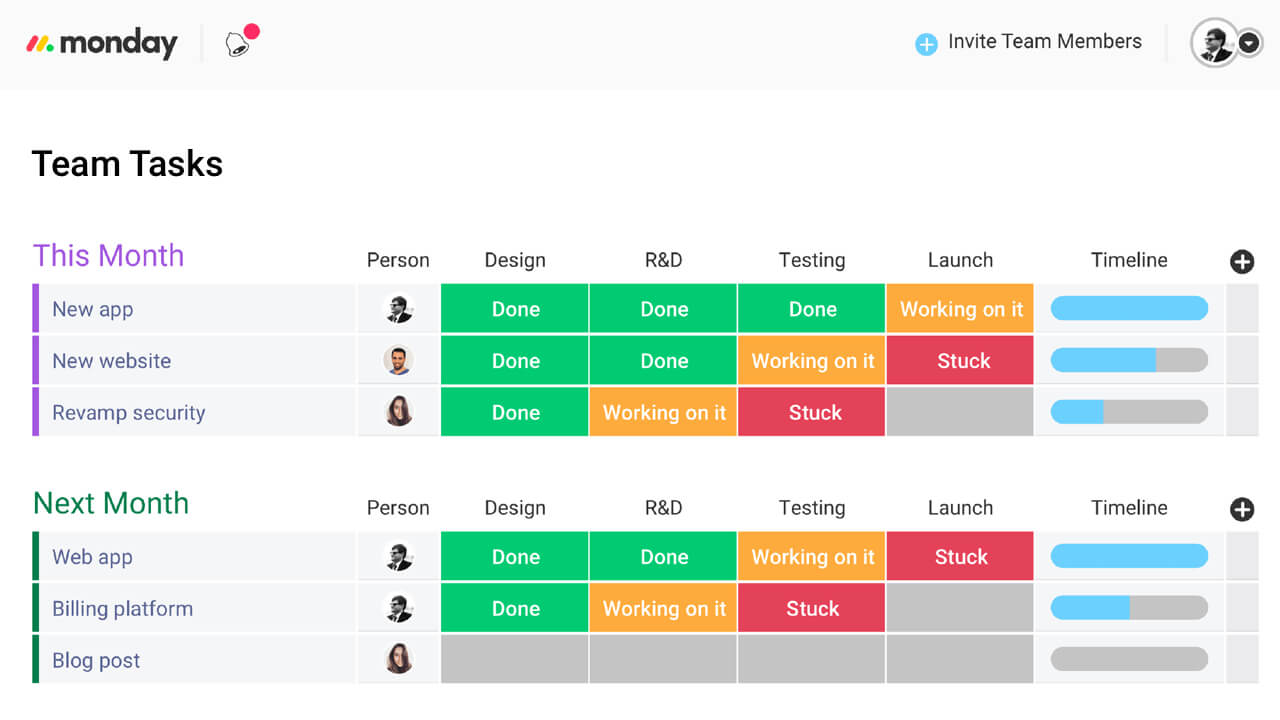 Monday.com serves as an end-to-end project management tool by helping create detailed outlines, monitoring, collaboration on work progress, and reporting on the results.
This tool includes viewing progress on real-time, shareable boards that connect all stakeholders, and centralized communication. It includes basic, standard, and pro plans priced at $8, $10, and $16 per month for each user, respectively.
4. Wrike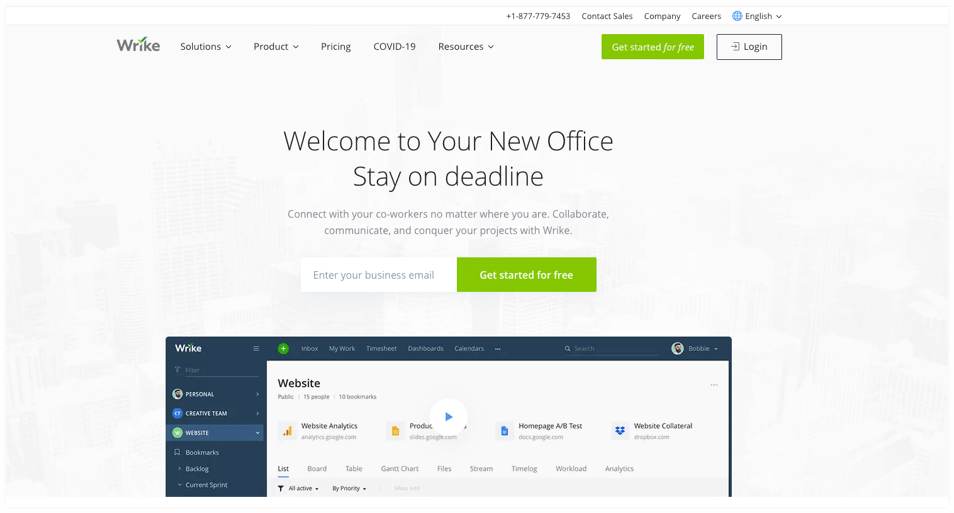 Wrike has pretty much the same project management features as Monday.com, except that it does not have customizable templates and idea management features. One advantage is that Wrike's pro version is currently free, and each version offers a free trial before purchase.
5. ProofHub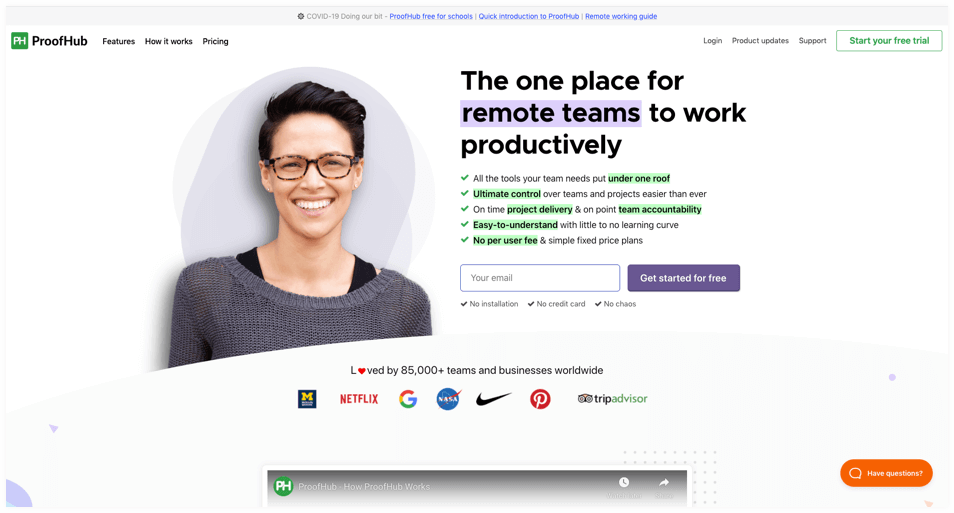 ProofHub is an all-in-one project management and team collaboration software. It helps remote teams stay in ultimate control of their tasks, deadlines, projects, and communications. The easy-to-use interface makes onboarding effortlessly easy.
You can use simple to-do lists or create custom workflows using kanban boards for a more agile approach to task management. It lets you add tasks with deadlines and assign them to team members. It has a dedicated space to carry out real-time discussions, and an in-built chat app to solve all your communication and collaboration problems. You can share files, review, and annotate design files using markup tools, proof, and approve them – all from one central place. You can also create custom reports with parameters of your choice to better plan your projects and resources.
Unlike other popular tools, ProofHub does not have per-user pricing. The ultimate control plan, with unlimited users and projects, is available at $89 per month.
Productivity & Time Tracking
Remote teams generally encounter a lot of distractions, which, in turn, leads to time sinks. It doesn't matter how insignificant distractions are, as they always result in increased unproductive hours. Check out these tools to keep your productivity and time in check:
1. Time Doctor
Time Doctor is a tool that monitors employees and tracks time. Additionally, it is also a project management tool. According to their website, users have reported a 22% increase in their productivity.
The app features include automated screenshots of working, monitoring chats, tracking of breaks, and time-waste alerts. This is the perfect tool for those freelancers who charge by the hour. Like other tools, Time Doctor offers three plans: Basic, Standard, and Premium, costing $7, $10, and $20 per month, respectively. Each plan includes a 14-day trial.
2. Serene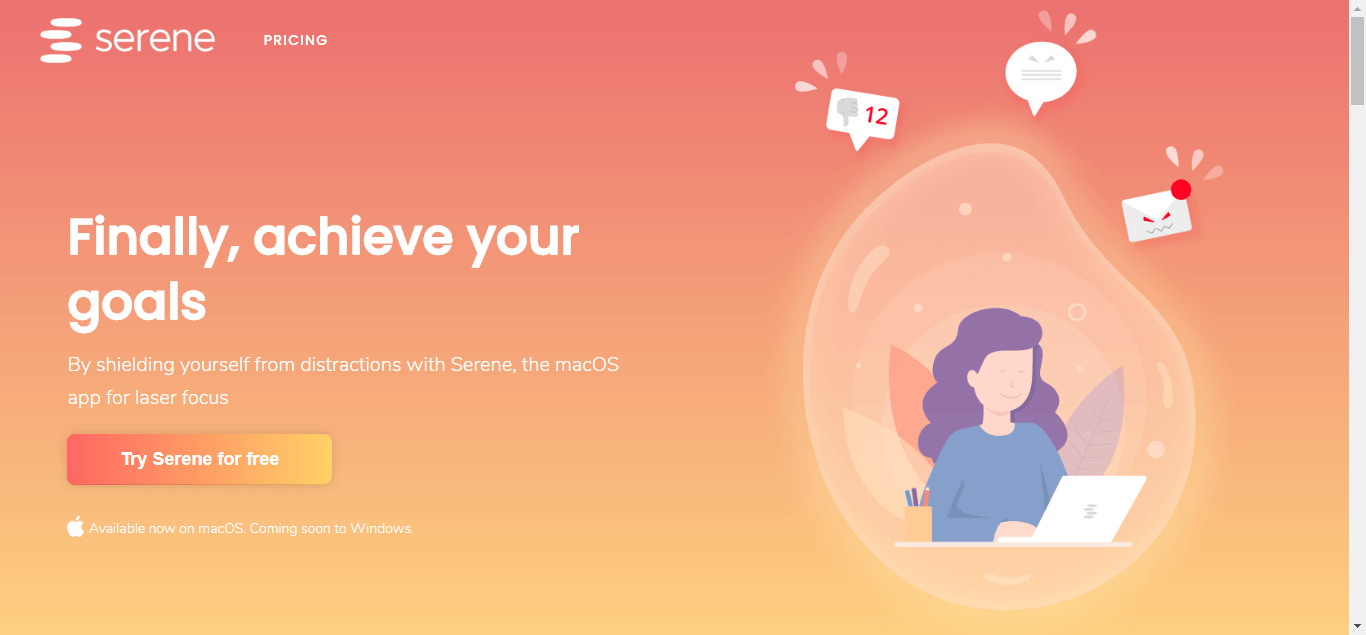 Serene is an app for Mac that helps minimize distractions and assists in keeping focus on your daily work. Serene operates on two principles: setting a single daily goal and blocking distractions.
The principles are based on two studies. The first study shows that multitasking is harmful for productivity and can reduce it. The second study points that distractions from work and multitasking can cause damage to the brain. This tool makes the user set a daily objective, which can be divided into 20-60 minute tasks (based on the study that the average human brain loses focus after 20 minutes of work), during which Serene silences the user's phone by blocking all notifications and websites that are most distracting.
By using this tool, you can give 100% attention to work and take scheduled breaks. By taking a "defensive approach" against distractions, Serene helps a user achieve maximum work productivity.
Check: Best Productivity Tools for Marketers
3. Toggl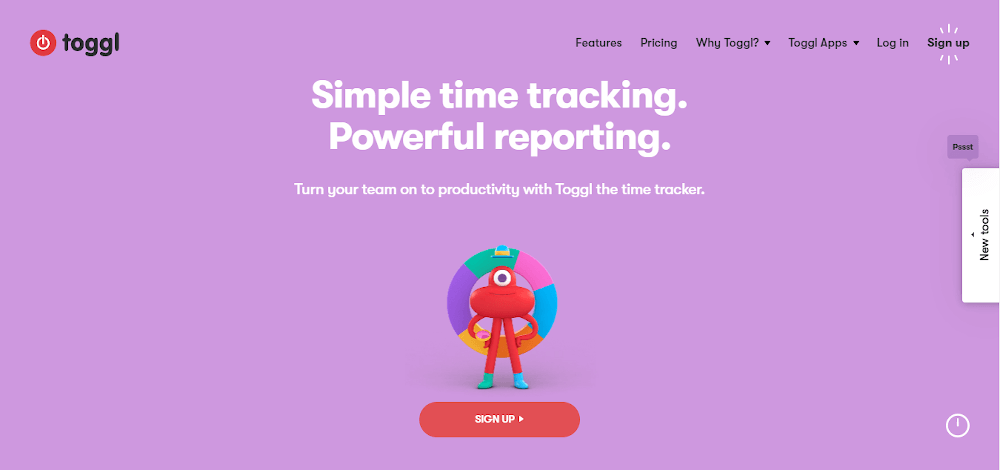 Toggl allows the user to keep track of how much time they have spent working so that they can charge their employer appropriately. For the employer, this is advantageous as they can clearly monitor the working hours of their remote workers and pay them accordingly.
Toggl has starter and premium plans, which cost $9 and $18 per month, respectively.
Now that we have seen the tools that can help us out, here are a few tips on using them:
Make sure the tool you use suits your style, especially before you make a purchase.

Make use of the trial versions before you purchase an app, and read multiple reviews.

Don't be afraid to try old-fashioned way once in a while. The apps don't do everything for you, and sometimes a phone call and a good old pencil and paper can be more helpful.
Some apps may work better for some people than for others. Ensure that you ultimately are the one in control of the tool and not the other way around.
Do you want a free Project Management Software?
We have the #1 Online Project Management Software starting at $0