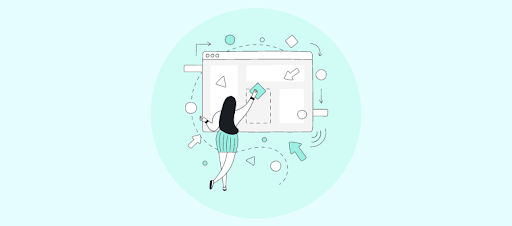 Does accomplishing a marketing project without hovering over your team members all day seem a far-fetched dream?
Not with a robust marketing workflow in place!
We understand that continuously evolving requirements and simultaneously running projects and tasks can have rippling effects on the overall marketing project execution. Also, shooting at moving project targets can make things even more complex.
Here, following a marketing workflow becomes critical to a project's success. It helps conquer chaos and complete work without a last-minute rush. You can even support your practice with reliable marketing workflow software that offers everything you need to streamline processes and coordinate team efforts.
This blog will delve into the nitty-gritty of marketing workflow management to help you smash goals every time! We will look at what it is, its benefits, and its best practices, along with some marketing workflow examples.
What Is Marketing Workflow?
A marketing workflow is a step-by-step breakdown of how things will move forward to build and deliver a successful marketing campaign.
It involves
The workflow can be as straightforward or as elaborate as you like. How you go ahead and outline a workflow depends on what your requirements are.
Are you creating a workflow to act as a thorough guide for developing a marketing campaign? Or
Are you making one to support the approval process of a campaign?
You may even build a workflow to organize a marketing event or conference. Whatever the need, you can create a workflow that specifies the sequence of activities or tasks you need to complete to visualize the outcome.
Why Do You Need Marketing Workflows?
Not convinced of what impact marketing workflows have in maintaining a smooth project execution journey?
Don't worry! Here is why you must implement a robust marketing workflow for project execution.
1. Improved Team Alignment
What does it take to ensure a winning team at work? Well-detailed workflows! With precise task requirements and responsibilities, team members will brace themselves for achieving set goals right from the start.
2. Consistent & High-Quality Output
Working with a workflow ensures that things move as planned. Prioritize tasks that you must take up first at the very beginning. Establish task dependencies. These intricacies go a long way in controlling the consistency and quality of projects.
3. Faster Project Execution
Do you often fear missing the project deadline? Setting a workflow will equip you to define the project timeline immediately. And with a clear deadline, team members will maintain their pace throughout the project's life cycle. This will also enable you to plan and create accurate project timelines in the future.
4. Eliminate Overlapping & Duplication of Work
Having a crystal-clear workflow to work with implies that you have specified all your tasks explicitly. This leaves no room for working on duplicate tasks. Also, this helps avoid facing overlapping work at any project stage.
5. Increased Campaign Success Rate
Workflow transparency brings in better coordination, leading to on-time project completion. Also, a comprehensive workflow lets you measure how much progress you have made in accomplishing your goals and objectives. These factors support you in spotting a roadblock, if any, and taking immediate action to stay on track, ensuring better and more efficient campaign success.
So, this is how leveraging marketing workflow management can enable you to improve project visibility, flexibility, and collaboration effortlessly.
Read More: Top Practices for Prioritizing Project Work for Your Team

How to Map & Optimize Your Marketing Workflow
Creating a marketing workflow involves following some essential steps to ensure project success.
Let's look at these steps below.
1. Understand the Basics
Before jumping into project execution, you must understand what the goals and objectives of the project are.
What is the final purpose of the project?
What is the scope of the project?
Are its goals and objectives realistic? Are they measurable?
These are some things you must find answers to start your project on the right note.
So, to create content marketing workflows for workflow optimization, you must dive into the following project aspects.
Project goals and objectives
Project timeline
Client expectations
Ultimately, these are things that constitute a project brief. Thus, a brief must be specific, relevant, and approved by both the client and the project manager.
Let's take an example to understand this better.
Suppose your marketing team is tasked with developing a product newsletter. Here is how you'll go about it.
Know client expectations: Increasing brand awareness and conversion rate.
Ascertain the goals and objectives: This includes getting clicks on internal links, leading to your brand website.
Define the scope and timeline: The scope will include creating short blogs in the newsletter. The timeline to develop this is two days.
Determine the deliverables: The deliverables will include building four internal blogs of about 1500 words each. It will also involve developing brief descriptions along with relevant images.
That's all! That was easy, right?
Read More: Why Differentiate Between Project Goals and Objectives?

2. Break down Your Project into Manageable Pieces
Executing a marketing project, say developing and launching a campaign, seems a mammoth task. This can translate into demotivated team members and chaotic workflows.
What can make things easier is creating a workflow diagram and following it to the tee.
To create an effective workflow diagram:
Ensure that the existing project's goals align with the overall organizational goals.
Design the layout of project execution.
Categorize tasks based on when you need to work on them, i.e., define which project stage they will fall into.
Set the sequence of task completion.
Once you have laid out everything, analyze whether you spot any inconsistencies within the workflow.
If you spot an inconsistency or a potential roadblock, rectify it immediately.
These steps will help you run a project in small, manageable chunks. This will also help eliminate any overlapping or duplicate tasks.
3. Automate Mundane & Repetitive Tasks
If you wish to speed up project execution, then marketing workflow automation is what you need to incorporate right away. Leveraging workflow automation using a reliable tool will offload recurring tasks that you can delegate to a tool. This will leave more time on your hands and allow you to direct your efforts toward high-level tasks.
For example, if there's a task that you need to create every week, say reviewing product descriptions content, you can automate it using a tool. We'll look at how you can automate this task using ProProfs Project.
Also, throughout this blog, we'll look at how using a tool can simplify your workflow management capabilities.
So, coming back to setting up automation. Once you set up all tasks on a project dashboard, go to a task you want to automate.
Click on the View button below the task name. A side window will appear. Scroll down and click on Advanced. Under this, you'll spot the Recurring option. Click on its dropdown button and select the Weekly option.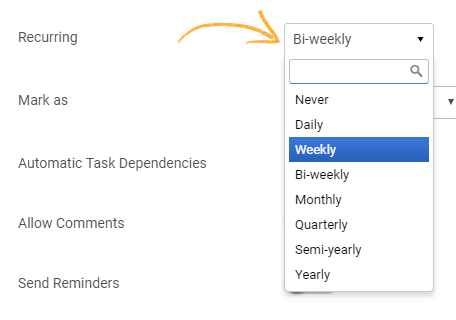 And that's it! Whenever you complete the task for the week, it will automatically set itself up for the upcoming week as well. That's saving both time and effort the smart way!
4. Assign Tasks & Define Timelines
After setting up all project tasks and automating the ones you want to recur, get down to assigning tasks to teams and team members.
Using a tool allows you to build transparency by delegating tasks to an entire team or simply one or a few team members.
When team members know their roles and responsibilities for a given time, they will be in a better position to stick to the timeline and complete work effectively.
5. Set Task Priorities & Dependencies
Optimizing marketing workflow involves setting clear task priorities and dependencies.
Using a tool, you can use tags to set up priorities. These tags will help you infer which task is of high, medium, or low priority.
Also, when you set up a dependency for a task, you can start working on that particular task only after you complete its parent task.
This is how a task dependency looks like in ProProfs.

6. Commence Work
Tasks are created. Work is assigned. Task priorities and dependencies are set. You must commence work now!
Give your team members the go-ahead and achieve your targets head-on.
The laid-out workflow will ensure no inconsistencies within the workflows, and work can go smoothly from start to finish. Sticking to the workflow is your best bet to minimize risks and deliver expected results within the defined timeline.
7. Set up an Efficient Review & Approval Process
When team members have done their bit, it's your turn to review the work done.
Establish a clear channel of review and approval process. Team members should be sure about who will review their work and immediately pass on their deliverables for review post-completion.
The reviewer must then review and approve the work and pass it on for final delivery. The reviewer may also suggest edits in the deliverables and send them back to the team member for re-work.
Examples of Marketing Workflow

Now that you know how you can map out and optimize your marketing workflow, let's look at a few examples of marketing workflow.
1. Social Media Workflow
Running digital marketing workflows can be challenging. Following a workflow step by step can make both management and execution easier.
Here is how you can effectively create a social media workflow.
Develop campaign ideas: You start with ideating and finalizing ideas for the social media campaign. Remember that the goals and objectives of delivering a campaign must sync with the overall company goals and objectives. You can analyze ongoing social media trends and your competitors' actions to get ideas. Also, be open to receiving suggestions from industry experts.
Set your schedule: Set the schedule for how you want your posts to go up on your social media pages. Pick an appropriate time and day for the same.
Build your social media posts' copy: Once you generate the campaign ideas and set the schedule, you can start working on the content copy.
Create accompanying visuals: No campaign is complete without visuals. To create compelling visuals, content writers can collaborate with the design team to ensure that the images, videos, or GIFs you use are relevant to the content.
Get stakeholder approval: The stakeholders' approval is non-negotiable. So, send your copy and designs for approval.
Many necessary edits: While reviewing, the stakeholder may either pass on the work as approved or suggest changes. If you do receive feedback, be prepared to address it immediately.
Handle the specifics: Your campaign is ready to launch now that you have implemented the changes. To attain the best results in the social media space, you can schedule your posts so that you do not miss deadlines for any posts.
Monitor results: You cannot take your eyes off the campaign, even post-launch. You must monitor how the post is performing, how many people it reached, the engagement rate, etc. If you use Instagram, create an Instagram report to understand how your content performs and track important social media metrics.
Leverage lessons learned: Analyzing your social media performance is essential to mold the strategy for upcoming campaigns. This is because now you are aware of potential roadblocks you can face while running a particular campaign. Was the target audience right? Was the launch timing right? Lessons learned from these factors will help you run better campaigns in the future.
2. Email Marketing Workflow
You need to develop an effective marketing campaign workflow for a relevant email campaign. Here is how you go about it:
Segment an email list: The first step to curating a good email campaign is to specify who your target audience is. For this, you must segment your audience based on their behavior. Then, you must try to figure out what the particular audience is interested in. This is done mainly to chart out the best possible personalized strategy for your target audience.
Outline the email structure: Next, you must lay out the email structure. How much content will go in? How visual do you wish your email to be? Ascertain these things, and you're all set to proceed.
Develop email copy: Now get down to creating the email copy. Consider the final objective of sending the emails. Ensure that your copy is in line with that purpose.
Work on design: Your emails must be visually appealing. Put in visuals that go well with the copy.
Send test email: Most people find a fault in their emails after hitting the Send button! So, always send a test email, no matter how perfect your email looks.
Send email: Post the test email; if everything looks good, you may send the email to your target audience.
Track results: After you have sent the email, you must always track its results to check its success rate. Analyze the email's open rate, bounce rate, click-through rate, unsubscribe rate, etc. These metrics will equip you with the correct data to curate high-performing email marketing campaigns in the future.
3. Search Engine Optimization Workflow
Understanding its algorithm and tweaking your content regularly will show you visible results.
Select the optimal keywords: Conduct market research and identify the relevant keywords. These keywords will help you create content that people are searching for. You can validate high-performing keywords using tools such as SEMrush, Ahrefs, etc.
Include the keywords in your content: Include the relevant keywords in the content that you wish to publish and grab people's attention. This way, your content has a better chance of ranking on search engines.
Optimize on and off-page SEO: Once you have created the content to be published, you must perform on-site and off-site SEO.
On-site SEO ensures that you include the relevant keyword in the page title, URL, introduction, and meta description. It also means ensuring there's no keyword stuffing in the write-up. Also, write the alternative text wherever applicable.
On the other hand, off-site SEO includes building backlinks to relevant web pages, checking the number and quality of linking domains, and linking the anchor text appropriately.
Evaluate content performance: Your role does not end after publishing your piece post and conducting on-site and off-site SEO. You must be proactive in evaluating its performance both in the short and long term. Analyzing the performance will enable you to service metrics that help you rank higher in search engines.
Update content: Also, while evaluating your writeup, if you come across something that would help you rank better, implement and adjust changes right away. After all, SEO is all about optimizing your content routinely!
4. Design Collaboration Workflow
Converting an idea into a design deliverable demands real-time collaboration between cross-functional teams.
Here is how you can successfully create design requirements on time.
Analyze the design brief: Design teams get a brief from either the marketing or the content team. The brief includes the design requirement, the timeline you must complete, the milestones, etc. The design team must analyze this brief and resolve doubts with the other team to create the best possible design.
Create the first draft: The design team then creates and sends the first draft of the requirement for approval.
Implement feedback: When feedback is received, the design team may have to re-work the design to fulfill the requirements.
Submit final design: After feedback implementation, the design team sends the deliverable for final approval.
These were just a few marketing workflows you may have to work with. But, no matter which type of marketing project you are working on, you can effortlessly set up an efficient workflow for your business.
Five Best Practices for Marketing Workflow Management
We've listed some best practices that you can use to create robust marketing workflows that lead to the desired results.
1. Keep It Concise
Content marketing workflows should be clear and comprehensive at the same time. If you work with overloaded workflows with every minute of information, wouldn't it lead to more complexity and chaos? It definitely would. And that's exactly what we're aiming to eliminate by creating workflows. So keep things simple and to the point.
2. Keep Everyone Involved
The recipe for smooth project execution often involves team members and other key stakeholders in the decision-making process. Why? Because involving everyone in the process gives them a sense of ownership and helps them seamlessly transition to any workflow or workflow adjustment.
3. Deploy the Right Workflow Management Software
Marketing workflow tools offer a reliable solution to create, manage, and monitor workflows. An ideal tool lets you delegate work and assign clear responsibilities to team members. This ensures transparency and facilitates smooth project execution.
Also, marketing workflow automation is something that you can leverage to offload recurring tasks. So, if you have projects or tasks that you have to work on regularly, you can set them up as recurring. This workflow automation will schedule the concerned project or task to recur at the specified interval. And what does this imply for project managers and team leaders like you? It means that you can direct your time and effort towards top-level tasks, boosting your overall efficiency.
4. Know When to Implement Changes
As a project manager, you build a workflow keeping various aspects of project execution in mind. However, things are subject to change when it comes to working on project tasks and activities. A team member may go on an exigency leave, or the project scope may increase due to unavoidable scenarios. It may be anything. But what will this mean for your marketing workflow process? It means you must prepare to make necessary changes as the need arises.
5. Be Open to Change
Now, before you analyze when to implement changes in a defined workflow, you must first brace yourself up to be flexible and open to change. Most leaders and project managers act rigidly and show resistance to change. For instance, your marketing campaign workflow might demand an adjustment owing to resource unavailability.
What do you do? Push your team members to fill the gap, overburdening them?
Certainly not! What you can do instead is calmly make adjustments. You can reschedule work from other marketing projects and tweak a couple of workflows that do not demand work on priority.
Read More: Top 20 Workflow Management Tools for Improved Project Outcomes

Drive Greater Impact With Clear Marketing Workflows
Now that you have a fair idea of what marketing workflow is and how you can integrate the marketing workflow process into your project management practices, you are better prepared to achieve your goals and exceed expectations.
You can support your workflow management with reliable marketing workflow software such as ProProfs Project. It offers a centralized space to ideate, plan, organize, and prioritize your everyday marketing tasks. The tool also provides a robust system to visualize and monitor your progress using Gantt, Kanban, List, and Calendar views.
You can sign up for a free trial or request a demo. This way, you will understand how using the tool enables you to collaborate better with your team members and deliver tasks more efficiently. Besides, the tool also eliminates the hassle of creating monthly client invoices by accurately tracking your team's billable and non-billable hours.
So, working on a newsletter or creating social media posts is no more a fuss. Ace the marketing game with clear-cut workflows, whether managing one campaign or ten!
Do you want a free Project Management Software?
We have the #1 Online Project Management Software for effective project management.