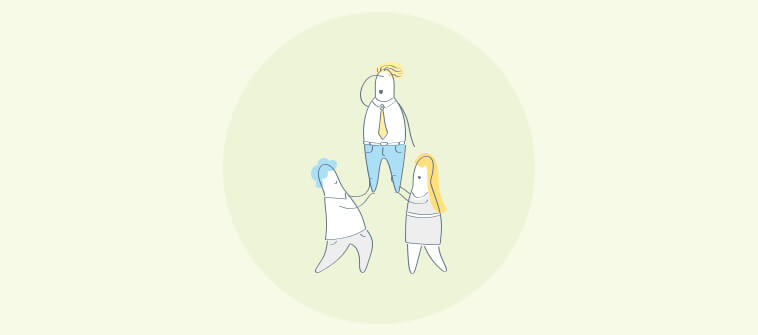 Project management turns into a nightmare in the absence of project leadership.
Picture a cruise ship that is sailing without a captain. Ask yourself – 'will it reach its destination?'
No, obviously!
Behind every successful project, there is a leader – who has the right skills and qualities required to steer the team.
A project leader keeps their team motivated and ensures that each task is executed perfectly during the development process. Besides ensuring the quality of deliverables, they strive to prevent time sinks and cost overrun.
In a nutshell, a project leader does everything in his/her power to bring teams together and ensure a successful deployment. In order to do so, they leverage skills like reactive task-management and active communication. This article will walk you through all of this, so you can become a better project leader. Let's get started:
What Is Project Leadership?
Project leadership implies leading a team in such a way that the end result is a super successful project. It is your ability to get all project activities done perfectly as a team without triggering any sort of conflict. Simply put, project leadership is all about lending a hand during challenging times and leading from the front, even when the tide is not in your favor.
I recall one statement by Chris Hadfield, a Canadian astronaut:
"Ultimately, leadership is not about glorious crowning acts. It's about keeping your team focused on a goal and motivated to do their best to achieve it, especially when the stakes are high and the consequences really matter. It is about laying the groundwork for others' success, and then standing back and letting them shine."
To foresee the challenges and bottlenecks, you need to be familiar with your project leadership matrix.
What Is Project Leadership Matrix?
Being a project leader is not easy, as you are supposed to do an exceptional job with respect to team management and delivering work that complies with SLAs (service level agreements).
This is where the project management matrix comes into the picture. It clearly shows what needs to be fixed, which, in turn, helps leaders to bring the optimum performance out of their teams. A project management leadership matrix consists of four parts.
Reactive people-leadership:

You invest a significant amount of time and effort to resolve conflicts between team members. In short, it brings out the hidden mediator in you. Remember that you have to handle both parties in such a way that helps them to get going with no grudge, as taking sides will make things worse and affect project progress indirectly.
Reactive task management:

It's pretty much self-explanatory. You must focus on tasks like defect management, issue resolution, resource optimization, etc. You have to be prepared to perform these types of tasks, as they are subject to unexpected situations. It is worthy to note that projects can go off the track if you don't take reactive task management seriously.
Proactive people-leadership:

It's all about setting things up proactively so that your project team performs well throughout the development process. You work on strategic relationship building and make the project's vision clear during team meetings, so each individual proceeds in the right direction.
Proactive task management: Handling project tasks efficiently is one of the major responsibilities of a true leader, and proactive task management inspires you for the same. Tasks involved in this phase are project planning, quality assurance, risk management, etc. You must give your best shot for the sake of project success.
Top 5 Project Management Leadership Skills You Need to Master
If you have sufficient years of experience under your belt and want the role of project leadership now, make sure you have the right skillset. Master these five project management leadership skills to excel beyond your expectations:
1. Team Management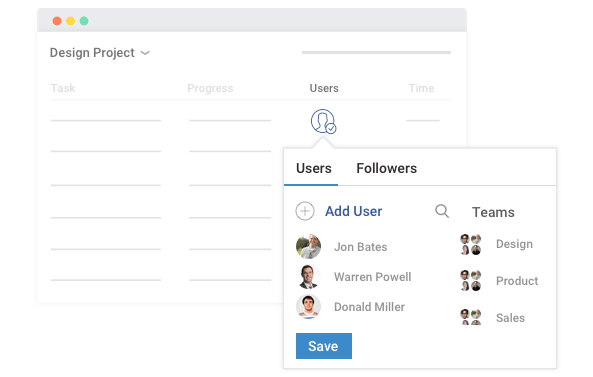 A project gets completed successfully when the ideas of leaders perfectly combine with the dedication and skills of their team. Divide tasks uniformly between your resources, so everything goes as planned during the execution phase.
Before delegating tasks, identify the right project executives for each assignment. It's like putting the right pieces in place to complete the puzzle. Remember that quality can be achieved with no fuss if the right person is working on the right task. Incorporate a reliable project management tool, such as ProProfs Project, to manage tasks like a pro. It's a simple tool with powerful features that makes your job easier. It comes with:
Powerful tracking & reporting

Task priorities to reallocate resources

Calendar view to plan tasks
Try ProProfs Project Free <Take a Tour>
2. Communication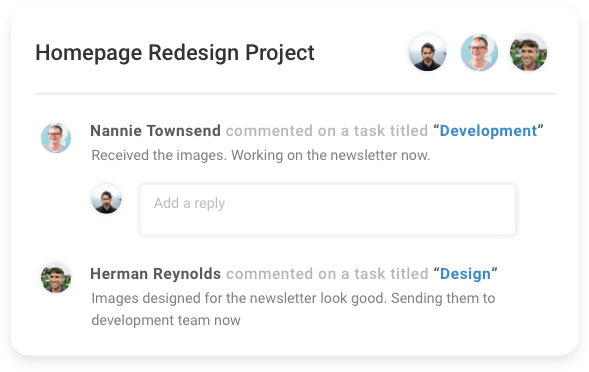 The way you communicate with your team members, speaks volumes about your leadership. The more you communicate, the better your team will understand the project requirements, and this would raise the bar while working on assignments.
It is crucial to understand that no discussion is effective if there's one-way communication. Always encourage your team to share their ideas on how to improve quality without extending deadlines or budget. You will definitely get some valuable insights, which would help streamline the project development process later. A few ideas for effective communication are:
Hold a meeting at regular intervals and explain why prioritized tasks are important for project success

Share status reports weekly

Invite remote teams over a video conference call on Google Meet/Zoom and discuss dependent tasks thoroughly
You can also try well-developed project management software to make team communications easier. PM applications with features like task comments, email notifications, file sharing, etc. facilitate task execution and prevent communication gaps.
Read Also: Why Is It Important to Have a Project Management Communication Plan in Place?
3. Staying Positive
Staying positive while managing a challenging situation is something that leaders have to do throughout the development cycle, so their team doesn't lose confidence during testing times.
Irrespective of how good project planning is done, problems like shortage of resources, team conflicts, etc. often happen that can lead you to losing your composure.
What should you do to keep your cool?
You don't have to do anything extraordinary. Just follow these simple tips:
Set an example for your team:

Show up first in the morning and work with 100% focus. It will show your team that insignificant factors shouldn't affect their performance. Consequently, team conflicts are unlikely to take place.
Stay patient during team meetings:

Ask for clarification, but calmly. Handle queries by explaining how each task can be done. With a solution-oriented mindset, you can show your team that there's always a way to do better work. It will surely result in quality deliverables.
Be ready to help:

Always lend a hand if any team member is facing a tough time while working. It will show others that they can come to you in the hour of need. Hence, no one will keep you in the dark, which, in turn, reduces the odds of rework.
You must keep your head cool if you want to identify the root cause of problems and develop impeccable solutions.
4. Time Management

Every minute matters, especially when you are working on a complex project. One issue could kill a couple of hours, which, in turn, can jeopardize the delivery deadline.
For example, if you are working on banking software in which stability issues take place frequently, you must resolve them from the root so that end-users face no trouble. But you have to make sure that your team doesn't take more than the desired time to tackle one issue, as there's a possibility of encountering new challenges in the later stages. Tips that will help you with team management:
Delegate tasks as per the skill set of each project executive

Set realistic time limits to reduce unproductive hours proactively

Encourage team members to keep their focus on one task at one time
Of course, you will have no clarity on timelines if you take follow-ups on the status of each task/issue via emails. Here, you require a comprehensive project management tool that supports automated time tracking and smooth report generation, as these features offer you valuable insights into how well your team is performing. Read Also: What is Project Time Management?
5. Change Request Management
Change requests put you between the devil and the deep blue sea, because saying 'No' could leave a negative impact on client relationships while 'Yes' could discourage project executives as they have worked in accordance with the plan. Therefore, hone your change management skills to handle higher-ups and your team aptly. Here're a few ideas to handle change requests appropriately:
Make the upper management understand how implementing new changes could affect the current development process. It may get you an extension in the deadlines.

Hold a meeting and explain why new changes are important for successful project delivery.

Encourage your team members to complete small changes first, as quick wins will help them gain momentum.
Besides keeping your credibility intact, these ideas will help you keep your team's spirits high for the next projects.
What Is the Difference Between Project Manager and Project Leader?
Project management and leadership are quite different from each other. Project managers work on factors like strategies, feature prioritization, deadlines, budget, etc. They communicate with clients and take care of documentation, staffing, HR concerns (in some cases), etc.
Project leaders share their inputs regarding planning, keep a tab on the task execution, offer emotional support to the team during tough times, etc. They report to the project manager regarding achieved milestones, budget utilization, resource allocation, etc. Note that a project leader can act as a manager, but the latter cannot exchange job responsibilities with the former.
Are You Ready to Lead Now?
You cannot become a project leader by merely following a set of rules, because there is a possibility that you face different situations with every new project. Hence, you have to make impromptu decisions by using your project management experience.
To make sure that your decisions reduce success gaps, using reliable project management software would be an intelligent move. PM applications like ProProfs Project not only gives you delightful user experience but also offers significant help regarding team communication, collaboration, task management, etc. In short, they ensure that each of your calls makes a difference at the end of the day.
Try ProProfs Project Free <Take a Tour>
---
FAQs
Is a project manager a leader?
Of course, project managers possess leadership qualities, as they handle both parties (clients and teams). But project managers usually have too much on their plate, and that's why a person gets hired for the designation of a project leader for smooth operations and team handling.
What is the difference between a project manager and a project leader?
A project manager takes care of many aspects like client requirements, staffing, deadlines, budget, etc. On the other hand, a project leader makes sure that tasks are executed as per the plan and keeps an eye on the performance of team members.
Do you want a free Project Management Software?
We have the #1 Online Project Management Software for effective project management.