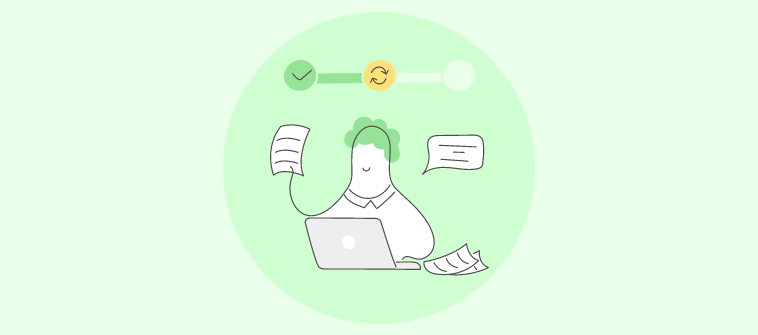 There are a number of reasons why capitalizing on cloud-based project management can help you drive top-notch projects. The solution lets you align team efforts and unravel how projects progress in real-time. Also, its 24/7 live data access ensures that nothing slips through the cracks, ensuring sure-shot success.
So, adopting a cloud-based system for managing projects is crucial. Think about how you're already occupied with prioritizing tasks, distributing resources, and chasing deadlines while working on projects. Not using a robust system to store, manage, and customize project data and files only adds to the project gridlock.
Now, let's dive in and understand what cloud-based project management is, its proven benefits, and how you can implement it in your organization to make things easier.
What Is Cloud-Based Project Management?
Cloud-based project management lets you visualize all your project data on a single, easy-to-access platform. It allows you to create schedules, plan & assign tasks, and prioritize them on the go.
You even receive email notifications for approaching due dates, ensuring no task gets overlooked and projects get delivered on time. In addition, using a cloud platform helps bring teams together to collaborate on projects and tasks efficiently.
So, say goodbye to sticky notes and hard-to-find diary records for managing projects and move to the cloud within minutes.
Benefits of Using Cloud-Based Project Management for Your Business
Cloud-based project management can be beneficial for teams looking to securely centralize project data on a platform and access it anywhere, anytime. This helps sync efforts between different teams and departments while ensuring that things move forward as planned.
1. Accessibility to Project Data
Cloud-based management systems provide flexibility and allow easy access to project data. So, you can access which tasks are lined up, which are a priority, and which are dependent on other tasks to get started.
Also, regardless of where you and the team members are working from, you can access data within seconds via a tablet or mobile device. All you require is a stable internet connection!
2. Easy to Get Started
A cloud-based management tool is built keeping simplicity and ease in mind. You should be able to onboard and navigate it without any external help. Sometimes, you might need some basic training, but no specialized training is necessary to use the tool. So, using such a tool, you can get started within minutes.
3. Cost-Effective for the Long Term
Among the key cloud-based project management benefits is its cost-effectiveness. You do not need additional servers or equipment to integrate the cloud-based tool into your project management practices. Yes, the initial investment in the tool may seem costly, but the time and effort you save by utilizing the tool will be worth the investment you make in the long term.
4. Optimal productivity
Using cloud project management helps eliminate discrepancies between team members and managers. Since you establish workflows right from the beginning, responsibilities are crystal clear. This allows the team to move steadily in the right direction, achieving set targets. Also, most tools offer time-tracking capabilities. This enables you to keep an eye on an employee's productive hours at work.
5. Seamless Team Collaboration
One of the major benefits of a cloud-based project management system is that it enables seamless team collaboration. It allows everyone to stay on the same page while planning and scheduling tasks within a project. Besides storing sensitive project data, team members can give and receive feedback via task comments. Using the software, you can even share files on the go.
6. Data Security, Roles & Permissions
Cybersecurity is among the most debated issues when practicing project management on the cloud. In case of a data breach, your data stands exposed. So, ensure that essential network segregation, SSL certificates, and firewall mechanisms back the software you choose. Also, within a tool, you can control who has access to your project data by enabling roles and permissions for using the platform.
7. No Additional Installation Required
Project management in the cloud does not require you to bring additional software installations, licenses, or hardware. You only need the cloud software you install on your company desktops. A lot of tools offer mobile access to cloud systems as well. This, too, is easy and requires no specific hardware installation.
8. Free Trial of Features & Functionalities
Access to a tool's free trial version is one of the benefits of good cloud-based systems. If you've learned about a tool's efficacy and are interested in utilizing the tool for your business, you have no compulsion to buy it. Using a tool's free trial version helps you understand how a tool's features and functionalities will work for your unique business requirements.
9. Leverage Third-Party Features
While working on projects, there may be moments when you need to leverage more features apart from what your cloud-based project management system offers. Guess what? That is possible! You can do this by integrating your system with a third-party system without ever leaving your tool. So, you can practice project management on cloud, merge with another tool in just a few clicks when required, and enjoy more functionalities.
10. Support for Remote Teams
For remote teams, cloud project management is a godsend. Since remote team members are geographically dispersed and rarely meet to collaborate on tasks, a cloud system helps them stay connected. Team members know which tasks they have to work on and what is their due date. You can set up task schedules, align team efforts and track project progress in real time for the best results.
These note-worthy cloud-based project management benefits can help you transform your team and project management capabilities.
Read More: 10 Smart Ways to Improve Project Profitability
What Are the Challenges of Cloud-Based Project Management?
Though cloud project management boasts significant benefits, the solution also has some challenges. It helps to be aware of these limitations and assess whether the solution will work for you and your team.
1. Integrating legacy systems with modern cloud-based management systems
Your organization must already be using a set of legacy systems. While onboarding a cloud-based system, chances are that your team will not quickly adapt to using a new system in addition to the previous ones. This may cost you considerable cost, time, and effort in trying to familiarize them with the purpose behind moving to cloud, and further its capabilities.
2. Training internal staff
Your employees may face a learning curve while trying to learn the tool's features and functionality. The right thing is to be patient and support your employees in your best ability in adapting to the new tool's functioning.
3. Secure timely executive buy-in
Approvals from concerned stakeholders are paramount while onboarding a software. Sometimes, the approval process may even take months! Try to minimize the time you take to initiate and pursue the approval process. This will help quickly move things forward and enable fast onboarding of the tool for team members.
4. Paying for features you don't use
When you onboard a cloud-based system, you get access to many features. Now, while you may be using a lot of these, there may be some features that do not come into use at all in your organization. Well, yes, you still need to pay for them. Take relief that you're still enjoying using a lot of them!
Read More: The Ultimate Guide to Business Process Optimization [For 2022]
How to Embrace Cloud-Based Project Management in Your Organization
Do you find yourself frequently tapping the shoulders of team members for constant updates?
Or do you often struggle to locate a file that you need to complete a specific task?
If your answer is yes, you must immediately embrace cloud-based project management in your organization.
Here are some points to consider when implementing the solution across your organization.
1. Deploy a scalable platform
Ensure that the cloud software you select is easily scalable. This is important because as your business scales, you need a system that can hold on to the increasing number of team members using the tool.
ProProfs Project is an excellent cloud-based project management software that you can rely on. It offers a single platform to store and manage all your data securely. So, you can manage everything effortlessly, whether you're handling tasks, manage resources, tasks, or priorities. Also, its Gantt, Kanban, and List views ensure you're always on top of how things are progressing in real-time.
2. Migrate in phases
Once you have selected which tool you want to deploy, don't move everything to the cloud instantly. Migrate in well-planned phases. Pick a couple of projects and start running them via a tool. When work moves as planned for a good amount of time, then gradually move more projects to the tool.
3. Ensure mobile access
Managers and team members must have access to the mobile version of a tool. This helps everyone stay on top of everything regardless of where they may be working from.
4. Provide adequate training initially
New things often face resistance in the beginning. Your team members may need more time to adapt to using the tool. Ensure that you provide the onboarding training to everyone on the cloud platform. This enables them to quickly adapt to using a tool for everyday activities.
Checkout: Top 16 Best Business Management Software in 2022

Drive Better Business Performance With Cloud-Based Project Management
If you're using Gmail or Google Drive, you're already familiar with how cloud-based project management works!
Sometimes, you need help managing data on company servers and whiteboards. You need a much more reliable system to fill the gap that these systems create. Here, a cloud-based solution fits perfectly. It helps you sync all your project data across multiple devices while ensuring complete data security. It also enables you to visualize progress and make adjustments for high-performing projects.
So, adopt the right cloud-based management platform and lead your business to sky-high growth!
Do you want a free Project Management Software?
We have the #1 Online Project Management Software for effective project management.