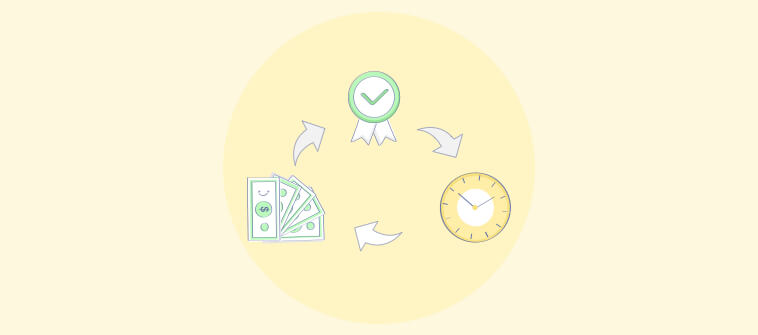 A project comprises thousands of elements, which makes tasks related to management tough. It is one of those reasons why businesses invest a big chunk of money to get a diligent project manager and executives on board.
Out of thousands, there are 3 project elements that you must handle in the best possible manner: 'Cost,' 'Time,' and 'Scope.'
These 3 are triple constraints of project management, which decide whether your business will be in a reeling or pole position. There is no other choice than keeping a tab on these project triple constraints unless you are ready to jeopardize client relationships.
So, yes, your project baseline should revolve around project management triple constraint mentioned above. Here, I recall one quote from James leal:
"Success is the delivery of a product that meets expectations."
Make sure none of the scope, cost, or time gets compromised during the project development process. Otherwise, you and your business will have to take a lot of heat. And that will surely make a big and negative strike on your brand image, which consequently, makes the project acquisition tougher more than ever.
According to the latest industry reports, 50% of projects worth million US dollars have already failed.
Surprising, huh? Well, these 100+ project management statistics & facts will leave you stunned!
Let's scan through the top 3 questions related to the project management triangle in detail:
What Is Project Management Triangle?
Three elements — 'Cost,' 'Time,' and 'Scope' — form the triangle of project management, and you must ensure these three factors stay in your control, as your project management journey will turn into a nightmare if that doesn't happen.
Let's understand the project triangle in a detailed manner:
1. Cost
'Did you know Cost overrun and project failure go hand-in-hand?'
You shouldn't be surprised about this, because clients always expect deliverables in the proposed budget. On the off chance that the client gets asked for additional money, the trust factor from the relationship will vanish, and that triggers quarrels every so often.
Eveztually, you lose a valuable client once and for all. This will happen on the bounce if you continue to struggle while managing money flow.
So, evaluate fixed and variable costs involved in a project along with the desired profit to represent an acceptable budget to a potential client.
Tip: Assess historical data to come up with an ideal project budget, as asking more or less capital inevitably results in a loss.
2. Time
Time plays a pivotal role in everyone's life, as you won't be able to make a difference if you persistently waste precious moments.
Did I just sound like a philosopher?
Ok, then, let's leave it behind and discuss what the real implication of time in the project management triangle is.
While handling a project, you must keep a close eye on time consumption to make sure that the problem of overdue tasks doesn't make a strike on your business growth.
Generally, the delivery of project deliverables gets jeopardized due to the following reasons:
Unexpected change requests

A dearth of required resources

Non-realistic deadlines (impractical timelines force project executives to make mistakes, which lead to rework and delay the project delivery, consequently)
Tip: Use a work breakdown structure for ideal time estimates. Never heard of WBS? Open this link in another window and get valuable information, but peruse this write-up first to be familiar with project triple constraint:
3. Scope
Project scope is all about taking care of specific requirements or tasks during the development process so that the end result matches the client's expectations. 'Quality' is the major component in project scope.
Scope is very much connected with the other two constraints of project management. How so? Well, a blend of ideal capital and time leads to quality deliverables, which, in turn, justifies project scope very well later on.
To maintain project scope, deploy the best project management software and also hone your task delegation & prioritization skills.
Why Is Project Management Triangle Important?
Giving an answer to this question might seem insignificant, as the above-mentioned information says a lot about the prominence of triple constraints of project management. But I have to keep those readers in mind, who just skimmed through till now.
Let's waste no more time; the project management triangle is important as far as smooth business growth and sustained client relationships are concerned. You show your business's credibility when you maintain balance among scope, cost, and time.
Basically, these three constraints act as a boundary in which project managers have to work for a high success rate.
Note that these triple constraints of project management are related to each other, which means affecting one will make a direct impact on others. Here are three scenarios for better understanding:
If you wish to increase the quality of deliverables, you have to amplify both timelines and project budget.

If you dwindle the time, you may have to compromise with the quality and increase the project cost.

If you reduce the project budget, you have to stretch the preset time frame and compromise with the quality.
How to Manage Project Management Triangle
We have talked about the project management triangle until now and its impact on business growth. But the question that suggests itself is, 'How can businesses manage scope, cost, and time simultaneously?'
Honestly, you have to bring your A-game to maintain a balance among triple constraints of project management, given their close relationship we understood via scenarios mentioned in the above section.
Here's what you need to do, to take care of the project management triangle:
1. Plan like a pro
Achieving a high quality within a set budget and timeframe could be easier if you develop a project plan in an appropriate manner. It is so because if you lay down a strong foundation before the execution phase, your project executives are likely to get you quality deliverables without making any demands related to time and budget extension.
Here are a few suggestions, telling from my vast experience, you should take into account:
Write down the project objectives you wish to attain.

Discuss jotted project objectives with clients to avert change requests later on.

Solicit suggestions from project executives to lower down problems during the execution phase.

Go through historical data to learn about the ups and downs you faced last time during the project development process. After that, plan in such a manner that keeps clutter at bay.

Stay cautious during risk assessment to safeguard project scope, budget, and time.
2. Promote a smooth team communication
For project success, having team members with strong interpersonal skills is extremely important. Don't overlook this fact, because both time wastage and cost overrun happen due to poor communication within teams across different departments. And that eventually makes a big dent in the project scope.
You cannot blame project executives or any department for bad communication because anybody can miss out on information when there are hundreds of unread emails.
The best way to ensure a smooth team communication is to deploy reliable project management software like ProProfs Project into business operations. Features you get access to are:
Intuitive dashboard for seamless project tracking.

Threaded replies for smooth internal communication.

Tagging for reminders.

Gantt charts to check project progress.
3. Come up with accurate estimates
As we have already said, all elements in the project management triangle are connected with each other. So, if you take care of two factors, the third one will automatically be secured.
Let's not make it too complex to understand; All I am trying to say is that you should come up with accurate time and cost estimates to put project scope at a secured level.
By and large, project scope gets compromised due to unrealistic time and budget estimates. This takes businesses near to consequences like broken client relationships, tarnished brand image, and so forth.
So, if you really want to manage the project management triangle, follow these tips closely for the sake of accurate estimates:
For time estimates:
Make a list of project tasks you have to complete.

Evaluate the complexities and priorities of each task.

Keep the necessity of extra time in mind so that you don't have to revise deadlines if anything goes haywire during the project development process.
For cost estimates:
Evaluate direct costs (money required for resources like workforce, equipment, etc.) and indirect costs (capital for legal and accounting services, office rent/infrastructure maintenance, etc.).

Keep both internal and external stakeholders updated regarding project progress.

Do staffing appropriately.
4. Build a cross-functional team
Last but not least, you must have a deft and diligent team to keep the triple constraints of project management under your control. All of your project plans will be good for nothing if your team doesn't execute them properly.
These days, it is prominent to play your cards smartly, as the small margin of error can affect the project progress very badly. So, build a cross-functional team and witness notable advancements during the project life cycle, consequently.
'What is a cross-functional team?'
A cross-functional team is nothing but a blend of executives from different divisions, which works on a project until the closing phase is completed. Through shared expertise, you achieve project goals with aplomb.
On the contrary, a functional team consists of project executives with the same skill set, thereby, extra help is required at times.
Summing-up:
Project success is around the corner if you manage all crucial elements appropriately. This blog was all about the project management triangle, which client-centric businesses must focus on for continuous success.
The project management triangle is also known by other names: 'Iron Triangle,' 'Triple Constraint,' and 'Project Triangle.' But it doesn't matter what you call it, as keeping its significance in mind will make the difference in the long run.
Thanks for reading!
FAQs
---
Q. How does the project management triangle work?
The project management triangle keeps the focus of managers on the three most crucial factors: Time, Budget, and Scope. Basically, it helps to meet SLAs, which consequently, builds strong client relationships.
Q. What are the 5 variables managed in a project?
The 5 variables that must be managed in a project appropriately are:
Scope

Time

People

Process

Risk
Q. How do you overcome time constraints?
Overcoming time constraints isn't easy, especially in the case of complicated tasks. So, here are a few ways you can take into account:
Divide complicated tasks into small segments

Encourage your team to complete milestones according to the project plan

Use project management software with time tracking feature

Provide enough resources to your team so that there will be no time sinks
Q. What is the relationship between the triple constraint?
All three constraints of project management — Scope, Budget, and Time — share a strong bond. If any one of them gets compromised, others will be affected negatively too. Therefore, keeping a close eye on these triple constraints is highly important for businesses.
Do you want a free Project Management Software?
We have the #1 Online Project Management Software for effective project management.