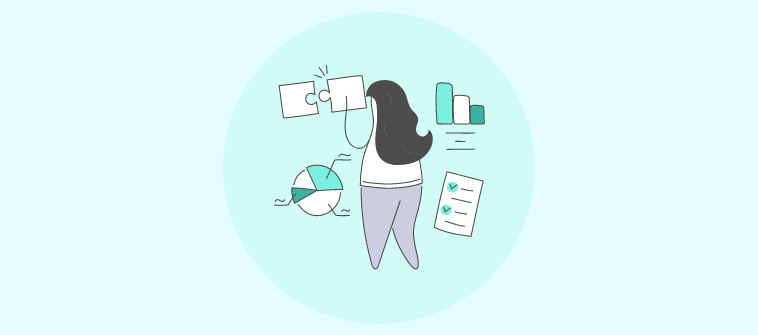 'Organizational change management' and 'seamless team collaboration' – If you're managing an enterprise, you'll find yourself often torn between the two.
Additionally, as an enterprise project manager, you are also responsible for analyzing key metrics and enabling a seamless transition from one project to another. Not to forget the mind-numbing repetitive tasks that take most of your time at work.
So how do you navigate through all this and still manage to increase your business' profit margin?
The solution lies in implementing enterprise project management. It helps shape workflows and streamline processes. It establishes a robust system for organization-wide visibility, team collaboration, task automation, project analysis, and more. Such a system lets you track every detail and ensures smooth project completion.
In this blog, we will dive deeply into what enterprise project management is, your responsibilities as an enterprise project manager, and the advantages and disadvantages of implementing enterprise project management across your organization.
Let's begin!
What Is Enterprise Project Management?
Enterprise project management refers to managing projects, resources, and timelines on a company-wide scale. It involves handling various aspects of a business enterprise, from project selection and team collaboration to risk and client management.
The overall aim of enterprise project management is to streamline processes, integrate seamless change management, and ensure consistency and standardization across departments.
Roles & Responsibilities of an Enterprise Project Manager
An enterprise project manager ensures project outcomes align with high-level company goals, objectives, and strategy. They oversee project execution, looking for risks to ongoing project tasks and activities.
One of their key responsibility areas includes providing a clear workflow for team members to follow. They prioritize projects after weighing their importance or urgency and lead teams and departments to collaborate on given deliverables effectively.
To create a robust enterprise project management system, they take appropriate steps to ensure goals are achieved within the defined timeline and budget. These steps may include reminding team members about the approaching deadlines or allocating resources optimally across various projects and tasks.
Enterprise project managers are also responsible for keeping stakeholders informed about a project's real-time status. They even receive client feedback and implement it with an efficient change management strategy.
So, yes, you may say that an enterprise project manager runs the organization's functioning for consistent and assured success.
Read More: StartUp Project Management Simplified: Complete Guide for 2022
Various Elements of Enterprise Project Management System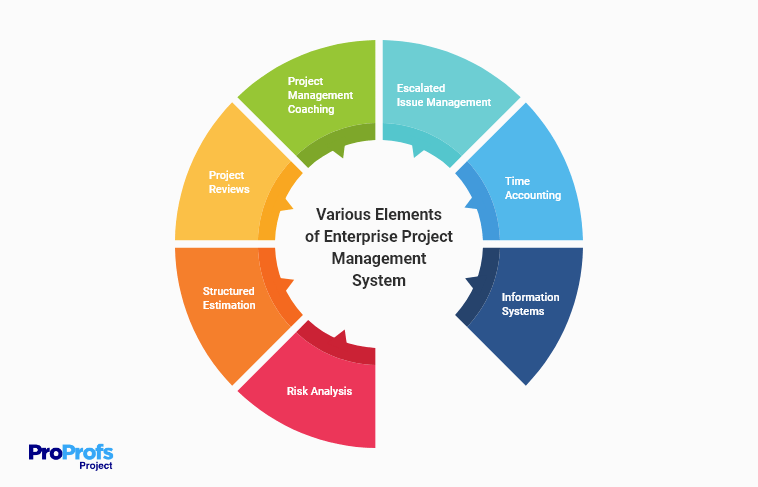 Enterprise project management (EPM) has seven crucial elements for long-lasting success.
These elements are:
1. Risk Analysis
If you're running an enterprise, risks are part of the grind. What enables you to tackle these risks is identifying them and preparing a plan for their timely mitigation.
So, you identify the potential risks based on similar projects that you may have done before. Once you have identified the risks, you move on to evaluate their type and impact. Doing this will set the best course of action to curate a mitigation plan that will minimize its effect on your enterprise work management.
Lastly, you must keep an eye on their possible recurrence and monitor them in real-time.
2. Structured Estimation
Project costs, resources, and timeline are the three essential estimates you need to consider when planning your project.
✅ The project cost must be accurately estimated based on similar projects accomplished before. This prevents you from exceeding the budget and asking concerned stakeholders for additional budget approvals.
✅ The project resources must be optimally allocated across different projects and tasks. This should be done such that no resource is either wasted or overburdened.
✅ The project timeline must be estimated such that the project gets completed on time without any last-minute scrambles.
3. Project Reviews
Successful project completion demands more than just planning and implementing execution strategies. It requires periodic reviews that intend to spot potential problems and track progress on ongoing projects.
According to the PMI, there are four review types that you must incorporate: commitment, startup, progress, and close-out. Each of these aims to get updates on existing standards, status, issues, and the risk management plan.
After a thorough review, if you spot any bottlenecks, adjust workflows and processes immediately to prevent delays, budget overruns, or even project failure.
4. Project Management Coaching
Being an enterprise project manager can be challenging. Innumerable tasks, overburdened resources, delayed deadlines, and exceeding budgets are some of the aspects that you constantly have to keep a tab on.
But don't worry. Project management coaching can save the day! It can turn the tables for you when you have reached your wits' end, trying to cross the finish line while keeping everything in check.
Proper training can equip enterprise project managers with essential technical and decision-making skills. This enhances the overall competence of the project managers, leading to strengthened enterprise project portfolio management for sure-shot success.
5. Escalated Issue Management
While routine reviewing, if you spot an issue that needs the intervention of higher authorities, you immediately prioritize it. Prioritizing them makes everybody aware that the matter needs to be addressed first so that processes can flow smoothly without a halt. This may require tweaking existing processes or methodologies to tackle issues at the earliest.
6. Time Accounting
Not creating accurate timelines is among the primary reasons your projects get delayed. Thus, it would be best if you tracked which tasks take up more time and which ones get completed faster. When this is sorted, you are better able to create project timelines for future projects with a better time estimate.
7. Information Systems
A robust information system can transform your enterprise project management and drive better results. It holds power to streamline day-to-day processes and offer you a single source of information for all your projects.
Using a simple enterprise project management software such as ProProfs Project can help:
Track all your projects, resources, and timelines in one place
Encourage organization-wide collaboration via task comments and file sharing
Visualize real-time progress using Gantt chart, Kanban, List, and Calendar views
Get rich insights into team performance and key project metrics
Stay up-to-date with progress via alerts and notifications
Create hassle-free client invoices with billable and non-billable hours
Thus, enterprise project management software is a must-have to collate all information regarding a project and make data-driven decisions easily.
Each of these elements contributes to building a reliable EPM model, leading to assured project success.
Enterprise Project Management Methodology
Leveraging an enterprise project management methodology puts you on the right path for successful goal achievement.
Let's take a look at different methodologies.
1. Project Selection
The first step to reliable enterprise work management is selecting the project that leads to desired organizational outcomes.
Some key aspects to consider may be:
Whether the project aligns with your organization's unique goals
The time and budget you are willing to dedicate to a project
The payback period of a project
Risks associated with the project
So, to select a project that your team can work on, analyze these aspects and choose the project that has the best potential to succeed.
2. Project Planning
Once you have picked up a project, it's time to develop a project implementation plan. Without a well-analyzed plan, you may encounter unexpected issues and detours, impacting the objectives that you set out to accomplish.
Each project is unique and demands a workflow unique to its requirements.
Create a project implementation plan stage by stage. Start by breaking down a project into manageable tasks and activities. Assign an estimated delivery date to each. Outline which team members will work on which tasks. Prioritize tasks and set dependencies between them.
Don't forget to carry out a risk assessment plan while creating the schedule. Weighing the risks will enable you to build effective project schedules that have taken the project, feeding, and resource buffers into account.
Following these steps will equip you with a foolproof project plan for enhanced output.
3. Project Controls
As an enterprise project manager, you are in charge of monitoring how work is progressing.
Is the project on track to meet the deadline?
Will it fall short of resources at any stage?
Will it exceed the budget by the end of its completion?
These are some of the questions that will help you understand whether you need to take corrective actions for a high-performing project.
So, measure key project metrics, identify roadblocks, and adjust schedules accordingly. Quickly responding to any potential risk on time will minimize the impact and redirect you to the right project execution path.
4. Project Termination
While project termination is not on anybody's to-do list, it is undeniably essential if you cannot bring the project back to life.
Not every project sees the light at the end of the tunnel. Your decision to terminate may be influenced by:
A project's inability to perform
Not achieving the desired results
Increasing the scope of the project
Lack of sufficient resources to deliver the expected results
Let's understand this with a scenario. Suppose you commence a project. Though the project was backed with a comprehensive plan, it faced hiccups during its execution. The budget fell short while the scope increased as you involved the client. You reach a point where you know there's no going forward.
What do you do? Put in an extra budget to fulfill the evolving scope of the project? And do this even when you believe the outcome will not align with your greater business objectives? Definitely not.
The right thing to do would be to terminate the project immediately. Putting a halt to a project at the right time is crucial to dodging the dire consequences of an underperforming project.
Read More: How to Implement Strategic Alignment In Project Management
What Is Enterprise Project Management Software?
An enterprise project management software offers a platform that helps bring people, projects, and processes to a centralized place. Using it, you can plan, track, and deliver projects within the defined timeline and budget. It lets you schedule project tasks and delegate to the team regardless of the department they belong to.
This way, project, and organization-wide responsibilities are clear from the start. Also, whether you're looking for features for global team collaboration, overall project visualization, real-time expense tracking, project reporting, or more, there's a solution tailor-made for every enterprise project management need.
Further, no matter which industry you belong to, whether IT industry, marketing, consulting, or human resource, you can implement a reliable enterprise project management system across your organization efficiently.
Advantages of Enterprise Project Management
Here are the advantages of integrating enterprise project management to scale your business easily:
1. Global collaboration
If you're an enterprise project manager, we understand insufficient team coordination is a daily challenge you face. The simple reason is that teams are most likely working from different cities, countries, and offices. Thus, collaboration becomes a considerable hindrance.
However, using enterprise project management software can save you from this and provide you with a reliable system that team members can use to unify and collaborate on projects.
2. Well-defined workflows
When you're handling multiple projects with hundreds of team members, things are bound to slip your mind. To prevent such scenarios, you must prioritize tasks and set dependencies between them. Setting priorities and task dependencies will vary depending on the requirements of your project.
3. Accurate resource allocation
An enterprise has hundreds of resources allocated to multiple running projects and tasks. In such a scenario, how do you ensure that resources don't fall short at any stage or that no resource is assigned to two overlapping tasks?
Here, leveraging enterprise project management comes into play. With accurate planning, you create a robust system that defines key roles and responsibilities across various projects right from the start. This eliminates the overutilization of resources, leading to burnout.
4. Reduced Execution Costs
When you tap into the nitty-gritty of a project, you map out every aspect that can help reduce project costs. You analyze the potential risks associated with a project and create risk management plans to tackle those risks.
This helps reduce costs that may arise from unforeseen project risks. Also, with accurate resource planning, you can create budgets that do not exceed during project execution.
5. High-performing projects
Detailed enterprise project management planning leads to consistent and best-optimized processes. This means that the best possible route is taken to accomplish simultaneous tasks without overburdening resources, exceeding the budget, or hampering project quality. This further leads to an improved project success rate.
Read More: 15 Best Workload Management Tools for Teams in 2022
Disadvantages of Enterprise Project Management
Transitioning to incorporating an enterprise project management system is not easy. It demands a complete change to the ongoing processes. Thus, change management needs to be seamless.
1. Poor communication
The most crucial aspect while implementing organizational change is the communication channel within. How good is the communication network between team members? Are there any challenges that teams face while interacting with other departments? The answer to these questions will ascertain whether the change to an enterprise project management system will be conflict-free and smooth.
2. Complicated customization process
Managing an enterprise means adjusting workflows and processes per existing needs. The customization process is a little more complex within enterprises as changes are made on a company-wide scale. Thus, you will require significant time, effort, and expertise to incorporate changes swiftly across the organization.
3. Too many projects to handle
Too many projects mean too many tasks! Handling one project can be nerve-racking at times; imagine handling simultaneously running projects and their simultaneously running tasks… Not easy!
Read More: How to Manage Multiple Projects at Work
4. Budgetary Support
While running a business, budget is everything. It determines the number of projects you can take up at a time, the resources you can hire, and the investments you can make such as onboarding a powerful enterprise project management software.
These are some prominent disadvantages of implementing an EPM solution across the organization. Keep these into account while implementing enterprise project management for your business.
How to Implement Enterprise Project Management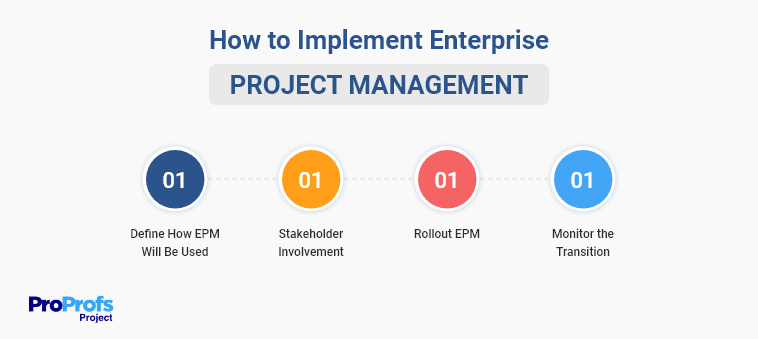 Ready to implement the enterprise project management methodology into your organization?
We've gone step-by-step to help you scale your operations while enabling smooth functioning across teams and departments.
Let's dive into it!
1. Define how EPM will be used
To start with, you need to analyze factors unique to your organization. Do you require more resources to evolve into an enterprise project management system? Do you need more funding to do the same? How will EPM contribute to the overall company objectives? Do roles and responsibilities need to be shifted to different team members to lead the processes? These are some questions to be considered while taking the first step into an enterprise project management solution.
2. Stakeholder involvement
Stakeholders! The most important people who will enable your implementation need to be looped in and conveyed about the benefits of the system. Once they are onboard, it will better equip you to leverage budgets for a successful move.
3. Rollout EPM
To roll out the model, you can either do it at once or implement it across different departments in phases. The option you choose depends on the resources and funds you have by your side. Leverage reliable enterprise project management software to schedule projects and delegate responsibilities. This way, you establish everybody's roles and responsibilities while eliminating confusion at any stage of the rollout.
4. Monitor the transition
You cannot let your hair lose and afford to take your eyes off the ball at this stage. You have integrated a new model across your organization that needs to be monitored closely. So, look out for any possible deviations and take immediate action to bring things back on track.
As an enterprise project manager, you single-handedly manage processes across the enterprise. Stay calm, delegate responsibilities, and keep track of on-ground progress using a good enterprise project management tool.
Of course, the transition will require sufficient adaptability on your part and everyone in the organization to successfully implement enterprise project management. Analyze your current position, plan smart, and discover success with an enterprise-level project management solution!
Implement a Robust Enterprise Project Management Solution
Integrating the right enterprise-level methodologies coupled with powerful enterprise project management software can help you scale your operations for consistent project success.
Remember, implementing an enterprise project management solution has its own set of advantages and disadvantages. Gear up to tackle its shortcomings to enjoy its significant benefits.
So, get down to business and integrate the right practices to scale up your operations today!
Do you want a free Project Management Software?
We have the #1 Online Project Management Software for effective project management.