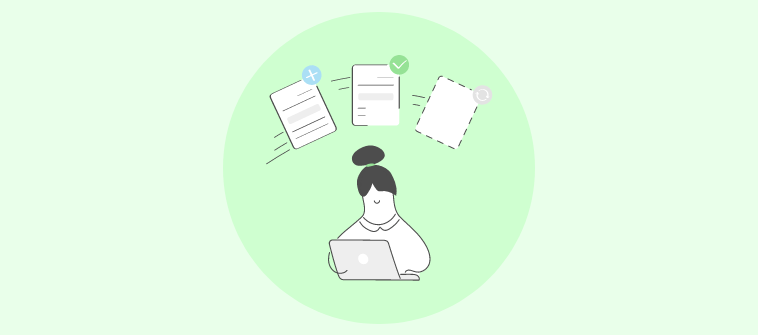 Being a solopreneur is not a piece of cake. Taking the onus of planning business strategy, creating workflows, setting deadlines, tracking progress, and managing clients all upon your shoulders requires some grit. It also requires real-time monitoring of all the moving pieces of your work—a lot of it.
To ease things up, you can count on good project management software for solopreneurs to give you a leg-up. It helps shape workflows, monitor progress, get actionable insights, and manage clients, all in one place.
This blog will explore why you need a tool for your everyday needs. It will also dive into the 10 best project management software for solopreneurs and their features, pros, cons, and pricing in detail.
What Are the Best Project Management Tools for Solopreneurs?
Here is a rundown of the top 10 project management software for solopreneurs that you can choose from.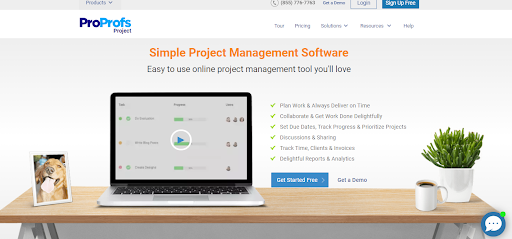 ProProfs Project is an exceptional project management solution for solopreneurs who wish to achieve more every day without working their fingers to the bone.
Whether creating workflows, monitoring their progress, tracking time, or collaborating with clients, you can do it on a single dashboard. You can even mark a task as 'important' to denote significant checkpoints in a project workflow. This helps streamline processes and ease overall project management for a more productive self.
Key Features of ProProfs Project:
Loop in clients into project progress
Drag and drop tasks to adjust project workflows
Interactive and easy-to-use dashboard
Access project data across web and mobile devices
Share files with clients and stakeholders on the go
Get real-time alerts and notifications
Share presentation-ready reports with clients
Pros:
Monitor progress using Gantt charts, Kanban, Calendar, and List views.
Create invoices for clients easily by tracking time spent on their projects.
Get rich insights into key project metrics for data-driven decision-making.
Collaborate with clients and stakeholders with seamless file sharing and task commenting capabilities.
The tool lets you prioritize tasks and set task dependencies with just a few clicks.
Cons:
It needs better milestone setting and tracking capabilities.
It would be great to have more advanced channels for client collaboration.
Pricing:
Starts at $2/user/month.

Asana lets you create to-do lists and track them from start to finish. You can also organize tasks under specific sections for easier tracking. The tool enables you to set task priority as 'Low,' 'Medium,' and 'High.' It even gives you the option to automate tasks that are either repetitive or time-consuming.
Key Features of Asana:
Get 100+ free integrations with third-party apps
Set up milestones to track project progress
Set start dates and time
Manage workload with ease
Access project data quickly with advanced search
Pros:
Stay on top of progress using board, timeline, and dashboard views.
Get specific work requests via Forms.
Simplify the Approval process among stakeholders using options like 'Approve,' 'Request changes,' and 'Reject.'
Cons:
You need a third-party integration to track time with the tool.
It is not an easily scalable platform.
You cannot access templates and the milestone setting feature with its Basic plan.
Pricing:
Starts at $0.
Read More: 21 Best Asana Alternatives For Project Management Software for 2022

Trello is a versatile platform that displays project workflow in a Kanban-style view. The Kanban board consists of cards and workflow columns. The workflow columns indicate the stage a task is at. The cards display the task names, due dates, file attachments, and project briefs, if any.
Key Features of Trello:
Customize workflows quickly
Visualize progress using Timeline and Dashboard views
Get productivity metrics instantly
Integrate with the best third-party apps
Drag and drop tasks as work progresses
Pros:
It has a pretty visual layout that makes it easier to spot features and monitor the project dashboard.
Discuss ideas and collaborate easily using task comments.
Its built-in automation system, Butler, allows you to automate tasks using rules, buttons, and commands.
Cons:
It allows no offline access to the platform.
The 10MB storage limit for every attachment in the Basic plan is inadequate while handling projects.
The tool is not easily scalable.
Pricing:
Starts at $0.
Read More: 15 Trello Alternatives in 2022 (Both Free and Paid)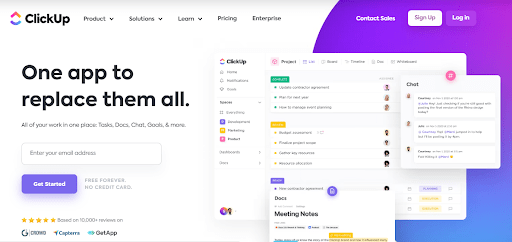 ClickUp is a feature-packed tool that simplifies project management for solopreneurs. You can set up notifications to alert and remind you about tasks that need immediate attention. Its Goal setting feature lets you organize Goal Folders and connect tasks to goals. This way, you know how far you are from achieving your goals at any time.
Key Features of ClickUp:
Leverage List templates and checklists
Customize dashboards easily
Access data across multiple devices
Use Shared Dashboards to loop in clients
Integrate with your favorite apps seamlessly
Pros:
It lets you turn on a 'Personal Account' setting that ensures that all features catering to a team are hidden. This helps assign all tasks to you, offering alerts and notifications for tasks in real-time.
Visualize work using 20+ real-time views, including List, Board, Calendar, and more.
Use Whiteboards to plan and strategize projects.
Cons:
It doesn't offer advanced reporting capabilities.
Its automation features could be enhanced.
Setting up the project dashboards is time-consuming and overwhelming, considering the number of features and customization options.
Pricing:
Starts at $0.
Read More: 16 Best ClickUp Alternatives & Competitors (Features+Comparison)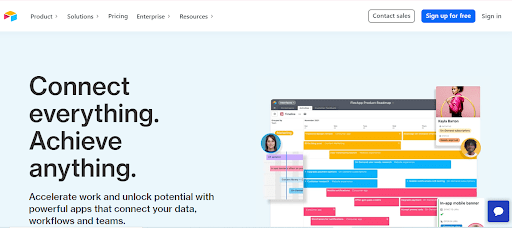 Airtable is a scalable workflow management software for solopreneurs. You can set up multiple project workflows within minutes and get started immediately. The tool lets you set task priority as "None," "Low," "Medium," and "High." Gain perspective on which tasks are requested, scheduled, or done at a glance.
Key Features of Airtable:
Customize views the way you want
Store data with automatic table syncing
Categorize tasks under sections
Power up project management with valuable extensions
Access custom branded forms to intake client briefs
Pros:
Track tasks using Grid, form, and gallery views.
You can streamline approvals on tasks and projects via the tool.
Use pre-made templates to start work quickly and accomplish projects faster.
Cons:
The tool has a significantly high learning curve.
It lacks a good collaborative ability to loop in clients and stakeholders.
Users often complain of its load speed issues.
Pricing:
Starts at $0.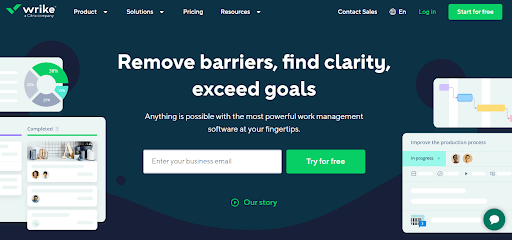 Wrike is a robust project management software for solopreneurs. It gives you a big-picture view of your project's moving parts, placing access to any information related to your project tasks at your fingertips. You can turn emails into tasks with just a click.
Key Features of Wrike:
Drag and drop tasks to adjust workflows
Sync data across the web, desktop, and mobile
Create custom fields for enhanced convenience
Store and share project documents easily
Create and customize templates
Pros:
1. Create, monitor, and deliver multiple projects from a single source of truth.
2. Track progress using Gantt, Board, and Spreadsheet views.
3. Get customizable, insightful reports for your projects within seconds.
Cons:
1. The onboarding process is not very smooth and may require some initial training.
2. It lacks good task prioritization ability.
3. Lacks easy time tracking features to keep productivity in check.
Pricing:
Starts at $0.
Read More: Top 20 Wrike Alternatives for Easy Project Management

Basecamp, touted as the best project management tool for solopreneurs, offers a centralized space for creating and managing workflows. It lets you streamline tasks and subtasks across multiple projects. With Basecamp, you can get a clear-cut overview of where your projects stand using Hill charts.
Key Features of Basecamp:
Drag and drop tasks across the Hill chart
Set tasks dependencies for well-defined workflows
Store and manage documents easily
Create sections for project tasks
Integrate with third-party applications
Pros:
You can easily create to-do lists to track completed and pending work.
Hill charts provide instant status of tasks.
Collaborate with stakeholders via the Message Board and Group chat.
Cons:
There's no time-tracking option.
Limited customization features.
Lacks project reporting capabilities.
Pricing:
Starts at $0.
Read More: 10 Best Basecamp Alternatives to Use in 2022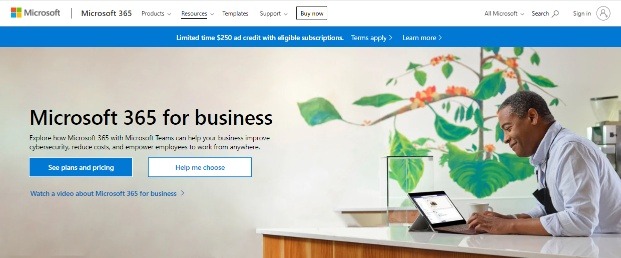 Microsoft Project is a flexible workflow management software for solopreneurs. It allows you to automate business processes and enable productivity right from the start. You can collaborate with the people you work with using other Office applications. Overall, it is a great platform for conducting business activities without any data breaches.
Key Features of Microsoft Project:
Share documents to the cloud
Schedule daily tasks effortlessly
Access data using the web and mobile versions
Collaborate with others via email and calendar
Manage client appointments with Microsoft Bookings
Pros:
It safeguards business data against external threats.
Gather feedback using Microsoft Forms.
Use Microsoft Lists to manage all project tasks and activities.
Cons:
The tool has a high learning curve.
Users often complain of file compatibility issues.
It offers limited integrations.
Pricing:
Starts at $10/user/month.
Checkout: 16 Best Gantt Chart Software for 2022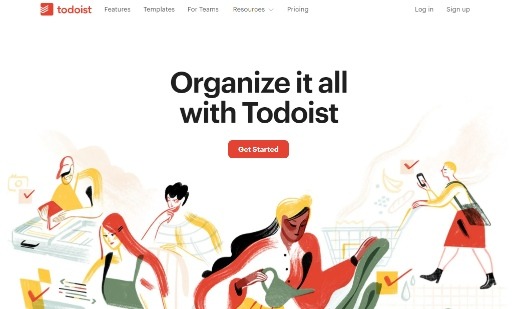 Todoist is a task management software for solopreneurs to organize their work and life. You can customize the to-do lists with filters, priorities, and labels. It lets you set reminders for tasks and activities, ensuring nothing slips through the cracks. The tool also gives you productivity recommendations based on your traits and strengths.
Key Features of Todoist:
Start work using ready-to-use templates
Share files on the go
Set reminders using email or push notifications
Link Todoist with 30+ tools
Create custom filters for tasks
Pros:
Track which tasks need immediate attention by setting up color-coded priority levels.
The tool automatically sorts your to-do lists into "Today," "Upcoming," etc.
You can create tasks, set up due dates, and prioritize them in a matter of minutes.
Cons:
It's difficult to manage projects on the mobile application.
There's no feature to sync calendars.
Its customer service is not very praiseworthy.
Pricing:
Starts at $0.

Toggl is a solo business project management software that lets you manage everything you need on a single tool. Its detailed time reporting capabilities enable you to check which tasks take up most of your time at work. This helps plan and schedule future projects better with fewer delays or even the last-minute rush.
Key Features of Toggl:
Drag and drop tasks across the dashboard
Invite guest users to collaborate on tasks
Invite guest user for task collaborations
Get email and in-app notifications
Set up recurring tasks to save time
Store and manage files using the tool
Pros:
Its budget estimator helps generate estimates for your project accurately.
You can create, manage, and save project reports.
Gain increased visibility into tasks with its Kanban view.
Cons:
It does not offer invoicing capabilities.
Limited collaboration abilities.
Its UI may be confusing for beginners.
Pricing:
Starts at $8/user/month.
Checkout: 20 Best Project Management Software For 2022
Why Do Solopreneurs Need a Project Management Software?
Are solopreneurs jack-of-all-trades? Well, maybe. But, can they do it all by themselves? Probably not.
Solopreneur does need a solution that can support them in their everyday planning and managing processes.
A project management software for solopreneurs replaces several tools that you may be using for tracking tasks, collaborating with clients, sharing files, and getting insights into project progress.
Let's dig into its objectives to better understand the utility of project management software for solopreneurs.
1. Simplify Planning & Scheduling
As a one-person army for your business, you are responsible for planning and scheduling tasks and activities, enabling the best project execution. Here, an ideal task management software for solopreneurs helps set up project dashboards to define a crystal-clear action plan. This helps establish project workflows for continued success.
2. View All Your Projects, Tasks, & Deadlines in One Spot
Project management for solopreneurs involves a lot of chaos while trying to do everything on your own. With a solid management tool in place, you can tick project visualization difficulties off the list. A tool helps track what needs to be done, enabling you to taste success without much hassle.
3. Get Real-Time Alerts & Notifications
As a solopreneur, you are your own boss. In everyday life, this translates to handling multiple things at the same time. In such scenarios, there are chances of omitting important tasks and missing deadlines. Thus, you can lean on the notification abilities of a tool to remind you of approaching deadlines and tasks.
4. Gain Rich Insights into Progress
Leveraging project reports can support you in tracking key metrics without too much effort. This saves time and provides reliable data on how your projects progress. A tool lends actionable data for the period in which you wish to get insights, whether weekly, monthly, or yearly.
5. Keep Clients in the Loop & Win Them Over
Being an entrepreneur involves actively engaging with your clients. For this, you need a system in place that allows you to loop in clients easily and provide them access to critical project data. This way, they can monitor whether the project is moving forward as desired and give quality inputs for better-performing projects.
Read More: How to Implement Strategic Alignment In Project Management

How to Choose the Best Project Management Tool for Solopreneurs
With so many tools promising the best project outcomes, it can be challenging to conclude which tool will suit your project requirements.
But, don't worry. We've done all the heavy lifting and curated a list of critical criteria to follow while selecting the best project management tool for solopreneurs.
1. Ease-of-Use
The best project management software for solopreneurs is easy to onboard and navigate. When you're handling so many things simultaneously, wasting time trying to navigate a tool is not something you would wish for. Thus, a tool must offer easy onboarding and subsequent navigation that does not require dedicated training.
2. Affordability in the Long Term
When onboarding a project management tool for individual use, a tool's affordability is a crucial criterion. A tool must offer essential project management features while being reasonably priced. This increases the chances of adopting and retaining a tool in the long term.
3. Core Task Management Features
Task management software for solopreneurs is equipped with robust task management features. This includes setting up a project dashboard, creating subtasks, defining due dates, priority levels, task dependencies, and more. Having access to these undisputable features leads to exceptional project output.
4. Listed on Credible SaaS Sites
How do you ensure that a tool is good and has worked for solopreneurs like you? By visiting credible SaaS sites such as G2, SoftwareWorld, Capterra, and GetApp. These sites display user reviews and ratings that help gain perspective on how a specific tool's capabilities helped a fellow solopreneur.
5. Free Trial Version
Getting your hands on a trial version of a tool provides first-hand experience using its features and understanding its functionality. This saves later regret of investment in a tool that does not cater to your specific needs as promised. Thus, always opt for a tool that offers a trial version of at least 15 days.
6. Quick Vendor Support
There are times when you get stuck while using a tool. Also, you may seek help to understand a tool's capabilities regarding a specific functionality. For this, you require a responsive support team that immediately resolves your queries and facilitates unhindered project execution from start to finish.
Read More: Everything You Need to Know About Critical Chain Project Management

Scale Your Business Faster with the Right Software
As a solopreneur, you almost always have your fingers in too many pots. Adopting the right project management software for solopreneurs can make things easier.
By now, you have probably decided which tool you would like to use. If not, here are our best recommendations!
You can go with ProProfs Project if robust task management capabilities and the long-term affordability of the tool are on your mind. If a Kanban-style interface is what you like to work on, then Trello is the right tool for you. Also, Asana is an excellent tool that is easy to navigate and offers many project management features.
So, get set to ace every task using a reliable tool that leads to sure-shot project success!
Do you want a free Project Management Software?
We have the #1 Online Project Management Software for effective project management.