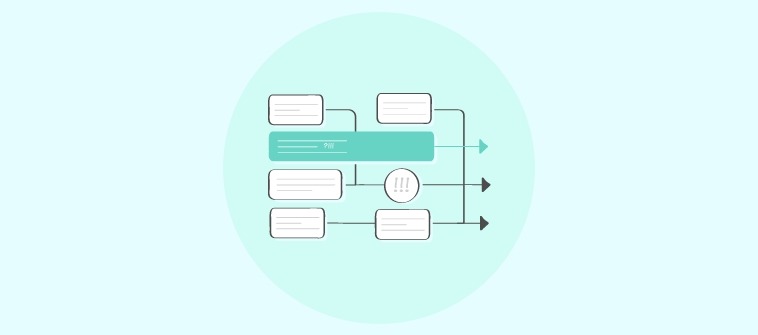 Critical chain project management refers to the most 'critical part of project execution' that demands unwavering attention to each step in order to fulfill its set objectives.
Let's break it down in simpler terms to understand it better.
Suppose you're working on a project. Now, in every project's life cycle, there is a certain span of tasks and activities that are totally dependent on each other for moving the project forward.
For example, a product cannot be assembled until its individual components are gathered and the testing of a project can't be done until it is first completed. Simple, right?
Well, it is. This is just the gist of the concept. We'll be diving deeper into its functionality by understanding its benefits and also curating the steps required for effective critical chain project management using a solid project management software.
What Is Critical Chain Project Management?
Critical chain project management is identifying and managing the most crucial part of the project execution lifecycle. It involves following strict task dependencies and allocating resources accurately right in the beginning. The precise execution of this sequence of steps is decisive and responsible for project delay, its success, or failure.
Buffer Types in Critical Chain Project Management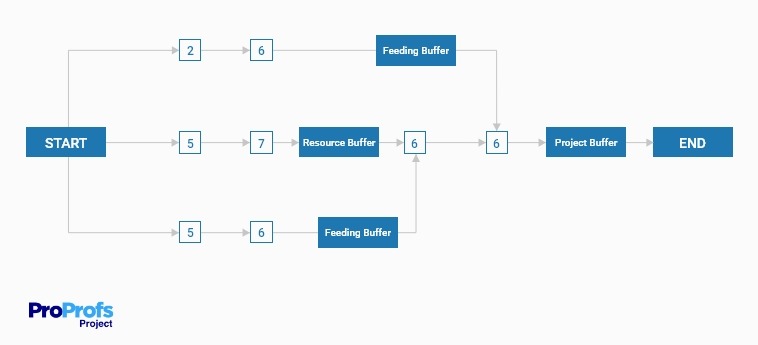 The sequence of critical project tasks and activities can be disrupted due to several factors. These factors, often unpredictable and unexpected, can harm the smooth execution of your project's lifecycle.
To tackle these factors, there are certain buffer types that are inserted in the critical sequence to minimize the impact of any undesired effect. Let's look at these buffer types in critical chain project management.
1. Project Buffer
A project buffer is placed between the last task and the completion of the project. This buffer comes into play in case the critical chain activities get delayed due to some unforeseen circumstances. By keeping a buffer, the team gets time to complete the tasks during the extra time allotted as project buffer. This keeps the completion date unchanged and helps deliver the project on time.
2. Feeding Buffer
The tasks that do not lie on the critical chain lie on the non-critical chain which is also known as the feeding chain. Thus, the feeding buffer is kept between the last task on the feeding chain and the critical chain. This helps prevent any delay on the feeding chain task's part affecting the critical chain activities.
3. Resource Buffer
The resource buffer is inserted to handle any miscalculation or deviation while executing the critical chain tasks. So, if you happen to fall short on people, equipment, or office space to run critical chain tasks smoothly, the resource buffer will help you glide through the potential negative impact.
Read More: Critical Success Factors in Project Management
Critical Chain Method Vs Critical Path Method in Project Management
The terms 'Critical chain method' and 'Critical path method' are often used interchangeably. However, they are different and imply distinct meanings.
Let's take a look at critical chain vs critical path methods.
In the critical path method, you:
Determine the sequence of tasks that would take the most time to be completed.
Do not include explicit buffers for managing and delivering the project as desired.
Keep a check on whether tasks are completed within the set timeline to determine project health.
In the critical chain method, you:
Keep buffers for both task dependencies and resource requirements.
Integrate project, resource, and feeding buffers in the project workflow.
Keep a check on how quickly the different buffers are being utilized to determine project health.
Read More: 12 Critical Project Management Principles Every Business Owner Should Follow
Benefits of Critical Chain Project Management
The right CCPM implementation can eliminate discrepancies that lead to project delay or even failure. Project managers and leaders worldwide rely on effective CCPM practices to oversee a smooth project run without constantly worrying about potential missed deadlines or increased resource demand.
Here is a list of the top benefits of leveraging the critical chain methodology for delivering successful projects consistently.
Deliver projects faster
Utilize resources optimally
Tackle inefficiencies head-on
Prevent mismanagement of floats
Stay within defined project scope and budget
Increase team productivity
Read More: Simplifying Project Human Resource Management – A 101 for Managers
7 Steps to Implement Critical Chain Method in Project Management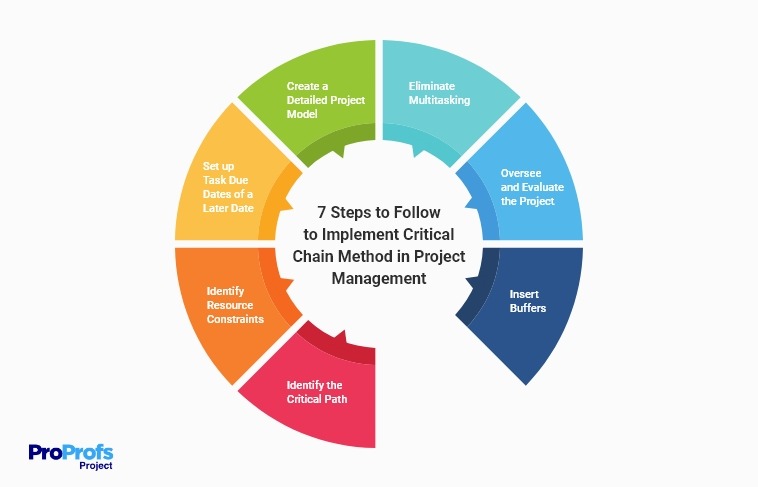 Effective project management methodology involves following 7 steps proven to enhance team effort and handle critical chain method smoothly.
1. Identify the Critical Path
This step forms the foundation of your critical chain project management process. In this, you identify the sequence of tasks that will take the longest to complete. These tasks lie on the critical path also because these may be dependent on each other i.e. one cannot move on to the next task unless the previous one is completed. In such a scenario, if a team member fails to complete a task on time, then the next task cannot be started on time leading to stalled project tasks and activities. This will inadvertently lead to delayed tasks and projects.
Also, apart from determining the critical chain tasks, you must also determine the tasks that lie on the non-critical chain i.e. the feeding chain. Any delay on part of these tasks will also impact the overall delivery of the project at large.
2. Identify Resource Constraints
Once you have listed down the tasks, next you must start allocating resources. Resources may be the equipment you need, the physical space you need or the people you would need to complete the tasks on time.
While allocating resources, consider any restraints that may come to mind.
Are any team members going on long leave?
In case a team member is going on leave, adjust the timeline to accommodate his absence. This is important because if you create a schedule without taking the team member's absence into account, it is most likely to delay project tasks, thus leading to missed project deadlines.
Is the office space going to be available on all days for project execution?
If the office space is not available for a few days, then schedule your projects so that project completion does not delay abruptly, i.e. account for these days while creating the project schedule when your team will not be able to work on the project.
Read More: 17 Best Project Scheduling Tools for 2022
3. Set up Task Due Dates of a Later Date
Keeping project due dates as the last possible dates within which the project can be delivered is both smart and practical.
This practice will help you create a schedule that gives adequate time to each task. This way, you can ensure that each task is given sufficient time, eliminating haphazard and rushed task execution. Also, this time provides you with extra time to carry out tasks in case they get pushed or delayed due to unforeseen circumstances.
4. Insert Buffers
Inserting buffers is one of the most crucial steps. The right placement of these buffers in the critical chain can make or break the entire project.
Thus, determine where and for how long each buffer will go i.e. project buffer, resource buffer, and the feeding buffer. These buffers will help manage risks in terms of resource unavailability or delayed tasks and enable smooth flowing projects throughout. Also, do not forget to add these buffers in the non-critical project management chain. Any negative occurrence in this will impact the critical chain activities.
Read More: How to Improve Your Project Evaluation Process
5. Create a Detailed Project Model
Creating a detailed project model is the next step for a sure-shot project execution plan.
But, what does a project model include? Well, it includes task time estimates, its description, the assigned resources, and the due dates. This helps define a clear schedule and workflow, enabling better-performing tasks and projects. This also helps team members track which tasks are done, which are pending, which ones require to be addressed, and when based on priority levels.
6. Eliminate Multitasking
Multi-tasking is often glorified to dictate better outcomes in less time. However, it is not always reliable and productive.
Multi-tasking while executing projects can lead to frequent switching between project tasks, making it highly prone to inefficiencies. The result? Low productivity and inefficient processes.
The pressure to multi-task may lead to low team focus and productivity. It will prevent team members from directing their best efforts to one task with utmost focus and dedication. The outcome of this setup will invariably be difficult and result in a fallout sooner or later.
7. Oversee and Evaluate the Project
Merely setting up the project workflow is not enough, it is imperative to keep a close eye on how the tasks are moving forward, step by step.
For this, a critical chain project management software comes in handy to monitor progress without a hitch. Also, evaluating the key project metrics makes it easier to track team performance and understand the overall project status in real-time. Moreover, if you come across a variable that needs adjustment, you can simply customize the process for improved project outcomes.
Best Critical Chain Project Management Software
You may incorporate the best steps proven to enable a smooth critical chain project management methodology. However, its implementation is incomplete without leveraging the power of critical chain project management software. A software helps streamline workflows and track how your project is progressing in real-time.
Here are the best critical chain project management software that you can choose from depending on your unique project and team needs.
ProProfs Project is an efficient project management tool, capable of managing critical chain activities effortlessly. It allows you to establish a crystal clear project schedule by creating tasks as per the desired sequence. You may even mark the tasks as important to define the critical tasks among other non-critical chain tasks. Also, it lets you allocate resources and set up task dependencies within seconds.
Its simple yet powerful dashboard is what sets it apart from its competitors. Besides, you can monitor whether the tasks, especially the critical chain ones, are on track or not using multiple project views such as Gantt charts, Kanban boards, List, and Calendar views.
Key Features of ProProfs Project:
Rich insights into project progress via actionable reports
Real-time project alerts and notifications
Recurring tasks for time-consuming or repetitive tasks
Task prioritization on the go
Task comments and file sharing for team collaboration
Centralized dashboard to manage projects
Price:
Essentials – $2/user/month
Premium – $4/user/month
An easy-to-use tool, Asana helps bring team members together to improve overall project performance. It provides a platform that helps manage multiple teams and multiple projects in one place.
This tool helps you create well-defined project workflows and track them effectively so that everyone is on the same page with project progress. This also helps team members stay accountable throughout a project, eliminating any conflict regarding their roles and responsibilities.
Key Features of Asana:
Timeline, board, and calendar view to visualize projects
Project reports to get real-time project status
Automation for routine tasks
Sync work across desktop and mobile devices
Integrate with third-party applications
Price:
Basic – $0
Premium – $13.49/user/month
Business – $30.49/user/month
Read More: Asana Pricing Guide for Managing Projects in 2022
ProChain is an excellent tool to handle critical chain with ease. It lets you get updates on ongoing tasks, resource allocation, and approaching due dates at a glance. This way, you can track project status and manage critical resources to ensure that no resource is either overworked or underutilized. With its User Scheduler, you can create checklists and assign resources efficiently from start to finish.
Key Features of ProChain:
Graphical displays with latest task metrics
Seamless integration with existing Microsoft Project schedules
Time chart dashboard to manage projects
Customization to adjust project workflows
Task prioritization
Price:
$450/annual license
Known for its intelligent scheduling capabilities, Aurora CCPM lets you incorporate critical chain project methodology for managing projects with maximum ease. It lets you create project schedules and tweak them in real-time as per current project requirements. The tool also lets you carry out forward, backward, and mixed mode scheduling. Overall, the tool has everything you need to bring more flexibility to your everyday project chain management needs.
Key Features of Aurora CCPM:
Conflict reports to analyze network
Customize set algorithms easily
Multi-project support for big projects
Update buffer reports on any given timeframe
Interfaces with Primavera P6, Microsoft Project, Oracle, etc.
Price: Available on request
Monitor Critical Chain Projects in Real-Time With a Solid Tool
Turns out, critical chain project management isn't all that difficult to understand, right?
Implementing its simple steps is easy, provided you set out to manage the critical chain using a robust critical chain project management software to track real-time task status, thus improving project performance for maximum impact.
Do you want a free Project Management Software?
We have the #1 Online Project Management Software for effective project management.