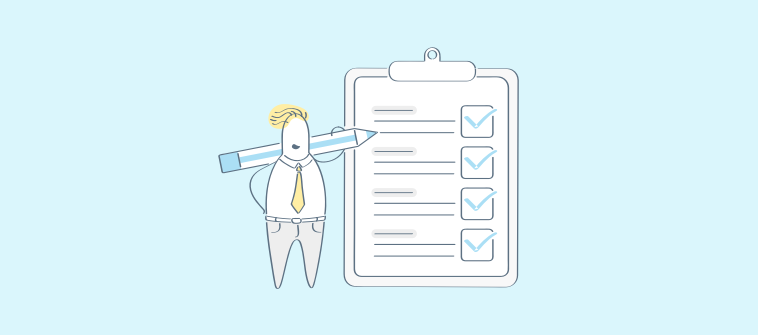 Right from your teams to clients to their projects, everything needs proper management.
But, what exactly is task management and why is it important?
Let's take the example of the NHS' civilian project to emphasize the importance of task management.
National Health Service or NHS is the publicly-funded healthcare system in England.
NHS launched a civilian project in 2002 that aimed to revolutionize the way technology is used in the healthcare industry. They wanted to bring a change by introducing digital scanning, electronic records, and integrated IT system across all hospitals and community care centers.
So, imagine that you start working on a project. You have all your goals in place. Now, instead of creating subtasks and assigning them to relevant team members, you simply start off working on everything as a whole.
This way, do you think you can implement and complete the project properly and in time?
The answer is no.
That's exactly what went wrong in the NHS' civilian project.
Along with inefficient task management, the NHS was not able to plan and execute the project properly.
If all the tasks had been properly explained and implemented, most issues with the NHS project could have been avoided. That's where a simple task management software can prove to be the perfect tool and ensure proper project execution.
But, before we dig into the solution, let's talk about what exactly is a 'task' in a project.
What are Tasks in a Project?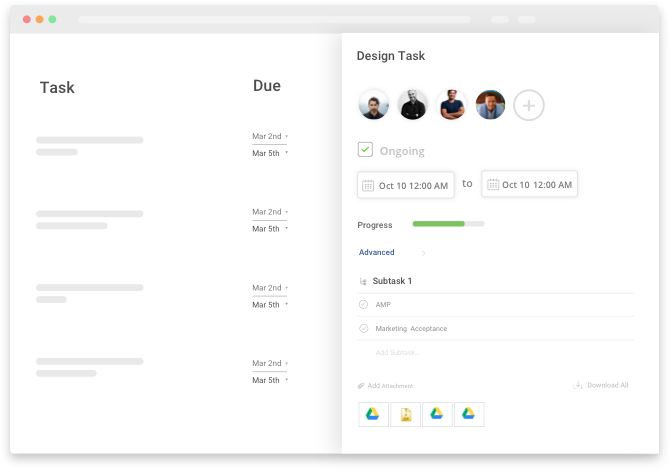 Tasks in a project can be defined as the smallest unit of work. They can also be defined as the actions to complete a portion of a project.
Imagine this, a project is divided into multiple steps and only when you complete all the steps can the project be categorized as complete. So each step can be considered a task.
Teams tend to deliver tasks by:
Setting a deadline

Create an execution plan

Coordinate with relevant team members

Monitor work progress to meet the set deadline
Note: Tasks can be broken down further into subtasks. Even subtasks have specific start and end dates.
So, what is the difference between tasks and subtasks? Let's discuss this in detail.
The Difference Between Tasks and Subtasks Explained
We said that projects need to be divided into smaller steps known as tasks. But, there are certain tasks that need to be divided further. These divisions are called subtasks.
Both tasks and subtasks have:
A set deadline

A team working towards achieving that goal
But, what's the difference?
A task is an overall picture of one specific aspect of a project whereas a subtask aims to achieve a part of this picture. Let's take an example:
You take on a project to build a website.
After understanding a client's requirements, you start working on the project. You will brief your team about the project and start work!
You will divide the project into multiple tasks, some of the major tasks include:
…but these tasks will be further divided into subtasks.
So, the basic difference between a task and subtask is depth.
Tasks cover a broader activity and subtasks cover all the in-depth steps that need to be completed in order to finish a task.
So, a task is dependant on subtasks.
Now that we have a basic idea about the difference between tasks and subtasks, let's talk about task management and why it is important.
What is Task Management?
Wikipedia defines task management as:
The process of managing a task through its entire life cycle. Task management involves four stages: planning, tracking, testing, and reporting.
Another definition is given by Technopedia. They define task management as:
An activity wherein an individual or manager monitors a task throughout its entire life cycle. According to the progress, the individual or manager makes decisions to complete the task at hand.
Basically, task management can be defined as the planning, creation, monitoring, testing, and reporting of tasks from start to finish.
With this definition, let's see why is task management important and why you must always manage tasks properly.
Why is Task Management Important?
We'll explain the importance of task management by taking reference to the initial example given in this article. Let's go back to the NHS' civilian project.
Why did it fail?
Among many other reasons, the one aspect the project did not cover is task management.
They didn't:
Have a plan in place

Create tasks or subtasks

Have a clear picture of who needs to work on what
So, the project was bound to fail.
---
Related Read: Common Reasons for Project Failure
---
Why?
How do you pinpoint where your project is lagging or needs improvement if you have no planning? Or tasks to complete?
So, creating tasks is just one part of the equation. Managing those tasks is equally important to complete projects in time.
Adopting task management techniques is essential to:
Keep projects on track

Monitor team performance

Meet client needs efficiently

Ensure proper project execution

Complete projects without compromising on quality
The Best Solution For Effective Task Management: TMS
TMS or Task Management System is the best solution for effective task management.
Managing tasks can be done manually, but having a project task management system in place can streamline the process properly.
We've talked about what are tasks, the difference between tasks, and task management and all the things that could go wrong. Now, let's talk about the solution.
Task Management Software: An Overview
You can use task management software for:
Task Estimation

Task Scheduling

Task Dependencies

Milestone Tracking
Resource Management
From start to finish, a task management system is all you need to streamline your workflow. Let's talk about the features and benefits of a task management system in detail below:
Task Management Software: Features
There are multiple task management systems available in the market, but which one would seem perfect for your organization?
That depends a lot on the features it offers. A robust project and task management software offers a number of features, some of them are:
Calendar View

Task Monitoring

Task Comments

Task Assignment
Time Tracking System
Single Dashboard View

Milestone Visualization
These features lead to benefits that not only help streamline workflow but also increase organizational growth. Let's cover a few of these benefits.
Task Management Software: Benefits
Assign tasks to relevant teams

Access all your tasks on a single dashboard
Plan task execution using a shared calendar

Ensure only authorized teams get access to tasks

Set deadlines and ensure you meet them efficiently
Track time spent by every team member on each task

Bring the team together and work on tasks as a whole using task comments
---
Related Read: How to Manage Multiple Tasks?
---
Choosing the Right Task Management Software: 6 Easy Steps
Now that we know the basics of a simple task management software, its features, and benefits, we must also learn how to choose the best task management system for your organization. It only takes six steps!
Step 1: Know Your Needs
The first thing to do when searching for the right project collaboration software is to know what problems your organization faces with project management. Do you have issues in:
Planning your project?
Monitoring team performance?
Bringing your team on the same page?
Getting your clients' vision across to your teams?
Note down all your requirements before you start your research.
Step 2: Do Your Research
Now get down to business. Go online and research about the best online task management software. You'll get an array of options. Save the needed information and specifications of the top ten task management tools at least.
Step 3: Check the Pricing Plans
Next thing to consider is the pricing plans. Whether you are a startup or an enterprise, your organization will set a limit to spend on tools. Crosscheck the pricing plans of the task management software you researched on and choose the ones that are within the budget.
Step 4: Compare the Features
Now that you have a list of options, check their features and tally with the list of problems you created in the first step. See what features you need to solve these issues.
Step 5: Shortlist Three Options
Among the options, shortlist three options that meet your criteria the best. Make a pros and cons list to make your decision easier.
Step 6: Make Your Choice
Now that you have all the data in front of you, choose the task management system that meets your organizational needs the best way possible.
Check Out the: 17 Workflow Management Softwares To Boost Efficiency
Manage Multiple Tasks Easily With a Simple Task Management Software
Task management system is an essential tool that every organization needs to streamline task management workflows.
So, if you are having problems in managing and monitoring multiple tasks, go for the ProProfs Project 15-day free trial. It offers all the features needed to efficiently manage tasks and additional benefits too, including reporting and invoicing.
---
Now that we covered all there could be regarding task management, let's answer a few FAQs that many people have regarding this topic.
Q1. What are task management skills?
Task management skills include managing, tracking, testing, planning, and reporting. Along with these, these skills can also include high communication skills and learning capabilities.
Q2. How do you manage team tasks?
You can manage team tasks by adopting a project and task management software, like ProProfs Project. It helps you organize your tasks, track task progress, monitor team performance, and meet deadlines effortlessly.
Q3. How do you keep track of team tasks?
Deploy a robust task management system that offers time tracking feature and it'll be really easy to track team tasks.
Recommended Read:
Do you want a free Project Management Software?
We have the #1 Online Project Management Software for effective project management.