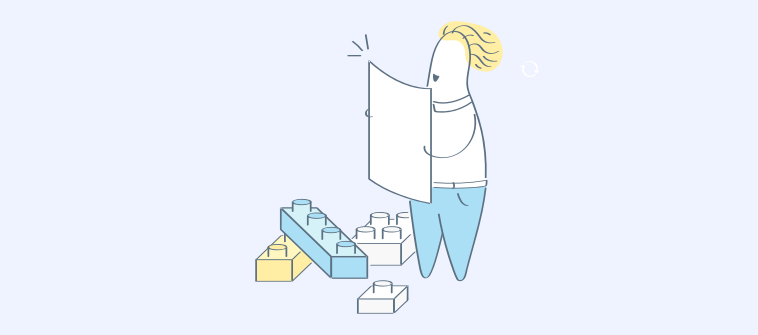 Expect the best, plan for the worst, and prepare to be surprised.
These words, written by American writer and consultant Denis E. Waitley, pretty much sum up the essence of smart project management. To ensure professional, well-thought project management, it's essential to take care of its key aspects.
While the elements of a project plan can vary depending on project nature, some of them cover general aspects that are standard for all projects. Apart from your business expectations, these key components of a project plan usually include the ways of overcoming unpredicted situations, as well as the team and tasks organization.
Now, if you're wondering about the important elements of a project plan, read on and check out our list of the 12 most important project components.
12 Essential Components Of A Project Plan
#1 SMART Scope Definition
To be able to focus on your project management components more profoundly, first, you have to define its scope. Practically speaking, a project scope definition is based on the clear and precise determination of all factors that impact project results, including the outcome quality, costs, required activities, measurements, etc.
To make sure that a project scope defines and explains project intention in the most precise way, business managers tend to make them SMART: specific, measurable, achievable, relevant, and time-bound.
Example of SMART project scope definition:
Let's assume that an app is designed for social media users with little to no experience with video editing apps. The SMART goals of this project will include – It will consist of 10 video editing tools and it will be compatible with iPhones and Android-based mobile devices. It will be launched within 5 months and will be featured as a product in our company's e-store and on the websites of other interested parties.
#2 Relevant Success Criteria
How would you decide if your project is successful? What do you consider a successful project, anyway?
To be able to realize if your project is performing well and giving you results that you expect, you should define the criteria that determine its success. Usually, this aspect of project planning includes the definition of success in several important terms, including time, money, and other important aspects.
So, to keep track of project success as precisely as possible, you should at least determine the optimal performance conditions in terms of:
expected deadlines and costs,

quality standards,

acceptable rates of product/service rejections,

benefits that you expect your customers to obtain using your product/service, etc.
Examples of relevant success criteria:
The app will be launched within 5 months.

The app will consist of 10 different options accessible from the home screen.

The users will be able to download and install the app with less than 5 clicks.
#3 Project Quality Standards
Only if you have a clear vision of what your product or service should look like, you can be sure that you'll create it in a satisfying way. And that's what makes this factor one of the key elements of project management.
To define your project quality standards, you should list all your essential expectations regarding different quality factors and try to reach them in an efficient way. This process usually includes three major phases, which are:
quality standards definition

the development of a strategy that will help achieve desired quality standards

the determination of metrics that will help measure actual quality and compare it with standards
Examples of project quality standards:
The app is installed in less than 20 seconds.

The app is loading in less than 5 seconds.

The app can perform various functions at the same time.

The app will provide a sleek experience with no bugs or delays.
#4 Procurement Plan
When it comes to project management plan components, the procurement plan has an essential role, as it represents the most efficient way of supplying all project elements that cannot be provided internally. This is where you define:
what products and services you need,

how and when you need them,

who you can get them from,

how you're going to measure their progress and quality.
Practically speaking, a procurement plan helps you organize your suppliers, consultants, contractors, and requirements in a single table, facilitating different procurement processes. This plan usually requires:
The creation of Terms of Reference, the document which specifies the work that needs to be done by an external contractor;

Sending the Request for Proposal, which includes Terms of Reference, to the procurement bidders;

The creation of financial documentation, including invoices and bills.
Example of procurement plan:
| | | | | | |
| --- | --- | --- | --- | --- | --- |
| Requirement | Terms of Reference | Invitation to Tender | Advertised (date) | Awarded (date) | Completed (date) |
| Logo design | logo_tor.pdf | email to designers | 1/7/2019 | 5/7/2019 | 31/7/2019 |
| App development | test_tor.pdf | developer_rfp.pdf | 5/8/2019 | 10/8/2019 | N/A |
#5 Final Product/Service Specification
Also known as deliverable specifications, this project management component represents the exact description of the final product or service, no matter whether it's tangible or not. It includes both physical and other product features (size, length, weight, package, adequate storing ways, etc.), and it should be as detailed as possible, to avoid any type of ambiguities.
Besides, it also must include the goods or services quantification, stating the exact amount of goods that are supposed to be provided.
Examples of final product/service specification:
Step-by-step video on editing
#6 Task Definition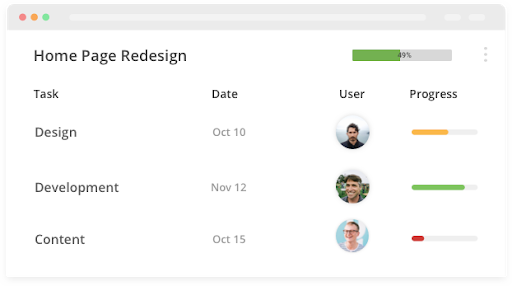 Among the key elements of project management, task definition occupies a special place. Not only does it dictate the time needed for the project to be done, but it also shapes the organization and communication of project team members and different sectors participating in the relevant processes.
Depending on the complexity of a project, task definition can be presented in diverse ways. It can have a form of a simple list of tasks to do, or even a special scheme developed with a special task management software.
Example of a simple task definition table:
| | |
| --- | --- |
| ID | Task |
| 120 | Color Scheme Selection |
| 130 | Logo Design |
| 140 | Interface Design |
| 150 | App Development |
#7 Schedules And Deadlines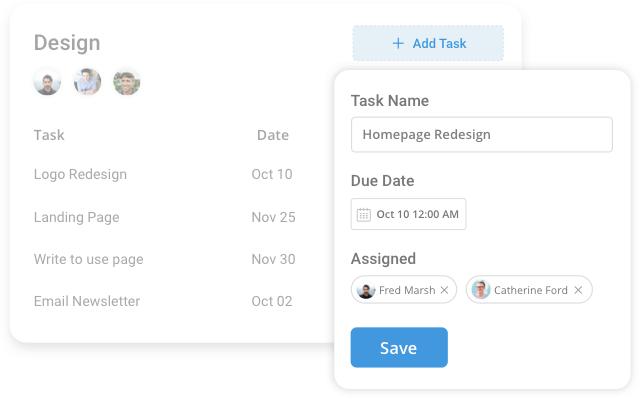 The project success is highly impacted by your project team's capability of performing a relevant task within the expected deadlines. That's why it's incredibly important for you to set realistic schedules and deadlines that will optimize your project team's performance. In other words, when determining the beginning and end of a project, you should have in mind both your capacities and human resources.
Depending on how large and demanding your project is, you can create different types of schedules. Small businesses are usually fine with simple spreadsheets, while large projects require diverse types of task charts and graphical schedules.
Example of schedules and deadlines table:
| | | | |
| --- | --- | --- | --- |
| ID | Task | Start Date | End Date |
| 120 | Color Scheme Selection | 1/7/2019 | 3/7/2019 |
| 130 | Logo Design | 5/7/2019 | 15/7/2019 |
| 140 | Interface Design | 12/8/2019 | 19/8/2019 |
| 150 | App Development | 20/8/2019 | 20/9/2019 |
#8 Budget Estimation
Depending on the method you use to make a budget estimation for a specific project, you can present these data in diverse ways.
For more complex budget estimation tables, you can use project management software. These solutions usually come with different options and templates for budget table creation, and you can choose the one that suits your needs best.
Example of budget estimation:
ID
Task Description
Start Date
End Date
Estimated Budget
110

App logo design

5/7/2019

15/7/2019

$400

120

App interface design

12/8/2019

19/8/2019

$730

130

App development

20/8/2019

20/9/2019

$1,700

TOTAL

$2,830
#9 Risk Register
No matter how well you define other components of a project plan, if you don't consider potential risks, you may end up negatively surprised. What you should do is try to prevent unwanted situations by reducing the factors that may lead to them or creating a back-up plan in case anything unpredicted happens. And to be able to do so, you have to be aware of all the risks that you might come across.
When determining these risks, you should pay special attention to their importance, likeliness, and the possible effect on your project. This way, you'll be able to conclude how much they would impact your business and the amount of extra work you'll have to invest in dealing with them successfully.
Example of a risk register table:
| | | | | | |
| --- | --- | --- | --- | --- | --- |
| Risk | Probability level (A-E) | Impact level (A-E) | Priority (A-E) | Triggers | Response Plan |
| The same app launched in the meantime | C | B | B | Lower app demand, decreased public interest, lower app price | Upgrading the app to offer a couple of additional features |
| Software bugs | D | A | A | Poor user experience | Re-development of problematic features |
#10 HR Strategy
Professional, competent human resources represent one of the key elements of project management as they bring a project to its end successfully.
The value of well-chosen human resources is reflected in their efficiency, their understanding of projects' goals, and their capability to work in a team, ensuring that everyone is following the same goal
The team members should be aware of the importance of the project they're working on and should be able to think not only on their own tasks but also beyond them, focussing on the wider picture.
Illustration of an HR strategy:
Human resources list the positions necessary for the successful execution of a project, with descriptions and expectations. Then, they decide how to gather the required team members. After training activities, they start to work on project tasks. To keep their efficiency at a high level, supervisors take care of their motivation, assess their performance, and, if necessary, reassign tasks to fit their skills.
#11 Project Team Communication
The truth is, the lack of adequate communication may significantly jeopardize other elements of a project plan. In other words, businesses must establish an efficient communication system not only within the internal team members but also when it comes to stakeholders outside of the business.
While daily communication may be based on phone or email, a serious project will also include official project meetings that have a specific agenda and are planned across different stages of the project. Accordingly, a serious project team will make sure to keep different stakeholders informed on relevant aspects of project management by sending out official circulars, reports, surveys, etc.
Example of team communication organization
| | | | |
| --- | --- | --- | --- |
| Name | Recipient | Frequency | Medium |
| General Report | All stakeholders | Once a month | Print |
| Investor Circular | Investors | Once in 20 days | PDF via Email |
| Progress Check | Active stakeholders | Once a week | Survey via Email |
#12 Stakeholders' Influence And Interest
No matter how many stakeholders you may have, keeping them at least relatively satisfied in your business relationship is one of the major elements of a project plan. While they all will want their business needs and expectations to be met, you're the one who has to make a balance among them.
Now, the best way to keep track of their preferences is by keeping them organized. And this can be achieved by using project management software and classifying the importance of their demands for your business.
This way, when you observe them using a special table, you'll get to figure out whose demands should be your top priorities. Accordingly, you'll be able to pay more attention to the optimal ways of approaching them, without jeopardizing your project goals.
Example of a stakeholder table
Stakeholder
Power
Interest
Expectations
VideoEdit Co.
(business owner)

High

High

App delivery on time + on budget;




Risk reduction;




Performance optimization;




Positive publicity.

Application Developer

High

Medium

Highest possible price for development activities

Third-party app stores

Low

Medium

Highest possible profits per app sold
Wrapping Up: What Is The Most Important Part Of The Project Plan?
Reliable project plans that are meant to succeed include a diversity of elements that are closely bound and intertwined. While most of the time, the main criteria definitely are time and financial factor, there are also a lot of other key elements of project management to take care of, including:
Scope and success criteria definition;

The identification of potential risks and the best ways of dealing with them;

The specification of deliverables as well as quality standards determination;

Project team organization and efficient communication;

Stakeholders' interests and their power over your project results, etc.
As you can see, numerous factors participate in the process of shaping your project management components. So, to make sure that your project plan comprises all the necessary elements, base the planning activities on a thorough approach. Only if you're aware of all the parts of a project that may impact the final result, you'll be able to create a plan that won't fail.
FAQ
---
Q. What are the necessary elements of the project?
The necessary elements you need to take into account for project success are:
Strategic planning

Team communication

Project prioritization

Availability of necessary resources
Q. What are the 5 stages of a project?
For proper project management, you need to take care of these 5 crucial stages:
Initiation

Planning

Execution

Monitoring

Project closure
Q. What are the three pillars of project management?
The three pillars of project management are:
Availability of resources:

Having required resources like workforce, capital, etc. at arsenal is vital for proper project management.

Project prioritization:

Prioritizing projects is vital to handle both crucial and non-crucial tasks perfectly.

Time management:

Both time management and project management go hand-in-hand because you can increase the number of successful projects only if you know exactly what you need to do and at which time.
Do you want a free Project Management Software?
We have the #1 Online Project Management Software for effective project management.