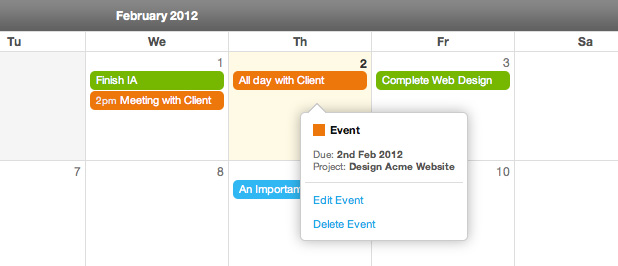 We are very excited to announce the launch of the new ProProfs Project Calendar. Get an overview of all your due projects, tasks, events and drag and drop them to re-plan.
We often get emails asking us if we're going to introduce a calendar system to ProProfs Project. Many of you found that you needed something bigger and better than the mini-calendar on the Dashboard, so we listened to your requests and built you what you wanted.
You can add projects and tasks directly from the new Calendar tab and watch them appear straight away in the calendar. This gives you a great way of getting an overview of what is due this month as well as being able to re-plan if you need to.
Introducing Group Events
A new feature we've added is called "Events" and they are basically things like meetings or lunch which have no deliverable and are shared by the team. They can be good markers for travel plans or occasions where you don't want to have all the abilities that tasks have.
Events can even be attached to Projects so can therefore be hidden to those who don't have access to a project. This means you can effectively set up group events and share with different project teams.
You can also set a specific time for the event, for example 2PM.
Re-plan With a Drag and Drop
If you need to re-plan your due dates simply drag and drop them to their new date and they will be updated straight away saving you lots of time by not having to go in to each individual project or task.
When you drag and drop an event to a new date, it will retain it's time (if you have one set). If you need to edit the time or delete the event just click on the event to get a contextual menu.
We hope you enjoy the new features, and of course let us know if you get any issues or questions.
Do you want a free Project Management Software?
We have the #1 Online Project Management Software for effective project management.