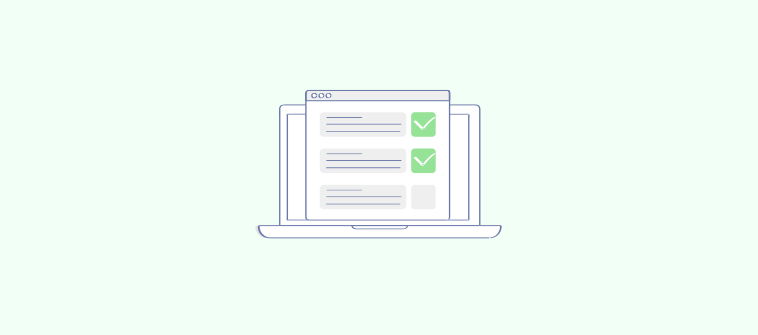 Your team has helped you through the planning phase of a project lifecycle. And now, they're excited and nervous at the same time to get started with their work. All resources have been lined up according to the upcoming tasks. Their due dates are set and everyone has shown up in the work mode to get started with the execution phase.
Sounds pleasant, right?
But hold on a second. As pleasant as this scenario may look, the same team can face various challenges that they aren't prepared for, yet. What if:
Your client requests for a tweak that changes right in the middle of project execution?

Your team doesn't follow the project plan properly, enhancing inefficiencies?

All stakeholders are always busy and not involved in the project execution?
There are many obstacles that can lead to delays in project delivery. Your clients and other stakeholders will be the ones facing the major impacts of such delays.
What's more? The project may ultimately lead to failure. So, before you end up in this situation, it is time you think of all the possible reasons that could cause this. A few that are common include:
Inaccurate Project Plan

Inefficient Team Collaboration

Unclear Client Vision
Lack of collaboration can certainly lead your team to such a scenario. So, how do you tackle this so that your projects can deliver outcomes that your clients expect?
Easy. Just like your competitors, you need to integrate a project collaboration software that helps you communicate latest updates across internal and remote teams easily.
You may ask, 'why is a collaborative project management software important for our organization?'. But before we dive into this tangent, let's understand what is a project collaboration software in the first place.
What is Project Collaboration Software?
There are various project collaboration software definitions you come across if you do a Google search. For example:
A project collaboration software is designed to assist members of a team in communicating all project updates that help them reach their project goals within the deadline. Though, a collaboration project management software was earlier defined as "intentional group processes plus software to support them."

(Source:

Wikipedia

)

Project collaboration software is a tool that enables file sharing, processing and managing, and other data types among several users and/or systems. This type of software allows two or more remote users to work on a task or project together.

(Source:

Technopedia

)

A project collaboration software or platform is a category of business tool that adds all the broad social networking capabilities to work processes. The goal of a collaborative software is to foster innovation by incorporating knowledge management into business processes so that remote employees can share information and solve business problems efficiently.

(Source:

WhatIs.com

)
If we were to give the simplest project collaboration software definition, it would go like:
A project collaboration software is a platform that brings together teams from remote areas to work on a task or project as a team.
You'll understand the in-depth definition as you go on reading this blog.
Types of Project Collaboration Software
Along with so many options on the market, there are different types of collaboration software that one must know about before making the right choice.
According to FinanceOnline, the types of collaboration software are:
Communication

Coordination

Conferencing
All of these project management collaboration tools do the same thing but in different ways.
On the other hand, instead of the broad categorization, GeniusProject gives us seven main types of project management software. They are:
File Sharing

Calendar Sharing

Instant Messaging

Video-Conferencing

Cloud Storage

Document Synchronization

Whiteboards
But, what if I tell you that ALL the above-mentioned software types can be a part of one big software?
That's what a feature of project collaboration software. It gives you all the features mentioned above, making it easy to collaborate with your teams instantly.
Now that we are clear about what is a project collaboration software, it is essential to understand the reasons that make the integration of the software important for an organization. But before that, let's discuss the main features of project collaboration software.
Read More: How to Build High Performing Teams (10 Ways)
Features of Project Collaboration Software
There are numerous features of a project collaboration software, some of them are: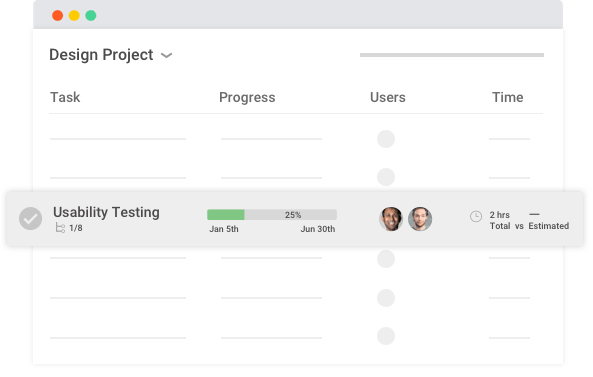 Working with remote teams can be really tough and the most difficult part is keeping all your employees on the same page. Even if you have 100% in-house employees, it still gets impossible for them to know what needs to be done and by when.
That is why having all key project information on a single dashboard is essential. For example, ProProfs Project management software features a one dashboard view that allows you to:
See who is working on what

Track project progress

See how much time each team member spends on tasks assigned to them

Ensure all deadlines are met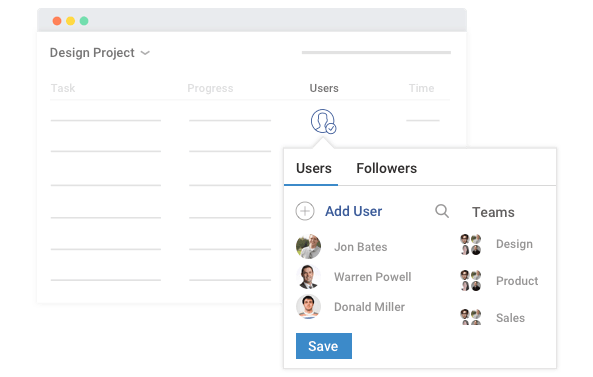 Managing multiple tasks is a daunting task. First, you have to make sure your team member understands the project goals and objectives, then you assign them a task and give them a deadline.
Well, in a manual setup, how will you ensure everything is delivered in time?
Did you know that according to a KPMG study, 60% of projects fail as they set unrealistic deadlines (of less than a year), forcing team members to rush through project phases?
So, when it comes to deadlines, the most important thing is task management. This feature isn't limited to tracking and assignment. Let's take the example of ProProfs Project. This simple project management software features task management that allows you to:
Create task dependencies, making sure your team members move onto a new task only after completing the current one

Set task permissions to ensure authorized team members get notifications regarding project updates

Drop task comments to give teams feedback and keep everyone in the loop

Shared Calendar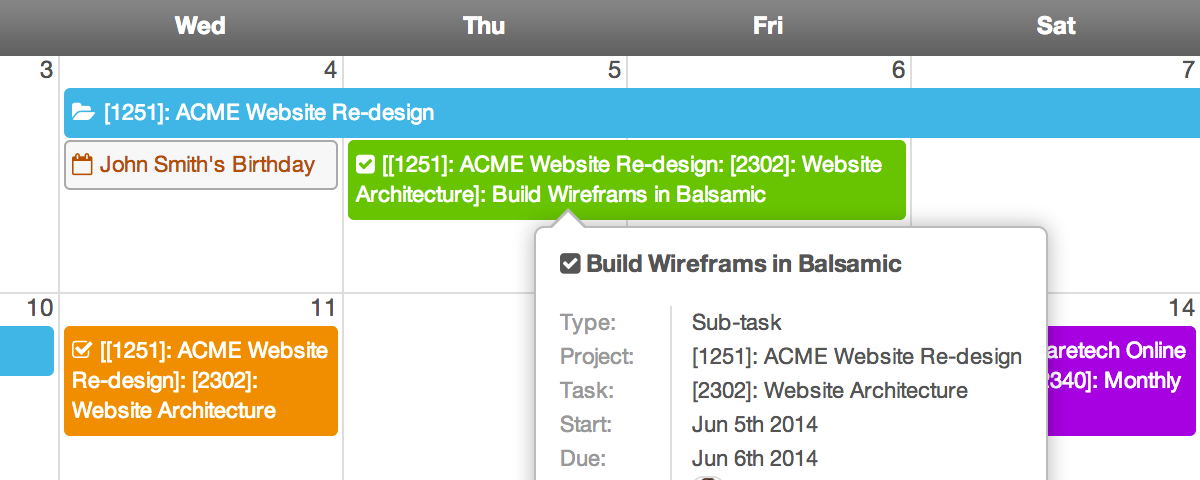 Visualizing milestones is another hurdle that team members face when executing a project. This is why collaborating on completing the project within the set milestones becomes impossible.
With a robust collaboration project management software, such as ProProfs Project, you can:
Visualize milestones with your team members

Plan the perfect project execution strategy

Keep all relevant teams in the loop

File Sharing
Can you imagine working on projects with hardcopy documents for every small task? Wouldn't that be a headache?
Other than that, let's imagine taking up Google Doc or any other online document platform. Would it be easy to segregate the documents according to projects and ensure only relevant teams get access to those documents?
Well, this can only be achieved with a project collaboration software that features file sharing. With the help of this feature, you can:
Share relevant files to authorized team members

Access, manage and store multiple files on a single platform

Time Tracking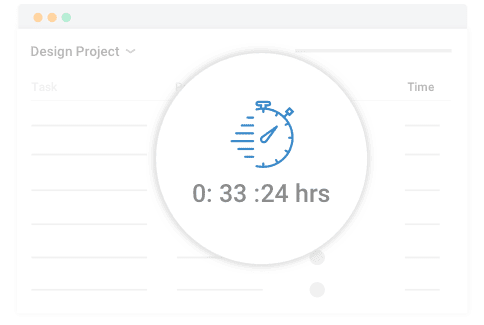 Every manager wishes to know what their team members are working on, especially if they fail to meet their deadlines. It becomes a nightmare to track them and their deliverables all the time. But, there is a solution to this problem as well.
Project management collaboration software with a time tracking feature can solve all your problems. It helps you to:
Track the time spent on each project/task

Compare the time spent on a task with the estimated time that should be spent on the task

Meet deadlines easily
Read More: 12 Best Project Management Techniques to Use for 2022
Reasons For Using Project Collaboration Tools in Your Organization
When you ask "what are the benefits of project collaboration software?", you must think of the organization as a whole. So, let's explore some of the benefits your team and organization can enjoy after including this software solution in your work process.
Improve Teamwork with Increased Engagement
It's a given that teamwork is important for any project team to provide quality results in time. But teamwork can only improve further if there are occasions or means for the team to engage with each other.
With means like a project collaboration software, the team can increase their engagement towards the project and work towards accomplishing the goals within the set deadline.
According to the Chief People Officer at Namely, Nick Sanchez expresses how unfortunate it is that less than 35% of employees in the US are engaged.
This leads to two conclusions:
The organization is not working towards boosting employee engagement proactively.

The company can be at the risk of receiving less number of projects and reduced profits.
But this conclusion can be averted for your organization if it actively works towards increasing employee engagement that leads to improved teamwork.
Efficient Collaboration, Efficient Team Meetings
After working towards a proactive approach to building teamwork, you can hold a lesser number of meetings. Reason? It's clear, efficient modes of collaboration help to conduct efficient meetings that ultimately reduce the number of team meetings.
A project collaboration tool helps to reach the objectives of a task and documents the progress of the project hassle-free. Moreover, you can assign tasks to team members easily.
Once that share of work is ticked-off from the list, the teams get to work and share more proactive information during meetings, therefore increasing team engagement too.
Seamless Collaboration with Stakeholders
One complaint of stakeholders that you can put an end to is lack of collaboration. The use of a collaborative tool can be useful in many ways.
Let's take a look at some of them.
You get to concentrate on external collaboration

Your teams don't miss a single new update on a project

You get to avert delays in the project deliverable

Your team can work hassle-free towards

risk management
What's even more useful with the use of a collaboration solution is how you can get feedback from your clients at every stage of project execution. This will help you improve the quality of the product or service and reach the planned goal easily.
As communication and employee engagement get a boost, so does the overall productivity. McKinsey & Company stated in one of their studies that networking tools, like project collaboration software or online project collaboration tools, tend to boost productivity by 20%-30% for global software development teams.
Whether a development team is completely remote or in a hybrid work environment, it is essential to ensure that every employee is aligned. Regular meetings and standups are a must to discuss the projects and tasks, however, don't overdo it and kill employees productivity. Implement a tool for a small-matter-communication everyone has access to.
So, if any organization integrates a tool that helps them:
Improve communication across teams and other stakeholders

Increase employee engagement

Reduce multiple team meetings to a few

And, help external collaboration evolve to another level
…tends to boost team productivity too.
In the end, it is important you count what all does a collaboration software helps you out with. Although diving into profits offered by the software's use is essential to understand but so is to concentrate on how to get one onboard for your team and organization.
Once that stage is over, it will become easier for your team to:
Work towards improving work flexibility

Improve employee engagement towards the existing and upcoming projects

Boost better and lesser productive team meeting culture

Complete your projects on time with the quality deliverable, therefore increasing the number of incoming projects

Increase client retention rate

Get as many innovative ideas to get the execution phase into action

Collaborate with stakeholders seamlessly
But, with so many options available in the market, how will you know which one to incorporate? There is a systematic way for choosing project collaboration software. Let's see how you too can incorporate the best project collaboration tool that suits your organization.
Read More: Agile Software Development Life Cycle (Ultimate Guide 2022)
Choosing Project Collaboration Software: 6 Steps to Successful Team Communication!

With all this knowledge, it may seem easy to choose the right collaborative software, but that's also not true in some cases.
Every organization has different problems and need different features to solve them. Moreover, with so many options available, choosing the right project collaboration software becomes difficult.
That's why we bring to you the six steps to choosing project collaboration software that'll help you achieve successful team communication.
The first step to choosing project collaboration software is to understand exactly what you need.
Is it for instant team communication? Or visualizing milestones? Or tracking a teams' work?
Whatever be the reason, the only way you can select the right tool for your organization is to jot down what are the problems your organization. Talk to every team. Understand where they fall short in terms of communication and how it is affecting project deadlines.
Now that have a basic idea of what your communication problems your teams face, you know what features you'll need in a project collaboration software.
So, do your research! Search the web for the best project collaboration software. Check their pricing, features, and UI. These three aspects are most important to consider before moving to step 3.
You must have a list of possible candidates for the best collaborative project management software for your organization. So, it's time to shortlist a few options!
Depending on the three aspects mentioned in step 2, it is essential to choose at least 5 collaboration tools that seem like a good fit to your organization. Once you have shortlisted your choices, you can move onto step 4.
Taking the free trial for each shortlisted option is essential. It doesn't matter what's written a collaborative software features, but it is more important to see whether your teams can incorporate and get used to this solution.
Another key reason to run free-trials is to see if the software solves ALL collaboration issues that your team faces.
So, take up 3 or 5 project collaboration software options and deploy them in separate teams. With this, you will not only see how your teams perform with the tool, it will also make it easy for you to choose one tool that will be easily acceptable to your team.
Take Feedback From Every Team Member
This is one step most managers forget. When choosing project collaboration software, it is essential that managers understand that their team will work on the tool to execute projects.
So, even if you as a manager feel the tool is perfect, it is irrelevant if your team feels otherwise. Take feedback from your team members to make sure you know where they stand.
Was the software easy to use?
Did it have all the features you needed?
Did it help you in solving your issues?
Do you feel you've become a better team after using this software?
These are a few questions you can use to understand the effect of the software on your team.
Evaluate The Feedback & Cost Aspects
When you get the feedback, you can't just read and let go. Good leaders always keep their team first.
So, evaluate the feedback and cross-check with the shortlisted options. With the feedback, you can choose the right project collaboration software for you, your team, and your organization. Also, keep in mind your cost aspects and choose the one that is within your budget as well.
Bring Your Teams Closer By Choosing Project Collaboration Software!
With so many benefits of a project collaboration software, there is no way your team can step away from the use of a tool such as this at the workplace.
So, don't wait for your competitors to move ahead of you and get a hold of all the clients in the market. It's time you start using a project collaboration software to be a part of the competitive market too.
---
Now that you know the basics of project collaboration software, let's answer a few FAQs regarding the same topic.
Q1. What is collaboration in project management?
Collaboration in project management refers to teams planning, coordinating, controlling, and monitoring complex projects.
Q2. Why collaboration is important in project management?
Keeping projects on track and avoiding any loss in quality are the two main reasons why collaboration is important in project management. It also provides a positive environment for teams to interact and work together. This results in a highly stable organization and a powerful workflow
Q3. What is a collaboration platform?
A collaboration platform is a software that allows teams to collaborate and add broad social networking capabilities to their work processes.
Do you want a free Project Management Software?
We have the #1 Online Project Management Software for effective project management.