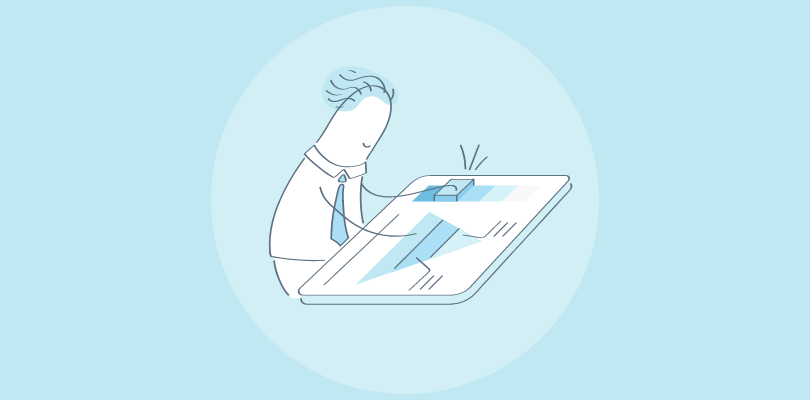 Are you a business owner looking for the best project management software for small businesses?
You're not alone.
Small businesses often juggle multiple roles, striving to meet project deadlines and maintain quality.
The good news is that several project management software solutions can help streamline tasks, prevent resource wastage and missed deadlines, and enhance collaboration. It ensures an organized workflow benefiting both project managers and team members.
I've curated this list of the top 16 project management software for small businesses to help you make an informed decision. We'll delve into each tool's key features, pros, cons, and pricing.
By the end of this post, you'll better understand which project management software is right for your business.
List of 16 Best Project Management Software for Small Businesses
Here is the list of the 16 best project management software for small businesses. I have carefully assessed each tool using a range of criteria, including customer testimonials, key features, reviews in third-party software comparison sites, and personal hands-on experience.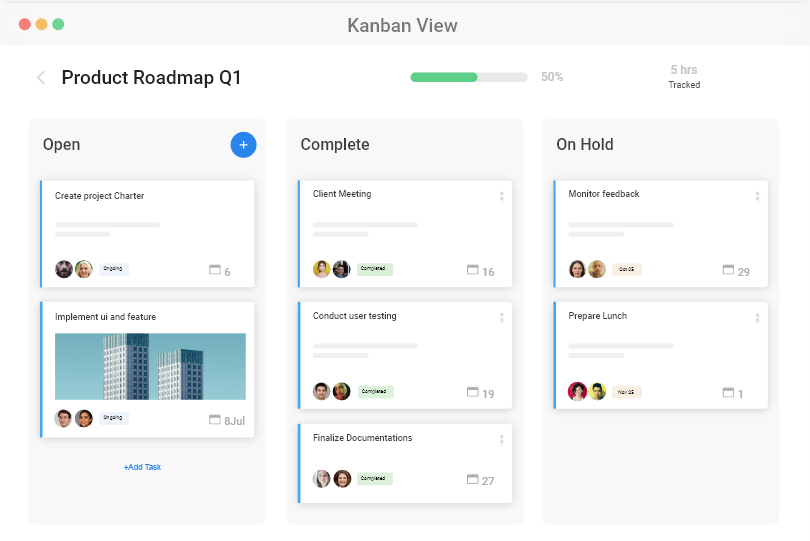 ProProfs Project is a user-friendly and highly adaptable project management system for small teams and businesses. It helps align projects, processes, and people on one collaborative platform, centralizing everything in an easy-to-access place.
What I love most about this tool is that I can get my project up and running quickly using ready-to-use, customizable templates. These professionally designed templates allow me to tweak project and task names, add resources, set due dates, and get the ball rolling with just a few clicks.
Equipped with solid project management features such as a single dashboard, time tracking, Gantt charts, Kanban boards, powerful analytics, etc., the tool provides a simple and intuitive platform to track progress and control project workflows.
What you'll like:
Collaborate with team members via task comments, file sharing, and real-time notifications for new project updates
Analyze key project metrics using data-driven project reports
Track employee productivity and generate accurate invoices via time tracking capabilities
Prioritize tasks to accomplish important projects first
Compare planned vs. actual schedules using baselines
You can switch between different views such as Gantt, Kanban, and Calendar and analyze project progress the way you want
Their customer support is amazing. They are prompt and resolve your queries with utmost dedication.
It is an easily adaptable and scalable platform, perfect for growing teams
What you may not like:
Lacks helpful third-party integrations apart from Zapier
Mobile application experience can be improved
Pricing: Starts at $39.97/month. (Billed annually). No hidden charges. A 15-day free trial.
2. Asana – Best for simple task management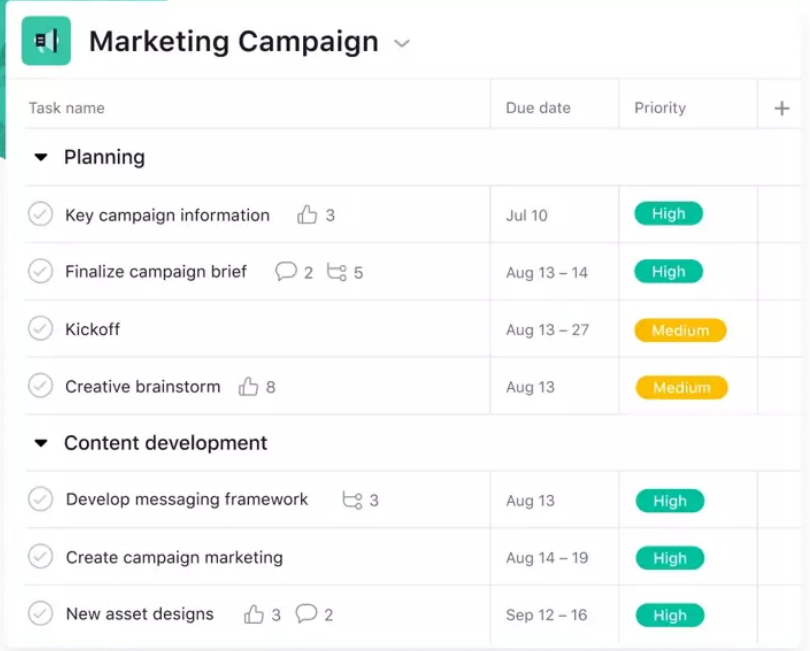 During my tenure at a company, I came across Asana and was immediately impressed by its capabilities. It's exceptional project management software, particularly well-suited for small businesses.
I could create crystal-clear workflows for my team to follow. I could even add subtasks to tasks and assign each of these to different resources. Also, customizing these workflows was a matter of seconds, with easy navigation throughout the project's lifecycle.
Using Asana, you can use unlimited tasks, projects, and messages to get your projects across the finish line.
Overall, Asana is popular among teams of all sizes, including marketing, development, operations, and more, as it helps improve transparency, collaboration, and project management efficiency.
What you'll like:
You can start working on your project immediately by choosing from 50+ templates
Integrate with 100+ applications easily
Monitor progress with List, Board, and Calendar view
What you may not like:
It lacks a solid time tracking feature
Its interface is not designed to handle complex projects
Pricing: Free plan available (limited to 15 team members). Paid plan starts at $10.99/user/month.
Read More: 21 Best Asana Alternatives For Project Management Software for 2023

3. ClickUp – Best for flexible work management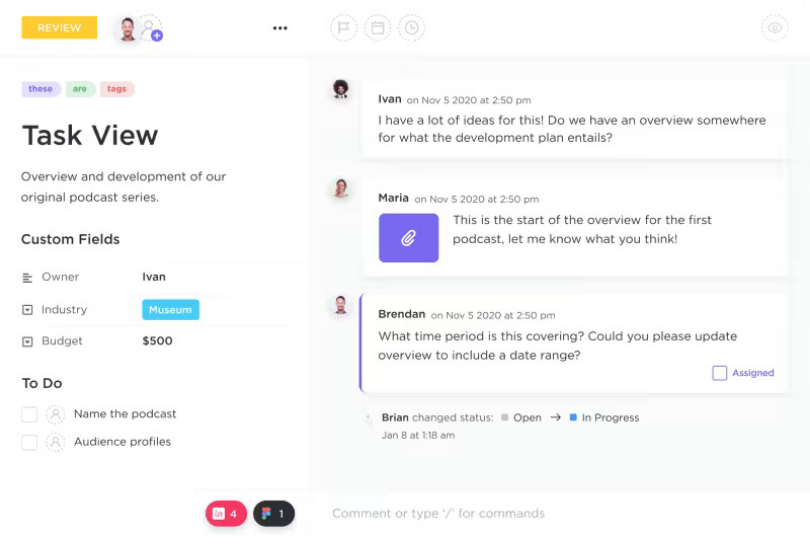 ClickUp is among the best project management software for small teams looking for a flexible platform to align tasks and help move work forward.
With ClickUp, you can streamline processes and execute intricately defined workflows with remarkable efficiency. I could track progress using Gantt charts, Kanban boards, Timelines, and Mind maps.
What truly sets ClickUp apart is its capacity to align individual tasks and projects with broader objectives, seamlessly integrating goal-setting and tracking capabilities.
Additionally, ClickUp integrates with many third-party tools, such as Google Workspace, Microsoft Office, Trello, and Slack. This helped enhance the platform's functionality and adaptability to my team's specific net you'll like:
The tool is capable of handling complex projects being operated by cross-functional teams
It centralizes all project information using an intelligent project management interface
Its mobile application for both iOS and Android enables you to manage tasks and projects on the go.
What you may not like:
The tool may feel overwhelming sometimes due to its feature-packed dashboard
More collaborative ability can be added in the future
Pricing: Free plan available (15 MB storage space only). The paid plan starts at $7/member/month.
Read More: 16 Best ClickUp Alternatives & Competitors (Features+Comparison)

4. Wrike – Best for real-time project monitoring

Wrike is the top small business project management software. It is a scalable platform that allows me and my team to plan, create, and deliver multiple projects simultaneously. I could easily drag and drop tasks and adjust workflows on the fly.
The customizable dashboards display real-time project data and metrics. So, you can track the progress of project tasks, monitor deadlines, and view project performance at a glance.
Plus, the activity stream feature in Wrike displays a real-time feed of updates, comments, and changes made to tasks and projects.
What more? Its time tracking and timesheet generating abilities helped me generate accurate time and effort estimates for upcoming projects and tasks.
What you'll like:
Access project information across the web, desktop, and mobile
Wrike can integrate with other tools and platforms, allowing for seamless data flow across different systems
It sends real-time notifications and alerts to users when changes are made to tasks, projects, or discussions
What you may not like:
Its features can be overwhelming for beginners
Needs more collaborative abilities
Pricing: Free plan available (no automation or templates). Paid plan starts at $9.80/user/month.
Read More: Top 20 Wrike Alternatives for Easy Project Management

5. monday.com – Best for portfolio management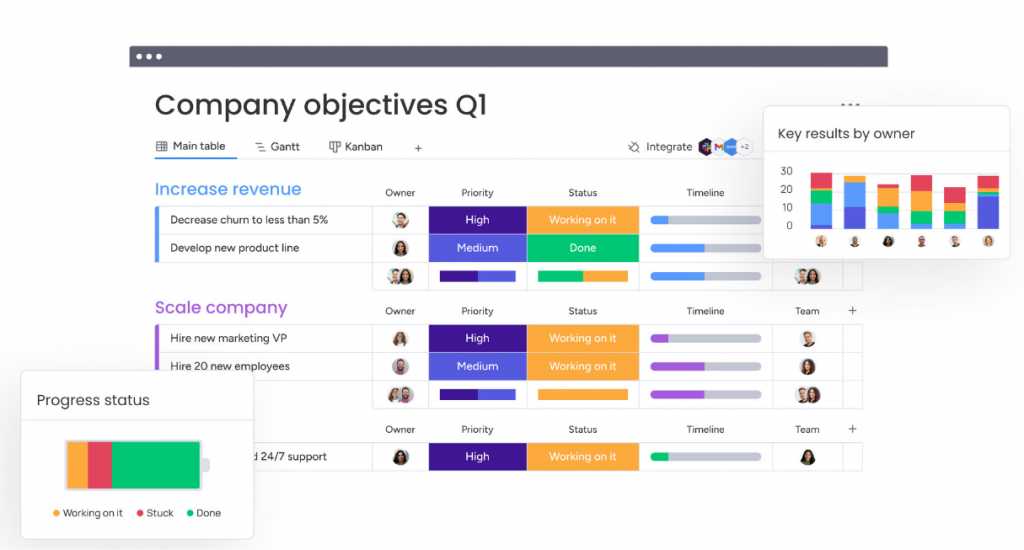 monday.com is another trusted project management software for small businesses. It lets me create project workflows, assign resources, and define deadlines accurately. Simply put, it helps me prioritize projects and get work done faster.
Using monday.com, your team can track and manage multiple projects, initiatives, or assets within the organization. Customize your board by adding columns that capture important portfolio-related information. For example, you might have columns for project names, owners, start and end dates, milestones, budget information, status updates, etc.
Moreover, its reporting abilities provide insight into project progress right from the tool's dashboard. Monitor key metrics and tweak project workflows for best results.
What you'll like:
You can visualize data with charts, Calendars, and Gantt views
Get a ready project layout with customizable templates
Leverage automation and integrations for increased efficiency
What you may not like:
It can be difficult to get started initially
Collaboration features can be enhanced
Pricing: Free plan available (up to 2 seats only). Paid plan starts at $8/seat/month.
Read More: Best Monday.com Alternatives for Project Management in 2023

6. Trello – Best for Kanban board visualization
If you're looking for Kanban boards for project management, Trello is your best bet.
This small business project management software offers a Kanban-style dashboard that lets you categorize tasks under various names such as 'To do,' 'Doing,' or 'Done,' helping you better understand where your project stands.
Trello also offers features like team collaboration, integration with tools like Google Drive, automation through "Butler" (Trello's automation tool), and mobile apps for easy access. Overall, the tool lets you easily manage small teams and handle bigger projects.
What you'll like:
You can organize work with Trello cards that display due dates, assignees, and conversations related to a project
Customize workflows to suit team needs
Drag and drop tasks across the Trello board
What you may not like:
There is no offline access to the tool
Handling tasks across multiple Trello boards can get chaotic
Pricing: Free plan available (up to 10 boards per workspace only). Paid plan starts at $5/user/month.
Read More: 15 Trello Alternatives in 2023 (Both Free and Paid)

7. Airtable – Best for sprint management
In Airtable, you can create a new database from scratch or use a template specifically designed for sprint management.
Inside your database, you can create different tables for various aspects of sprint management, such as tasks, user stories, team members, deadlines, etc. Each table consists of fields, which can hold different types of information (text, numbers, dates, attachments, etc.).
The one thing I liked about Airtable is that it lets you easily plan and manage projects, regardless of which project methodology you follow. So, whether it's agile, scrum, or Kanban, you can strategize your project action plan and get started with execution sooner than expected.
What you'll like:
The Airtable calendar lets you manage project tasks and activities no matter where your teams are located
Create custom interfaces to suit team and sprint needs
Link records for cross-table relationships, connecting tasks, team members, user stories, etc.
What you may not like:
Steep learning curve
It lacks advanced reporting and analytical capabilities
Pricing: Free plan available (up to 5 creators or editors only). Paid plan starts at $10/seat/month.
8. Zoho Projects – Best for handling large, complex projects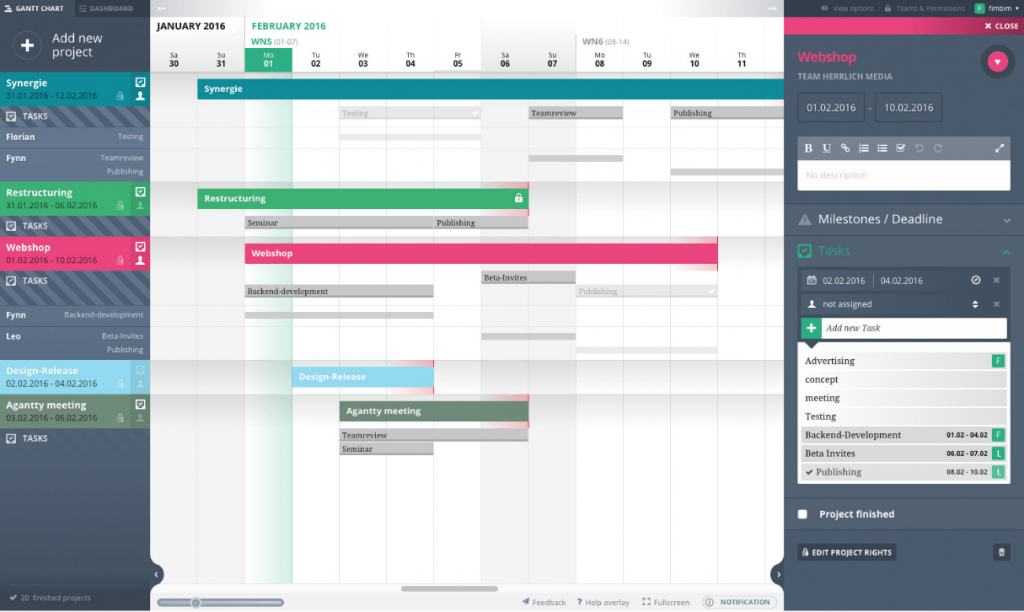 Zoho Projects really nails it when managing large and complex projects across different industries.
It allowed me to break down complex projects into smaller, manageable tasks. I loved that I could create task dependencies, set priorities, assign resources, and track progress for each task.
The tool enables you to allocate and manage resources efficiently across multiple projects. This is crucial for handling complex projects with diverse resource needs.
The icing on the cake is its project reports that provide actionable insights into project KPIs and assist you in making informed business decisions for better project outcomes.
What you'll like:
Access 20+ project templates to get started quickly
Automate tasks using blueprints, saving time and effort
Manage inter-project dependencies effortlessly for smooth coordination
What you may not like:
It is difficult to configure the software to match specific workflow or requirements
Users have reported less than satisfactory experiences with response times and quality of support
Pricing: Free plan available (up to 3 users only). Paid plan starts at $4.22/user/month.
9. Paymo – Best for time tracking in projects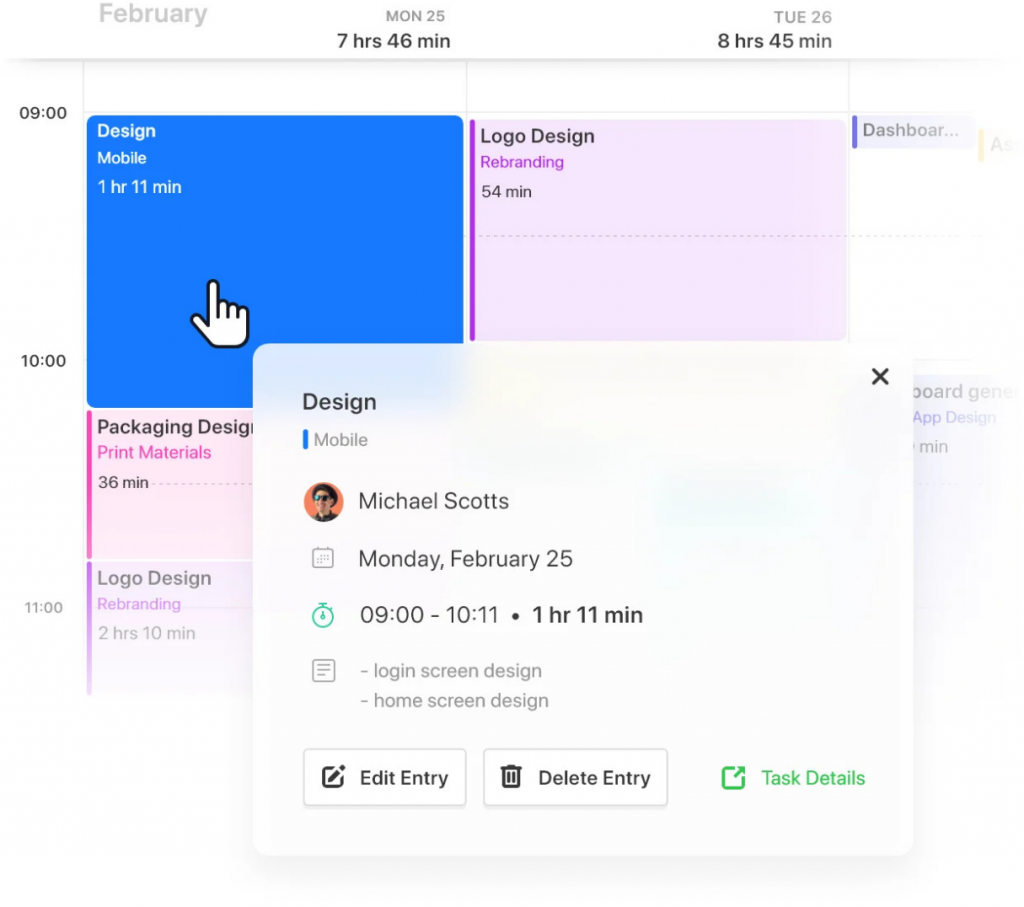 What I liked most about Paymo is its transparent time tracking capabilities.
I used the tool extensively to track time spent on tasks and projects. This can be done manually or by using timers. You can categorize time entries, add descriptions, and assign them to specific projects or clients.
This also helps ensure resources are never overworked, with effective workload management and easy resource visualization.
Paymo offers invoicing features, allowing you to generate invoices based on tracked time and expenses. You can customize invoice templates, add billable items, and send invoices to clients.
What you'll like:
You can track task progress using list, table, calendar, & board views
Get remote assistance for unhindered project execution
Set up automation for recurring tasks
What you may not like:
Lacks robust reporting abilities
Needs better project customization options
Pricing: Free plan available (limited to 1 user). Paid plan starts at $4.95/user/month.
10. Celoxis – Best for keeping project risks under control
I highly recommend giving Celoxis a shot. It is the best project management software for small teams struggling to control risks.
Celoxis helped my team and me to identify and document potential risks associated with our projects. Not just this. The tool also helped us assess the severity and likelihood of each identified risk. With such assessments, we could prioritize risks and allocate resources accordingly.
Additionally, Celoxis enables you to define and implement strategies to mitigate identified risks. You can create action plans and assign responsibilities to team members to address potential issues.
What you'll like:
You can track the status of risk reduction efforts and adjust your plans if needed
Its reports provide insights into the overall risk landscape of projects
Integrate with communication tools, file sharing platforms, and more
What you may not like:
Customer support can be improved
Users may take time to adapt to its features and functionality
Pricing: Starts at $22.50/year.
11. ProofHub – Best for creative and design teams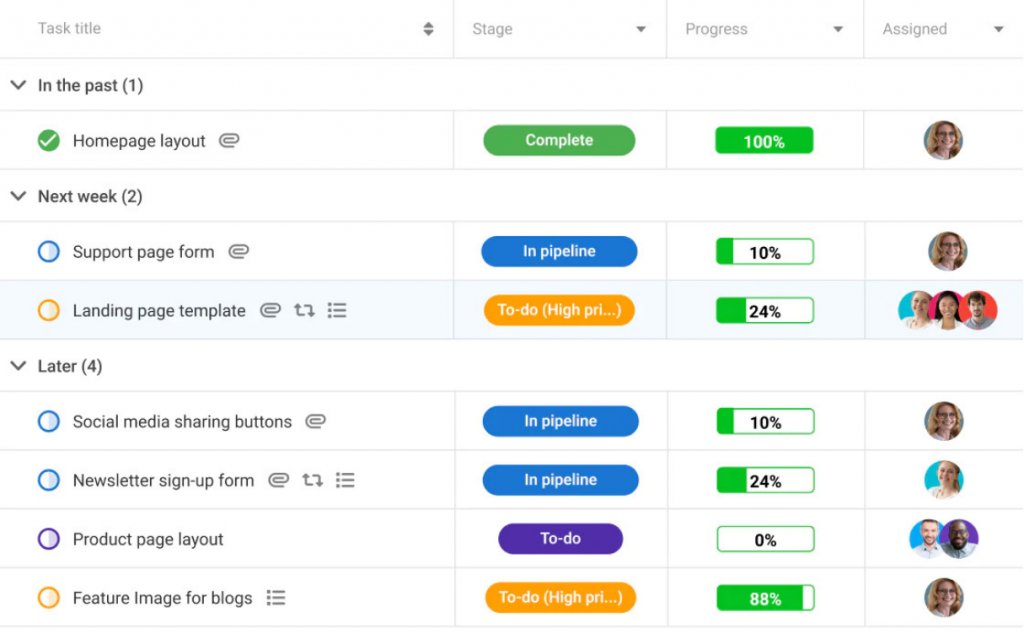 ProofHub is perfect for creative project management. It allows you to create, assign, and track tasks for your creative projects. You can set due dates, task priorities, and dependencies to ensure smooth task execution.
With ProofHub, you can upload, share, and collaborate on creative files, including images, videos, documents, and more. This facilitates easy access and version control for your project assets.
The platform includes an online proofing tool that enables teams to review and annotate creative assets directly within the software. This feature is particularly useful for design projects, allowing stakeholders to provide feedback and make necessary changes.
What you'll like:
Its built-in discussion boards and chat features enable teams to discuss project details, brainstorm ideas, and share updates easily.
Its mobile app enables you to manage creative projects on the go.
Reports that allow you to visualize project performance and track productivity.
What you may not like:
Too many notifications can be distracting for users.
Its pricing may be a little high for small businesses.
Pricing: Starts at $45/month.
12. Nifty – Best for agile project development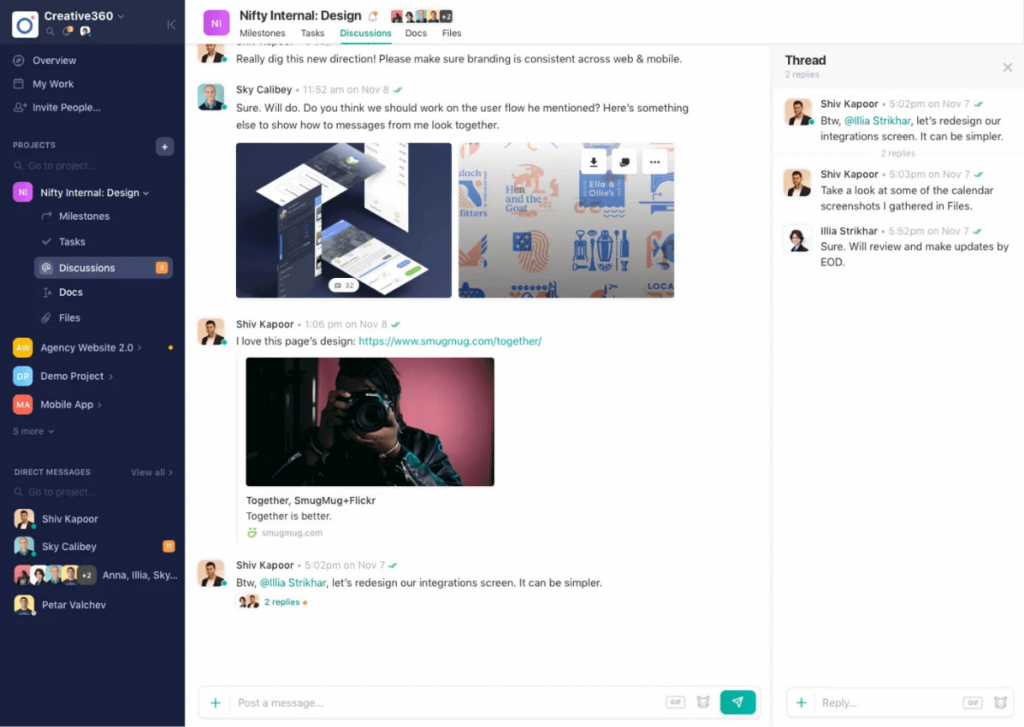 I find Nifty one of the best project management tools for small businesses.
Its agile project development solution fits perfectly into engineering teams looking for a flexible approach to streamline project management. From comprehensive pre-planning collaboration to real-time user feedback integration, Nifty centralizes the entire development process.
It balances resources seamlessly using story points, predicting upcoming release efforts.
Milestone-driven sprint management enhances goal-oriented organization of tasks, while task breakdowns and automated workflows facilitate agile development flows.
Trusted by industry leaders, Nifty optimizes teamwork and communication, making it an essential tool for modern engineering success.
What you'll like:
The tool's intuitive UI and customizable task boards, featuring Kanban, List, and Swimlane views, ensure a tailored experience.
Track both task and milestone dependencies in real time
Stay on top of everything with cross-project overviews
What you may not like:
More integrations can be incorporated.
Its templates are limited.
Pricing: Free plan available (limited to 1 user). Paid plan starts at $39/month.
13. Todoist – Best for organizing everyday project workflows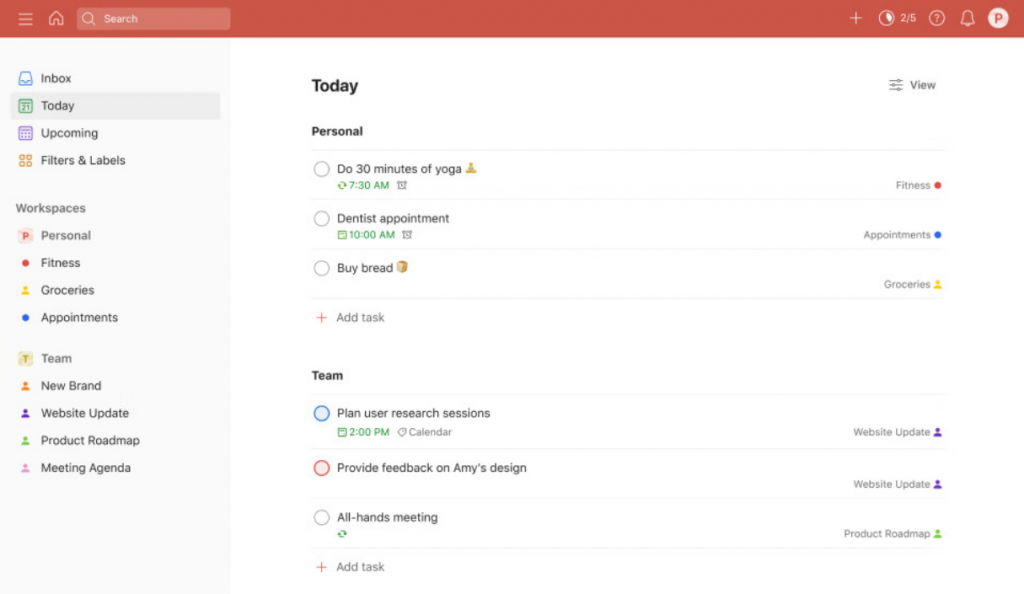 Todoist is a simple yet powerful small business project management tool.
You can start by creating projects for various areas of your life or work. For example, you could have projects like "Work," "Personal," "Health," "Travel," etc. Then, you can create sections within each project to further organize tasks.
These sections act as containers for related tasks. For instance, within the "Work" project, you could have sections like "Meetings," "Reports," and "Research."
Take time each day or week to review your tasks, update priorities, and ensure everything is organized within Todoist according to your current needs.
What you'll like:
You can apply labels to tasks, which can help you categorize and filter tasks across projects
Assign priorities and due dates to your tasks to ensure that you're focusing on the most important and time-sensitive tasks first
Create task and project templates to save time and ensure consistency
What you may not like:
It is not an easily scalable solution
Better time tracking ability can be included
Pricing: Free plan available (limited to 5 active projects). Paid plan starts at $4/month.
14. Teamwork – Best for cross-functional teams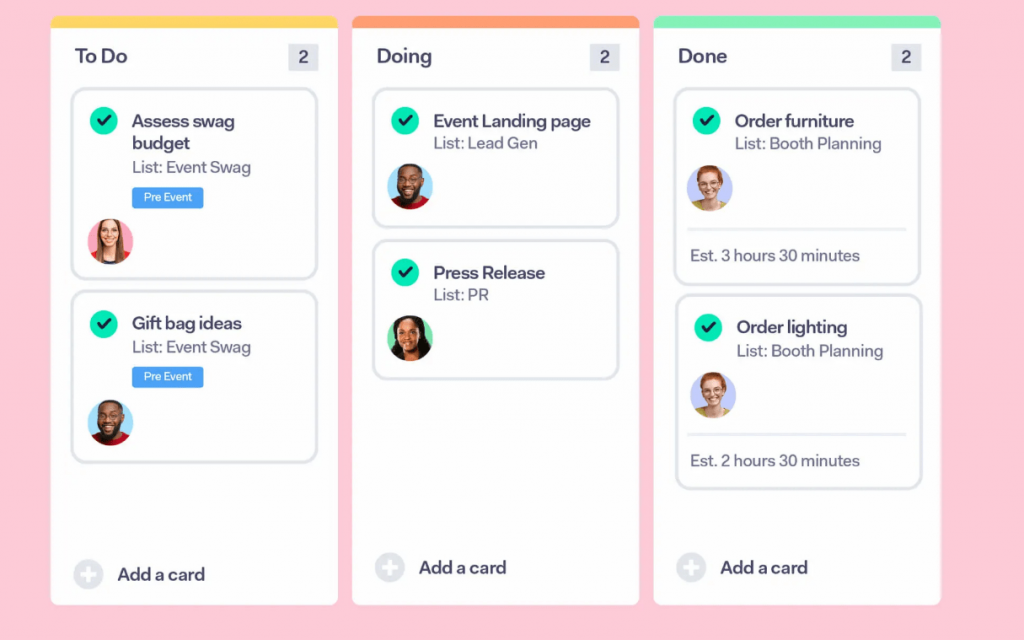 Teamwork is a free project management software for small businesses. I love that it lets me bring my team together to collaborate and achieve goals faster.
Its task management capabilities let you add tags, assign resources, and define due dates accurately. Also, you can set task dependencies and establish crystal-clear workflows, eliminating any confusion related to who is responsible for which tasks of a project.
The tool includes communication features such as messages and comments on tasks and projects. This enables teams to discuss, share updates, and ask questions directly within the platform.
Plus, the platform allows for easy sharing of files and documents between team members, enabling cross-functional teams to collaborate on projects and gain access to relevant resources.
What you'll like:
You can track time and keep team efficiency in check
Task list templates and automation for recurring tasks
Workload management capabilities to optimize resources
What you may not like:
Should offer more third-party integrations
Doesn't offer very detailed reports
Pricing: Free plan available (up to 5 users per plan only). Paid plan starts at $5.99/user/month.
Read More: 15 Best Teamwork Alternatives for 2023
15. Smartsheet – Best for intelligent project workflows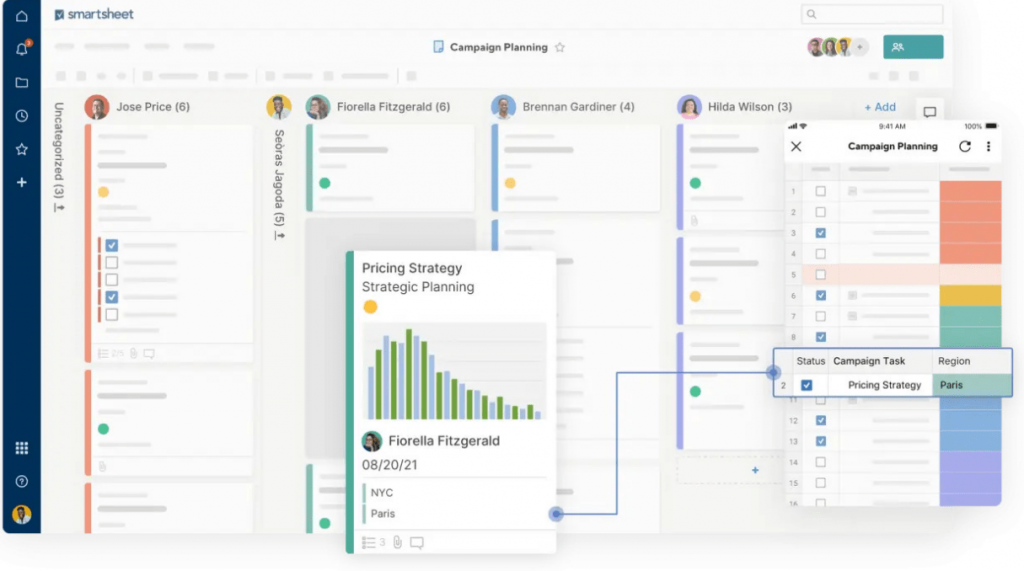 Smartsheet is one of the best project management tools for small businesses that can help you set up intelligent workflows for smooth project execution.
But what do we mean by intelligent workflows?
This feature helps automate and streamline business processes, allowing users to create custom project workflows that automate repetitive tasks, notifications, approvals, and data routing.
Further, this also helps improve efficiency and collaboration by reducing manual work and ensuring that the right people are informed at the right time.
Smartsheet's intelligent workflows allow you to create if-then scenarios where specific actions are triggered based on the data entered or conditions being met.
What you'll like:
You can set up approval workflows where designated individuals need to review and approve certain items before moving forward.
Capture client data with request forms
It is a flexible and versatile tool, allowing easy scalability for small businesses
What you may not like:
It has a high learning curve
The tool may be complex for users not familiar with a spreadsheet-like interface
Pricing: Free plan available (limited to 1 user). Paid plan starts at $7/user/month.
Read More: 15 Best Smartsheet Alternatives and Competitors of 2023

16. Basecamp – Best for remote team collaboration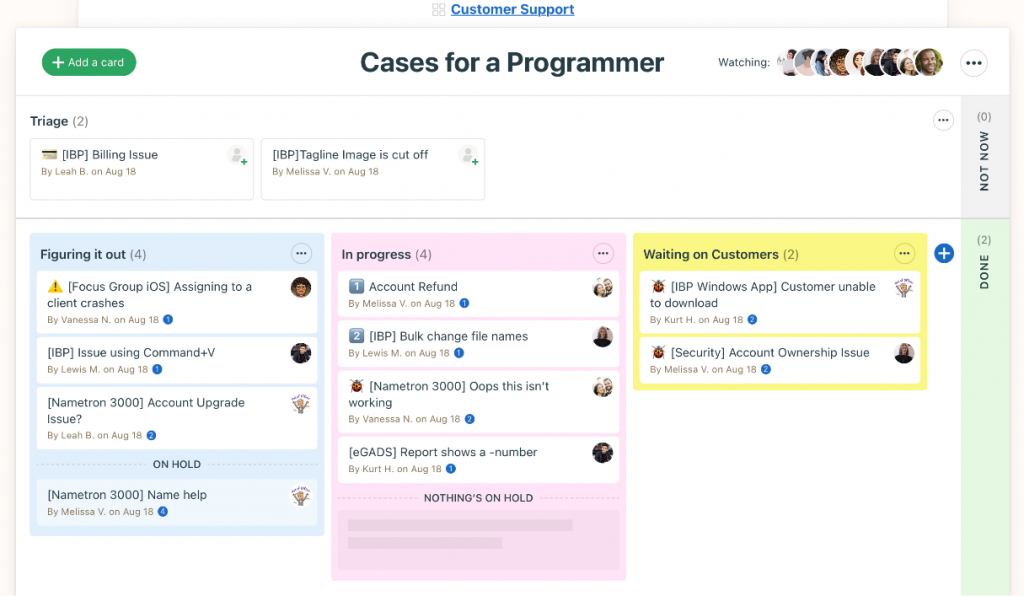 Basecamp is a go-to tool for teams working remotely. This feature-rich project management software for small businesses offers a holistic view of projects from start to finish. The tool allows you to create to-do lists and tasks, assign them to specific team members, and set due dates.
It offers message boards for team-wide announcements, discussions, and updates. You can create different boards for various topics or projects, allowing team members to communicate and collaborate easily.
The 'Campfires' feature is real-time chat rooms within Basecamp. They helped me facilitate quick discussions and informal conversations among my team members, fostering a sense of camaraderie even in remote settings.
What you'll like:
Communicate with team members via message boards and group chat
Integrate with popular third-party apps for more advanced features
Store and send documents for easier team collaboration
What you may not like:
Currently, it doesn't offer tags or labels for tasks
Limited customization settings.
Pricing: Starts at $4.21/user/month.
Read More: 10 Best Basecamp Alternatives to Use in 2023

Which Is the Best Project Management Software for Small Businesses?
The best pick for your business depends on project needs, tool costs, budget, and remote work setup. Here are my top 3 suggestions.
Option A: ProProfs Project
Positioned as the leading project management solution for small businesses, ProProfs Project stands out as an incredibly adaptable platform.
Your team will quickly grasp how to use it, which will help them achieve goals more proactively.
With a diverse array of templates, it becomes the preferred choice for small businesses seeking increased productivity within tight schedules. Moreover, its robust project views and intuitive dashboard facilitate real-time tracking and management of multiple projects simultaneously.
Option B: Nifty
If agile projects are your domain, then Nifty is your ultimate tool. This platform can empower you to plan and collaborate seamlessly with project stakeholders all in one place. The highlight? Its milestone-centered sprint management automates agile workflows and can make your day-to-day tasks a breeze.
Option C: Teamwork
This project management software for small businesses thrives on teamwork. It effortlessly fosters seamless collaboration across teams and departments, transforming project execution into a stress-free endeavor. Moreover, Teamwork's task dependencies and well-defined workflows guarantee that every team member is fully aware of their responsibilities, effectively eliminating any potential confusion.
So, select the most suitable tool for your unique needs as a small business and pave the way for stress-free and sure-shot success!
Learn More About Project Management Software for Small Businesses
1. How to choose the top project management software for small businesses
Choosing the top project management software for small businesses depends on various factors. First, identify your specific needs and goals. Second, consider user-friendliness and scalability. Lastly, prioritize must-have features like task tracking, collaboration tools, and budget management. These will help you choose the right software for your unique business needs.
For more on this, watch: How to Choose the Best Project Management Software
2. What core features should I consider in small business project management software?
When selecting the best small business management software, prioritize seamless task management, clear communication, and progress tracking. Look for intuitive interfaces, customizable workflows, and robust reporting. Also, keep an eye on document sharing and integration capabilities.
3. Why should small businesses use project management software?
Leveraging project management software empowers small businesses to streamline tasks, foster collaboration, and enhance accountability. Using a tool helps gain real-time insights, well-structured workflows, and measurable progress. It also helps maximize resource utilization, boost efficiency, and achieve success consistently.
Watch: What is Project Management? Learn How to Start Managing Projects Online
4. How to integrate project management software into a small business
Integrating project management software into your small business is simple. First, assess your needs and goals. Second, choose a compatible platform with essential features. Third, set up the software, customize workflows, and import data. Train your team and encourage adoption. Enjoy enhanced efficiency, organization, and collaboration from day one.
Do you want a free Project Management Software?
We have the #1 Online Project Management Software for effective project management.