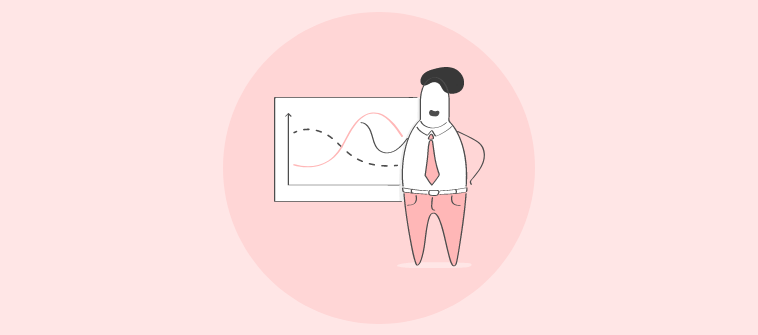 In today's fast-paced work environment, the run is almost always towards enhancing productivity, i.e., achieving more in less time. Some hire the most skilled workforce. Some choose to adopt strategies, trying their best shot at improving productivity. Experienced project managers often rely on the best productivity tools to easily manage multiple projects.
But what exactly is productivity? Is it solely delivering quality as expected? Or is it a combination of executing projects consistently and on time?
Well, each project comes with its revolving door of roadblocks and challenges. Your teams might be struggling with completing multiple projects without compromising on quality. Also, as a project manager, you might have often found yourself in situations where you're faced with frequent last-minute scrambles.
This is where a good productivity tool boosts productivity in more ways than one.
Many businesses rely on modern tools to keep their teams working effectively. Let's look at the 15+ best productivity tools to improve your team's work.
What Are Productive Tools?
Productive tools help enhance the efficiency of employees through features that simplify their workflow and help them make the most of the available hours. Teams and organizations deploy these tools to make their employees' work lives easier while ensuring they successfully meet project deadlines.
These tools help optimize project processes, accurately track productive hours, and foster team collaboration.
A few of these features include:
Time tracking ability to track employee productivity
Project views to monitor progress at a glance
Reports that help make informed decisions
Task comments to discuss tasks and resolve roadblocks
File sharing to provide easy access to critical task-related files
Customizations to adjust workflows as required
Overall, work productivity tools help manage everything right from project initiation to closure using a single source of truth.'
16 Best Productivity Tools
Here, we have listed the best productivity tools that enable a more productive workday. These tools offer insight into your everyday productivity, thus, maximizing your time at work.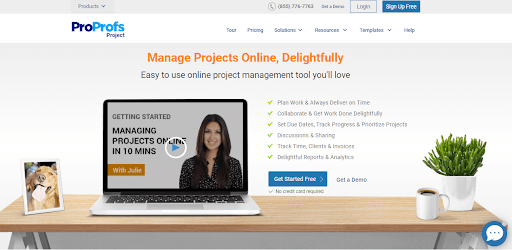 As one of the best productivity software in the market, ProProfs Project offers robust features to help you keep a constant check on what your team is doing, where they are investing their time, and how much progress they have made on the assigned tasks.
The tool also helps you create workflows, so your team has a clear view of what needs to be done and in what order. With all team members having access to the tasks and their timelines, they can stay away from trivial work and entirely focus on what really matters.
Key Features of ProProfs Project:
Get insightful project reports to analyze KPIs
Give/receive faster feedback via task comments
Use ready-to-use project templates to get started immediately
Get alerts and notifications to stay up-to-date with task updates
Automate recurring tasks to save time and effort
Share presentation-ready reports via a link
Use drag-and-drop functionality to adjust project dashboards
ProProfs Project Pros:
You can successfully handle multiple projects and teams, assign tasks, and monitor their progress – all from a single dashboard.
It offers a simple and user-friendly platform for teams of all sizes.
It lets you track your project's progress using Gantt charts, Kanban boards, and more.
It is an excellent tool that helps bring team members together to accomplish a shared mission via task comments and file sharing.
You can schedule tasks and make adjustments to workflows on the go.
ProProfs Project Cons:
It only offers a Zapier integration. It would be great to have more integration options in the future.
Its mobile application can be enhanced.
3rd party integrations allowed: Yes
Suited for: Small to large businesses, Enterprises, Personal Projects, Remote Teams
Price:
Starts at $39.97/month.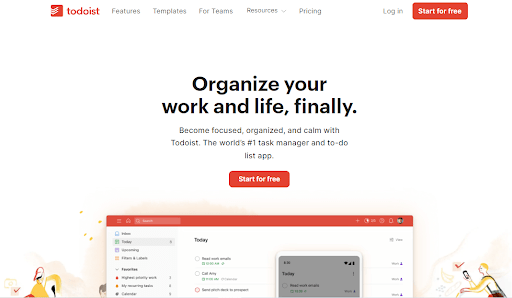 Todoist is one of the best tools to improve productivity at work. Its Productivity View gives you insight into your completed tasks and helps you analyze how well you achieve your daily and weekly goals. You can switch on and off the Vacation Mode, which lets you take time off without losing your streak.
Key Features of Todoist:
Schedule Reminders for tasks to never miss a deadline
Prioritize your tasks into different levels
Break tasks into subtasks to keep them organized
Discuss ideas and roadblocks in task comments
Use templates to get started with your projects faster
Todoist Pros:
The vertical line on the bar chart defines your daily goals.
The tool grants Karma points each time you complete tasks on time.
It automatically categorizes your tasks into Today, Upcoming, and other custom filters.
Todoist Cons:
Users often complain of lagging issues like software hangs.
Its ability to integrate with other apps can be improved.
It does not have impressive automation capabilities.
3rd party integrations allowed: Yes
Suited for: Small to medium-sized businesses, Personal Projects
Price:
Starts at $0.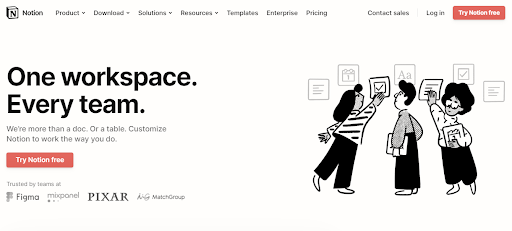 One of the popular online productivity tools, Notion lets you create and customize workflows the way you want. You can plan out your OKRs and monitor everything right from the tool's dashboard. This way, you know the key results of your OKRs, which quarter they belong to, and what their current status is at any given time.
Key Features of Notion:
Drag and drop to customize your work dashboards
Make Meeting Notes and keep everything organized
Use templates for a quick and easy start
Access the tool on the web, desktop, and mobile apps
Integrate with the best third-party tools
Notion Pros:
Enjoy dedicated Collaborative Spaces to keep all your work aligned and in one place.
Visualize progress using Table, List, and calendar views.
Set and track the entire Roadmap of your projects using a board view.
Notion Cons:
Its Search Functionality needs some enhancements.
Poor milestone management.
Its interface can be slightly overwhelming for beginners.
3rd party integrations allowed: Yes
Suited for: Small businesses, Enterprises, Personal Projects, Remote Teams
Price:
Starts at $0.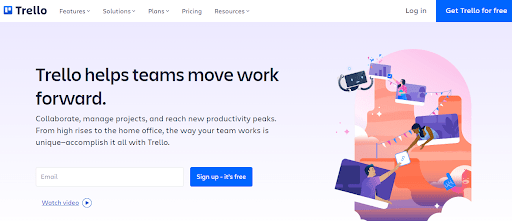 Among the best team productivity tools, Trello helps ease teamwork and enhance productivity. It offers a Kanban-style board to track which task is at which completion stage. This helps keep productivity in check to accomplish work faster across teams and departments. The tool lets you extract productivity metrics to improve team efficiency and project outcomes.
Key Features of Trello:
Assign multiple users to a task
Attach files to tasks for easier access
Customize workflows on the fly
Use Comments-emoji reactions within Trello cards
Use Checklists to track work done
Trello Pros:
It is a productivity management platform with comprehensive Trello cards that offer task status, assigned users, attached files, task descriptions, and more.
Use the Timeline view to plan and chart out your project.
Offload recurring tasks using its built-in automation, Butler.
Trello Cons:
It is not an easily scalable platform.
Setting and viewing task dependencies is difficult.
It must include more collaboration features for better team productivity.
3rd party integrations allowed: Yes
Suited for: Small businesses, Personal Projects
Price:
Starts at $0.
Read More: 15 Trello Alternatives in 2022 (Both Free and Paid)


Evernote is one of the best productivity apps for android. The app lets you create and sync notes automatically across multiple devices. You can add text, images, PDFs, audio, and much more to notes to store every piece of information you need in one spot. Also, you can easily connect notes with Google Calendar to schedule meetings.
Key Features of Evernote:
Scan important documents and store them easily
Search for information using dates, text, keywords, etc.
Use note templates to save time and effort
Customize notes whenever you want
Switch between notes with ease
Evernote Pros:
You can create tasks within notes and assign users and deadlines along with reminders.
It allows you to save web pages and mark them with highlights and texts.
Capture important and relevant information in notes to stay productive throughout.
Evernote Cons:
Collaboration features are insufficient for optimum productivity.
Leveraging its scanning capabilities can be cumbersome at first.
Upgrading the tool can be expensive.
3rd party integrations allowed: Yes
Suited for: Small businesses, Personal Projects
Price:
Starts at $0.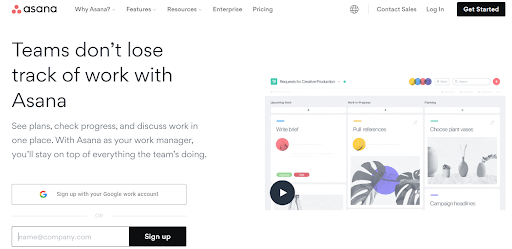 Asana is a collaborative project management software that allows you to set up project dashboards with clear task responsibilities and timelines. This helps foster productivity as goals and objectives are defined right from the start. You can prioritize urgent or important tasks and accomplish them first.
Key Features of Asana:
Customize dashboards in a couple of clicks
Use Forms to simplify and standardize the intake process
Automate routine tasks for better time management
Set milestones and track progress effectively
Use Task Templates to start work with a ready-to-use layout
Asana Pros:
Asana is one of the most powerful online productivity tools that seamlessly creates and tracks multiple project workflows.
It has a short learning curve.
The tool works well for remote teams looking to centralize project data and connect in real time.
Asana Cons:
Incorporating many features while managing projects can be chaotic at times.
It lacks good time-tracking capabilities.
It is not a suitable tool for large projects and teams.
3rd party integrations allowed: Yes
Suited for: Small businesses, Enterprises, Personal Projects, Remote Teams
Price:
Starts at $0.
Read More: 21 Best Asana Alternatives For Project Management Software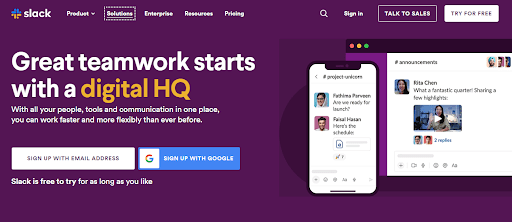 Email is not really the best option for real-time communication. To collaborate and be productive, you need a messenger that keeps you connected with your team in an organized and priority-based manner. With Slack, you can create channels with an individual or more team members, depending on who you need to collaborate with.
Key Features of Slack:
Find and share files from Box, Dropbox, Google Drive
Integrate with popular third-party applications
Organize tasks in appropriate channels
Prioritize tasks to get them done faster
Search older conversations for information from its archives
Slack Pros:
It lets you have conversations in dedicated spaces called channels.
You can choose which conversations are most important and which can wait.
You can collaborate via audio and video conversations with screen sharing.
Slack Cons:
Too many notifications can be overwhelming.
Customizing Slack is not easy.
Its file storage can be improved.
3rd party integrations allowed: Yes
Suited for: Medium-sized businesses to Enterprises, Remote Teams
Price:
Starts at $0.
Read More: Asana Pricing Guide for Managing Projects in 2022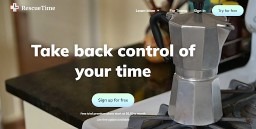 Being one of the best productivity improvement tools, RescueTime organizes your time to prevent projects from derailing, which helps you finish the day productively. The tool recognizes the distractions and blocks specified applications and websites during productive hours. This helps to break the habit of constantly checking social media or news updates and focus entirely on the work.
Key Features of RescueTime:
Get alerts when you spend time on distracting sites and applications
Begin a Focus Session to concentrate on your immediate goal
Get rich time-spending insights via the tool's reports
Set custom focus goal for best optimization
Manage time using its mobile application
RescueTime Pros:
It offers a personalized daily Focus Work goal that enables you to avoid distractions and be more productive throughout the day.
It is one of the best productivity management software to block distractions and manage your time better.
The tool clearly shows where you spend most of your time during the day.
RescueTime Cons:
Its mobile application can be improved.
3rd party integrations allowed: Yes
Suited for: Small to medium-sized businesses, Personal Projects, Remote Teams
Price:
Get in touch with the company for a quote.
Read More: Top 15 Team Management Tools in 2022 (Features, Pros, & Cons)

Toggl offers an excellent productivity solution with robust transparency and visibility across projects. Its comprehensive dashboards help you plan and execute work better, ensuring projects move forward as expected. Also, its collaboration ability enables team members to align efforts and stay on top of overall project checklists and timelines.
Key Features of Toggl:
Track work from multiple devices on the go
Drag and drop timelines to reschedule tasks
Choose from 100+ templates to start project execution
Attach files to tasks for easier access
Give/receive feedback via comments
Toggl Pros:
Its intuitive time reports lend insight into where team members spend their time during work hours.
Its detailed dashboards store every information you need, ensuring nothing falls through the cracks at any time.
In-app and email notifications ensure you are always up to date with how things are going.
Toggl Cons:
It has a clunky interface.
Needs better third-party integrations.
The mobile version is not very user-friendly.
3rd party integrations allowed: Yes
Suited for: Small to medium-sized businesses
Price:
Starts at $9/user/month.
Read More: 20 Best Project Collaboration Software of 2023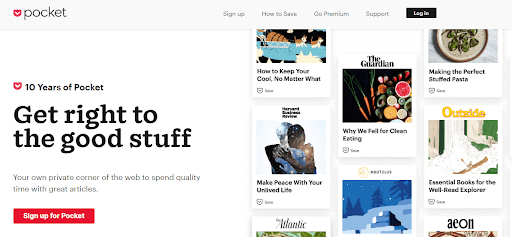 Pocket is one of the best productivity apps for android, as it lets you save articles, videos, think pieces, recipes, etc., and go back to them whenever you want. With this pocket library, you can save anything you want and store them in an easy-to-access place. You can even categorize your saves using tags.
Key Features of Pocket:
Get relevant recommendations based on your interests
Customize text sizes, font styles, or viewing modes to suit your needs
View saved articles in a List or grid view
Use unlimited highlights for the text
Access articles across iOS, Android, and Web
Pocket Pros:
You can use the Audio Playback Option to listen to saved articles on the go.
It lets you save articles permanently, even if they disappear from the web!
You can customize your reading experience for greater convenience.
Pocket Cons:
You need a third-party app to share your entire Pocket list with someone.
3rd party integrations allowed: Yes
Suited for: Small businesses, Personal Projects
Price:
Get in touch with the company for a quote.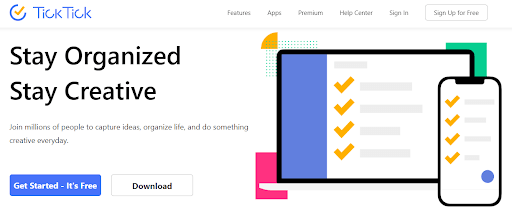 TickTick improves the way you use your time. Being among the best productivity tools, it helps devote the necessary time to each project while still completing everything you need. Set task priority levels at 'High,' 'Medium,' and 'Low' to clearly define which tasks need to be taken up and completed on priority.
Key Features of TickTick:
View changes made to tasks and lists
Discuss work using Comments
Sync data across various platforms
Set start and end dates for tasks
Subscribe to third-party calendars easily
TickTick Pros:
Manage your work schedule using five different types of calendar views.
Get reminders for tasks to be done.
Use the Historical Statistics feature to track the amount of work achieved.
TickTick Cons:
It offers an outdated interface.
Poor customer support if you need help with onboarding and its functionality.
The tool can be glitchy at times.
3rd party integrations allowed: Yes
Suited for: Small businesses, Personal Projects
Price:
Get in touch with the company for a quote.
Read More: How to Become a Project Manager and Succeed in the Business World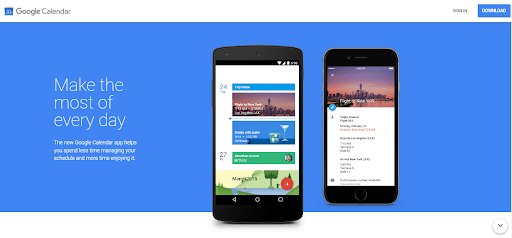 Google Calendar's Assists feature lets you create events with people and place suggestions, bringing greater convenience for planning events. Events added to Gmail are automatically added to the calendar. Also, the multiple views of the day, week, or month's workflow further enhance visibility so that you can get work done faster.
Key Features of Google Calendar:
Get a schedule outline with images and maps
Get Event integration with Gmail
Safe and secure schedule backup
Blocking option available for calls, emails, etc.
Reschedule events and calendars with just a few clicks
Google Calendar Pros:
Its time management capabilities ensure that you stay your most productive self, thus, improving work efficiency.
It allows you to coordinate your meetings without needing to go back to your schedule constantly. This helps avoid redundant email exchanges and ensures that you make the best use of available time.
The tool's scheduling suggestions are helpful.
Google Calendar Cons:
Push messages can be improved.
Needs better third-party integrations.
3rd party integrations allowed: Yes
Suited for: Small businesses to Enterprises, Personal Projects, Remote Teams
Price:
Starts at $6/user/month.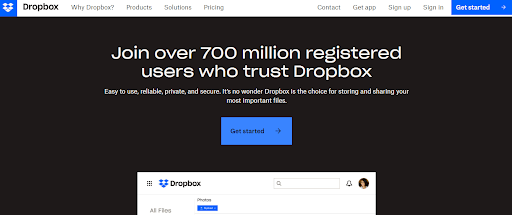 Dropbox is a file management platform perfect for maintaining productivity and achieving work on time. Using the tool, you can automatically store files as large as 2 GB and sync them across various devices. Further, you can even watermark documents and receive notifications for the app.
Key Features of Dropbox:
Use Dropbox Transfer to share files up to 100GB
Share unlimited screen recordings
Avail unlimited signing
Avail priority email and live chat support
Access templates for commonly signed documents
Dropbox Pros:
It is a safe and secure platform for savings and storing your files in one handy place.
Back up large chunks of data quickly.
Recovered deleted or changed files within 180 days.
Dropbox Cons:
Its free plan has limited storage space.
Its Search functionality is not very useful.
Pricing of the Premium plan is not apt for small businesses.
3rd party integrations allowed: Yes
Suited for: Medium-sized businesses to Enterprises, Remote Teams
Price:
Starts at $9.99/month.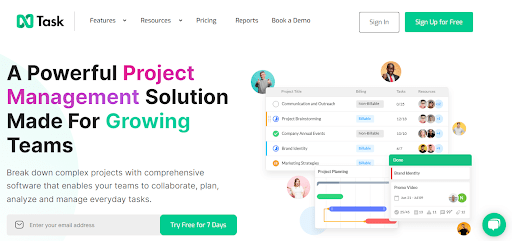 A productivity management platform like nTask ensures that your projects are never off track. With this tool, you and your team can work on tasks and manage different projects on a single platform. The tool has excellent features that let you assign tasks to team members, highlight task priorities, and set project start and end dates.
Key Features of nTask:
Get a clear workflow visualization with multiple project views
Prioritize tasks and subtasks to accomplish them faster
Use built-in timesheets to track team efficiency
Use Gantt charts and Kanban boards to monitor work progress
Use custom project status to keep everyone informed of task progress
nTask Pros:
This helps in achieving project goals successfully, even if you have tight deadlines to work with.
Keeping a tab on team productivity also gets more manageable with the help of Gantt charts and calendar views.
You can set milestones and track productivity with ease.
nTask Cons:
Poor customer service.
The tool is not easily scalable.
Its mobile application is outdated.
3rd party integrations allowed: Yes
Suited for: Small to medium-sized businesses, Personal Projects
Price:
Starts at $3/month.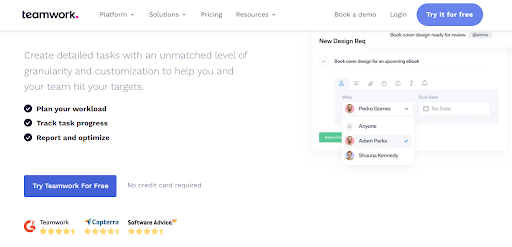 Teamwork is built to maximize your team's potential regardless of the number of projects. The tool provides a clear picture of project tasks and helps you create a workflow that enables a smooth-flowing project. Its dashboard offers an easy view of who is in charge of which task and how close it is to completion.
Key Features of Teamwork:
Manage multiple resources and portfolios using a single dashboard
Customize controls and permissions within seconds
Share files with team members and stakeholders seamlessly
Track team productivity with reliable activity tracking
Leverage Task List Templates to save time
Teamwork Pros:
One of the robust team productivity tools, Teamwork helps streamline your workflow to ensure higher productivity and improved team performance.
It has a short learning curve.
Focus on what's important by automating recurring tasks.
Teamwork Cons:
It lacks a good mobile application.
Its customization ability can be improved.
3rd party integrations allowed: Yes
Suited for: Small businesses, Enterprises, Personal Projects, Remote Teams
Price:
Starts at $0.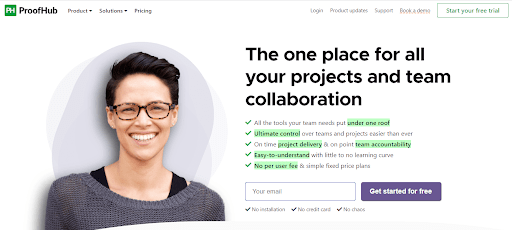 ProofHub, one of the top productivity tools, simplifies how teams manage their tasks, projects, and communications to stay productive at work. Its in-built Group chat feature allows you to ideate and plan work with your teams in real time. You can even create a dedicated space to carry out real-time discussions. Also, there's an online proofing tool to make the review process more straightforward.
Key Features of ProofHub:
Integrate with third-party apps to bring all your data into one place.
Control everything that's happening in the projects with real-time notifications.
Customize workflows on the go
Set custom roles to control data access
Prioritize tasks and define clear deadlines
Search data using task filters
ProofHub Pros:
You can use to-do lists for simple task management or create custom workflows using Kanban boards for agile task management. There are Gantt charts to make project planning hassle-free.
The easy-to-use interface makes onboarding effortlessly easy.
You can also set the parameters of your choice in Custom reports to track and manage your resources just the way you want to.
ProofHub Cons:
Users often complain of a clunky user interface.
Too many notifications can be overwhelming while trying to focus.
File management can be improved.
3rd party integrations allowed: Yes
Suited for: Large businesses, Enterprises
Price:
Starts at $89/month.
Insightful.io boosts team focus and motivation for maximum task efficiency. It's user-friendly yet advanced, with remote productivity tracking like auto-screenshots and web usage monitoring. You can label apps and websites your team uses as productive, unproductive and neutral, on a team or individual level. Also, its stealth mode helps identify suspicious activity and prevent malicious behavior. Ideal for remote businesses, it empowers both office and remote work.
Key Features of Insightful.io
Boost team focus with automated time and attendance tracking
Enhance productivity by monitoring screens in real-time
Capture screenshots on demand for better project oversight
Easily log time manually when required, ensuring accuracy
Gain valuable insights and improve workflows with comprehensive reports
Insightful.io Pros
Works with design products such as adobe Illustrator and photoshop.
Simple interface with essential productivity features.
Insightful.io Cons
It could have more integrations.
Short trial period of only 7 days.
3rd party integrations allowed: Yes
Suited for: Small to medium-sized businesses, Remote teams.
Price:
Starts at $6.40/employee/month.
Benefits of Productivity Tools
Did you know that 70% of workers admit that they feel distracted during working hours, with 16% asserting that they're almost always distracted!
On the other hand, 92% of employees state that technology has a positive role to play in enabling work efficiency.
These compelling numbers help establish the importance of productivity tools.
A good productivity tool is an asset for any organization, big or small. Deploying them in an organization simplifies collaboration and brings in a bunch of benefits.
By leveraging the right productivity tool, you will notice that you have more time on your hand to direct your expertise to high-level tasks. Also, you'll notice that team performance improves significantly, and work flows smoothly owing to crystal clear workflows.
How to Choose the Best Productivity Tools?
With so many tools offering a plethora of features, how do you search for productivity apps that befit your workflow and team requirements?
Don't worry! We have curated this list of some essential features to look out for in a productivity tool.
1. Simple Task Management
For the best productivity, managing tasks must be a breeze. Imagine if you have to spend hours setting up tasks and another few analyzing their progress. As a productive project manager, you must offer team members a space where they can easily track their responsibilities, view progress, and update task status in real time.
2. Reviews on Top SaaS-Based Websites
Look for a tool that has honest and recent reviews listed on top SaaS-based websites. A few of these sites include Capterra, G2, and SoftwareWorld. The user reviews on these sites offer first-hand experience of using the tool. You can analyze the different use cases of top productivity tools for a user and match them to your business requirements for the best judgment.
3. Affordability of the Tool
A tool must provide value for money. Of course, you select a tool based on the features it offers. But you also select a tool depending on its pricing. Can you continue to afford the tool if your organization runs into some losses in the future? Are there cheaper tools offering the same set of benefits? These are some of the things to consider when selecting a tool.
4. Accurate Time Tracking
As a project manager, you aim to make the team more productive. But does that mean that you have to hover over them, asking them for updates constantly? Definitely not! Using a tool to track team productivity helps keep track of where team members are involved. Moreover, it also helps keep team members accountable for their time at work.
5. Real-Time Progress Monitoring
An ideal tool allows you to visualize every step of the way. This means that you are up-to-date with how your project is progressing and how your teams are performing. Real-time monitoring also helps spot roadblocks and take corrective action on time. This way, you can dodge potential risks and ensure a smooth project execution throughout.
6. Seamless Team Collaboration
Establishing seamless collaboration between teams and departments is crucial to enable a productive work ecosystem. Team members should be able to connect instantly and connect with each other. This helps ideate and discuss project workflows faster. It also helps keep everybody in the loop for sure-shot project success.
7. Insightful Reports
What if you have to collate project data, categorize, and analyze it to mold project strategy? Won't that be too time-consuming? Now imagine if you get accurate, reliable insights at your fingertips within minutes. That's exactly what project reports bring to the table. So, look for a tool that offers data-driven, presentation-ready reports that you can analyze to make key strategic decisions.
That's it! Ensure that the tool you decide to go ahead with is equipped with these key features. It may also include any other feature you want your team to access for the best output.
Types of Productivity Tools
Work productivity tools may be from different categories. It means that their key features cater to a specific need.
Let's look at the various types of online productivity tools available.
1. Project Management Tools
An ideal project management software helps boost productivity by streamlining the workflow across teams and departments. It enables creating tasks, allocating resources, and setting deadlines from one centralized dashboard. Also, automating recurring tasks lets you focus on the more important work, leading to optimized processes, higher productivity, and better results.
2. Calendar Tools
Utilizing a calendar tool is the simplest way to organize and schedule meetings. You can easily create an event and share the invite with your team with no training required. The recipients will then be notified of the same and reminded again as the event approaches. The tool integrates with external applications to sync and schedule events effortlessly.
3. Time Tracking Tools
Time tracking tools let you record the productivity of your team. With billable and non-billable hours, you can do away with the hassle of constantly checking in on your team members.
These tools provide quick insights into where your team spends most of their work hours. For a project manager, the tool uncomplicates the billing process by extracting accurate hours put in by each team member in the project.
Read More: Project Time Tracking: Hard-to-Miss Benefits & Proven Tips

4. Video Conferencing Tools
A powerful video conferencing tool is a must-have for saving time, effort, and resources. You can connect with anyone, be it your team members, clients, or stakeholders from across the globe.
Such tools are handy for communicating and collaborating with remote teams. Besides face-to-face conversation, video conferencing allows you to share files via chat, share screens with participants, discuss and record ideas using whiteboards, and much more – all in one integrated space.
5. Email Marketing Tools
A robust email marketing tool is essential to reach out to potential and existing customers. It enables you to target your audience and send personalized emails easily. This way, you can get an accurate number of clicks on your emails, enhancing customer relationships and driving more conversions.
Using its drag-and-drop functionality, you can create and schedule emails conveniently. Also, it allows you to customize the list of email recipients per your email type.
6. Sales Productivity Tools
A sales productivity tool empowers lead generation and customer relationship management. It simplifies tracking and evaluating potential leads, driving the productivity of your sales.
With its sales forecast, you can stick to the path that leads to the most optimum results. Make better use of time and effort with such a tool's sales-boosting solution.
So, these were a few categories of tools to increase productivity. You can analyze your essential requirements and choose a tool that would fulfill these needs effectively.
Boost Productivity With the Right Software
By now, you must have a fair idea of which are the best productivity tools and what key features they offer.
You can choose ProProfs Project if you're looking for an all-in-one productivity solution. It offers a feature-rich platform to visualize progress, connect team members, and deliver projects with optimum productivity. But if you're looking for time-tracking-focused software, RescueTime will be a good bet. Also, ntask is an excellent tool for managing tasks with real-time team collaboration.
Remember, choose a tool depending on your specific project and team needs. Each tool offers a unique set of features. Analyze which features are a must-have for your project and team requirements. Look for a tool that offers these features, and you're good to go!
Do you want a free Project Management Software?
We have the #1 Online Project Management Software for effective project management.