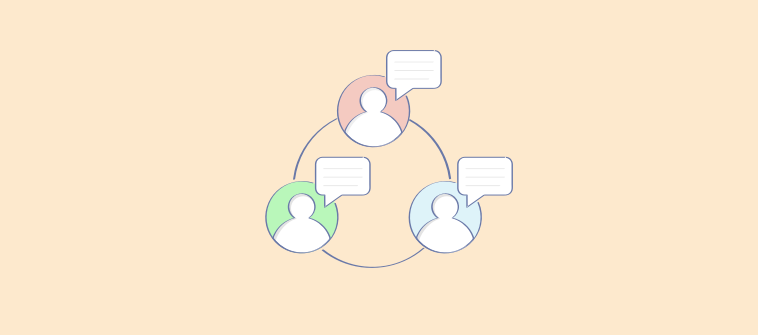 Technology is what unites the corners of the world. It is the driving force for building a highly networked environment around us.
This networked environment has made a major disruption across diverse businesses by bringing teams together with enterprise collaboration software.
Across the world, we understand that only 42% of small & medium companies rely on office cloud applications to streamline their work routines. It is essential to know how to choose a workable business solution for your organization to ensure smooth operations.
Business owners need to inculcate a collaborative culture by using professional communication applications. Accordingly, the business outcomes would definitely be result-oriented when a collaboration between in-house teams and clients takes place through a project management software, like ProProfs Project, that features team communication tools, rather than a personal chat application.
Essentially, we need a tool or software to organize and manage our office work-routines. Besides team conversations, information sharing in the form of text files, voice and video files, images files, etc., across team members is considered to be a mandate to execute tasks. How is that achieved?
Through a real-time collaboration software. Before we dig into the best method of choosing the best collaboration software, we need to understand what is collaboration software and what features should it have.
What is Collaboration Software?
A collaboration software can be defined as a tool that can be used to communicate among teams, both in-house or remote teams, on one platform.
When adopting a collaboration software, all you need to do is install or download that software on a device – and you're good to go! But, before you browse the web to choose the best collaboration software, it is essential to know what features are essential in such a real-time collaboration software.
For instance, productivity and collaboration go hand in hand and can stem from many factors. These include (but are not limited to) the time taken to complete a deliverable, quality internal communication within the team and the most efficient usage of resources available.
Collaboration software helps by uniting all these factors in one package – allowing your business to perform well on all those fronts.
Now that you have a basic idea of what is collaboration software, let's talk about its key features in brief below.
Collaborate With Your Teams Anytime, Anywhere With ProProfs Project! Try for Free.
Collaboration Software Features to Keep in Mind:

There are multiple collaboration software features, but a few are key to choose the right collaboration software for your organization. Let's take a look at a few:
Give feedback to team members with task comments. Just drop off a comment to make communication transparent among teams.
Plan projects and project execution strategies alongside your team using a shared calendar. You can also visualize all milestones and meet all deadlines easily.

Receive email notifications to stay informed of project updates. Ensure only people who are associated with the project get notifications with permissions.
Share files with your team, clients, and any stakeholders instantly. Store all files on a single platform using a project collaboration software.
Parameters to Understand How to Choose the Best Collaboration Software:
✓ Determine Your Requirement
Understand every need of your business. Be it a small, medium or large sized company, people across different departments are often needed to communicate with each other to organize and streamline office work-procedures. Most often, business owners need to choose a collaboration software that has a wide bouquet of features in it without making any proper evaluation before the purchase. They might not need all of them as per their industry size and form.
Therefore, business owners need to get their collaboration needs customized to exactly match their team's needs. This can be achieved from custom application development companies who build solutions that suit your specifications. Off-the-shelf solutions may not be apt always.
---
Read More: 100+ Project Management Statistics & Facts To Remember in 2019
---
✓ Ensure Tool Portability
Ensure the tool must have its presence across a wide range of platforms such as desktop, web, and mobile. These days, SaaS-based project collaboration tools are in very much in vogue as they are easily accessible by anyone just with their internet facility. Look whether the collaboration tool has its footprint across the operating systems of Windows, Linux, Mac OS, Android, and iOS. Thus, team members can always stay connected with each other on all project updates at all times.
✓ Simple Learning Curve
When trying to pick the right collaboration tool, make sure you choose one that has an easy learning curve. By this, your team understands the tool faster and starts using it to attain greater collaboration. A tool with an intuitive interface must be considered as one of the important parameters while selecting a collaboration tool. It is also mandatory to see whether the service providers of the tool are extending good help guides to understand the tool better.
✓ Know Your Team Needs
Usually, teams in an organization look for an easy-to-use and simple team collaboration software that facilitates seamless and uninterrupted services. Before the inception of business collaboration tools, it was difficult for teams to reach the varied levels of hierarchies for any opinion exchange. However, this huge gap is now filled by business tools that make teams completely accessible and reachable across levels of designations.
You also have to ensure that the software you choose integrates smoothly into your team members' technical capabilities and daily processes. Any collaboration software, at the end of the day, is just a tool. How effectively it is used depends entirely on the motivations and productivity levels of the team members it is given to. It would be a good idea to consult with the concerned teams, and maybe even conduct a trial run, before committing to any software.
---
Read More: How Project Collaboration Software Can Make Your Team More Productive
---
✓ Comprehensive Project Management
The quintessential parameter to look in a workplace collaboration tool is whether it has a comprehensive set of project management features in it. We know that teams collaborate to execute projects and derive optimum ROI to companies. Though we have a good number of exclusively designed project management tools, it is necessary to have at least a few basic features to break the complex projects into tasks in every team collaboration software.
Ensure whether the tool you choose has the initial set of task management features that allow you to assign tasks based on the teams, designation and departments for easy project management. The comprehensive project management features further enable the teams to prioritize the work and set delivery deadlines accordingly.
✓ Figure out the Best Affordable Applications
The first important factor the business owners look for is the affordability of an application. Today, we have a huge number of business chat software tools available in the market. There are certain freemium applications that offer a 15-day free trial facility to any new users to get a hang of the tool. But at times, the better choice would be to opt for paid plans to avail the most powerful and helpful features.
A mandate the business owners must follow is to make a pricing comparison of various collaborative chat applications before they decide to choose one. This would give them a complete awareness of the tool to understand it better. Try to figure out a few of them and choose the one which provides all the essential features at affordable prices.
✓ Easy Navigational UI/UX
An application's UI/UX stand forefront while making a decision on how to choose the best tool. A simple and clean user interface with seamless navigational user experience is one of the basics to know. The job of business owners is to see whether the feature functional flows are smooth or not.
Check whether the team collaboration software features are well-organized across the interface and they are easy to use. The tool must possess good search functionalities to filter out ancient data. This lets the users see their intended requirement on the interface.
---
Read More: How Project Collaboration Software Minimize Problems in Creative Collaboration
---
✓ Third-Party App Integrations
There are no hard and fast rules defined that every collaboration tool must-have all the features of diverse functionalities to be built in it. Rather it has to be designed to support multiple app integrations into it to streamline and improve business processes. Ensure to have a plethora of tools integrated into the application while making a choice.
Integrations when correctly used reduce most of the work related complexities. A wide range of tools related to analytics, communication, customer support, health and wellness, project management, sales, voice, and video, etc., are few of the must-have categories in every online collaboration software.
✓ Check for Data Security
Before you select the best collaboration software for your company, make sure it provides end-to-end data encryption, two-factor authentication, full-scale access controls over message-exchange of users, secured data sharing, and features that define the ability to grant and remove access. Never compromise your organization's data as it holds the company's credibility in the market.
Pick The Right Collaboration Tool For Your Organization!
While you need to select the best collaboration software, business owners should also look into to the area how effectively their competitors are using and opting the best team collaboration software for ensuring seamless and secured chat conversations. It is highly imperative to analyze the tool before making an investment in it. Choose an affordable and powerful tool to plan and schedule the activities of your daily work-routines.
---
Now, let's take a look at some of the frequently asked questions that people ask about agile project management methodology:
Q1. What is a collaboration platform?
A collaboration platform is a business software that aims to add broad social networking capabilities to different work processes.
Q2. What is the best way to collaborate online?
The best way to collaborate online is to pick the right collaboration software. Do your research and choose the best collaboration software that suits your requirements.
Looking For The Best Project Collaboration Software?
If you have been searching for the right project management tool and failing to find one, check out ProProfs Project. Our software offers everything needed to implement agile methodologies, thereby promoting efficient project execution.
You can check out the pricing plans and sign up for our tool here.
Do you want a free Project Management Software?
We have the #1 Online Project Management Software for effective project management.