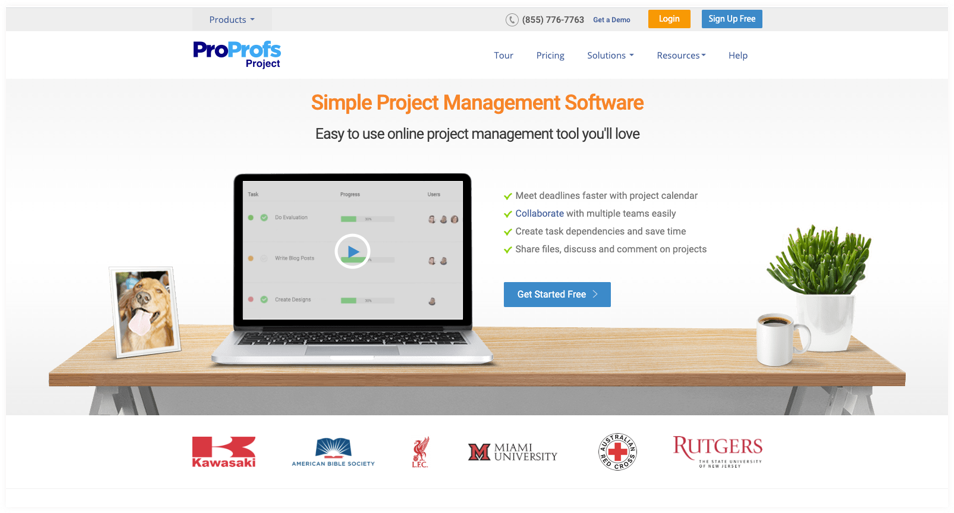 ProProfs Project management software is the simplest of these cloud collaboration tools and offers everything you need to manage multiple projects on a single dashboard along with efficient team collaboration features.
The best part of ProProfs is that you automated email notifications and can access your projects on the go using your smartphone.
You can plan a project with a shared calendar, visualize milestones with Gantt charts, collaborate with teams using task comments to discuss obstacles, and share files on the go.
Take a look at the individual features of this highly user-friendly online collaboration software:
Features
View all projects and tasks on one dashboard. Assign tasks to different teams and track project execution easily on a single dashboard.

Staying up-to-date with project progress is fundamental to improve the odds of success. And gantt charts exactly help you in that regard.

Drop comments on tasks and projects to let everyone know where the project stands.
Track time spent on every task and calculate billable and non-billable hours efficiently

Plan your project execution stages alongside your team efficiently with a shared calendar. Create Gantt charts to visualize milestones and see if you can meet deadlines easily.

Share important project-related files with teams, clients, and stakeholders easily. You can also attach them with your aligned tasks so that every concerned team member receives a copy of the file.
Why Use ProProfs Project?
Easy Setup

No download, installation, or technical expertise required. Simply log in to your account and you're good to go.

Simple UI

ProProfs Project is designed in a manner that even a complete beginner can use the software to its full potential.

All-Round Features

Right from project initiation to closing, ProProfs Project offers all the features needed to keep everything in check and streamline the entire process.