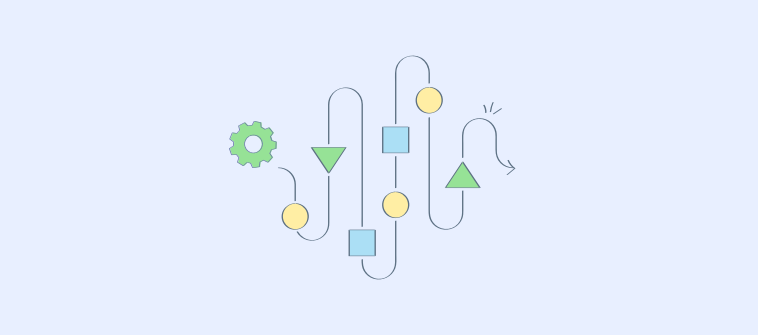 When I say "workflow", what are the key aspects that come to your mind?
Project execution?

Team communication?

Team performance?

Or all of the above?
Well, workflow, in layman terms can be defined as the "flow of work", so ideally all of the above seems to be the right answer, correct?
However, there are so many other aspects of workflow management that are overlooked by most managers.
So, what's the solution? Before we get into that, it is extremely important to know the basics. In this blog, we cover everything about workflow, how to manage it, what is workflow management software, and how do its features help you and your business. Let's dig in!
What is a Workflow?
In simple terms, a workflow can be defined as the way an organization gets work done. As a technical definition, a workflow can be defined as:
A series of tasks a team needs to complete in order to achieve a pre-defined, repeatable goal.
Notice how I have emphasized on "repeatable". It is important to understand that workflows in any organization are not tasks that are completed to achieve any goal. No. Workflows are all those tasks that are performed in an organization in a sequential and regular basis.
The best example of an organizational workflow is 'employee onboarding'. The below workflow diagram illustrates the different tasks that need to be completed to bring an employee onboard successfully.
Now that you have a basic understanding of what is a workflow, it is important to know the different ways in which you can manage workflow in an organization. We cover this in the next segment of this article.
How Do You Manage Workflow in an Organization?
Before getting into how to manage workflow in an organization, it is important to understand workflow management.
Workflow management is the coordination of multiple tasks that – together – make up for the work that needs to be completed in an organization.
Mainly, workflow management focuses on:
Having said that, there are three basic steps that you can take to manage workflow in an organization. They are:
Collecting Relevant Data
It is important to collect all relevant data – both soft and hard data – to ensure proper workflow management. Hard data includes all numeric information and soft data includes feedback from employees regarding the workflow process and how it can be optimized further.
Asking All The Tough Questions
One of the best ways to optimize workflow management is to ask all the tough questions, like what is the purpose of the process? Who or what is the process serving? Ask and note the answers for future decisions.
Implementing Changes & Follow-Ups
With all the information you gain, it is important to act on it. Implement the changes and follow-ups that employees report can optimize workflow management.
What is Workflow Management Software?
Workflow management software is a modern method to manage, implement, and optimize workflows automatically.

Instead of documenting everything manually, managers turn to project management workflow software to automate the documentation process.
With the right project workflow software, you can:
Create workflows as per organizational needs

Automate workflow execution

Collaborate with teams for efficient workflow execution in an organization

Generate insightful reports to optimize workflows easily
Now, let's elaborate on these points and see how a good project workflow management tool can help you achieve organizational goals.
---
Related Read: Project Management Software Features
---
How Does a Good Workflow Management Software Help You?
There are a few necessary features you must look for when choosing one for your organization. They include:
Monitor All Workflows in a Single View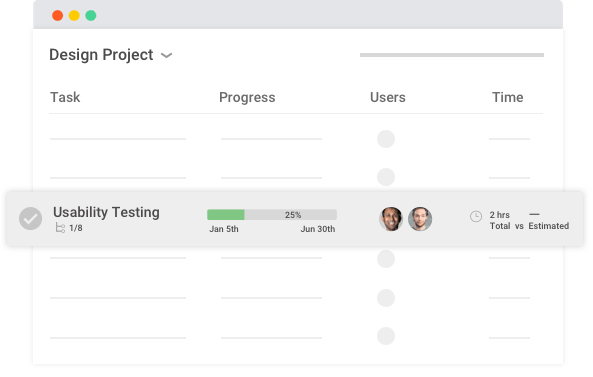 Manually creating all workflows is in itself a daunting task, imagine trying to monitor all the workflows without a software in place? Project management workflow software, such as ProProfs Project, helps you track different workflows on a single dashboard. Not only that, you get a clear picture of the current status of all workflows and who is working on what.
Track Workflow Execution Easily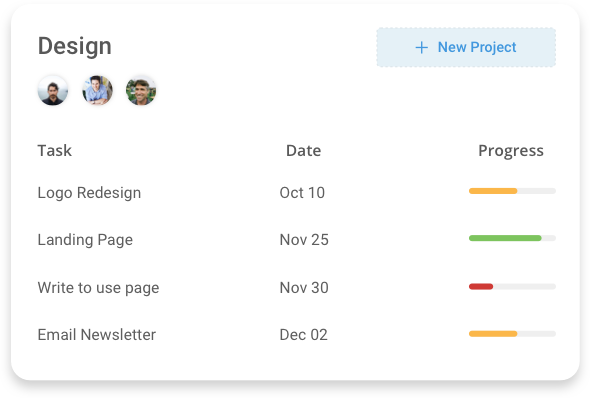 A good project workflow software helps you track the time spent in executing workflows. You can also track the time spent by each team member on completing every task. Doing so makes it easy to ensure all workflows are completed in time and with the needed workforce.
Visualize Workflow Execution & Keep Everything on Track
Project workflow management software like ProProfs Project also allows you to visualize all workflow execution in a calendar view. You can see what is to be submitted when and make sure all deadlines are met easily. Keep everything on track using calendar view and by checking the start and due dates of workflow subtasks.
Collaborate With Your Teams Efficiently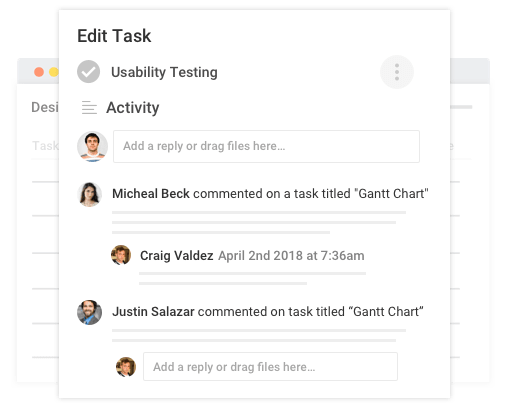 Keeping in touch with your teams, especially in terms of workflow execution updates, is another hurdle most project managers face. However, with the right workflow management software on board, they can collaborate with teams easily using features like task comments, email notifications, and file sharing.
Generate Detailed Reports & Ensure Workflow Optimization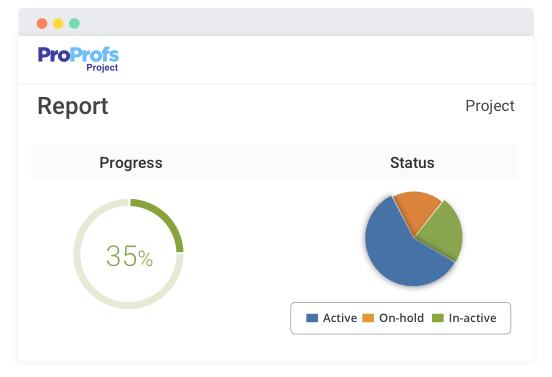 Along with ensuring all workflows are executed perfectly, it is important to ensure that workflows are optimized according to organizational needs. So, a project workflow management software allows you to generate insightful reports that collate all the necessary information for you to make informed decisions, helping you optimize workflows efficiently.
Adopt a Robust Workflow Management Software For Streamlined Project Execution
Creating the perfect workflow, executing it with utmost accuracy, and ensuring it is optimized as per the change in organizational needs are too many considerations that managers need to oversee manually. Therefore, it is ideal to adopt robust workflow management applications like ProProfs Project that helps you to achieve all of that, while helping in team collaboration and efficient workflow execution tracking as well.
---
Now, let's take a look at some of the frequently asked questions that people ask about workflow management software:
Q1. What organizational workflows can be automated? And how?
Every workflow an organization follows can be automated using a workflow management software. Right from HR workflows to software development workflows to accounting workflows – everything can be automated.
Q2. How does a project management software help in automating workflows?
Project management software can automate and streamline workflows easily. Using features like task creation, task dependencies, invoicing, task comments, email notifications, and file sharing, a workflow management software can automate workflows. The software can streamline workflows easily with features like single dashboard view, calendar view, time tracking, and reporting.
Do you want a free Project Management Software?
We have the #1 Online Project Management Software for effective project management.